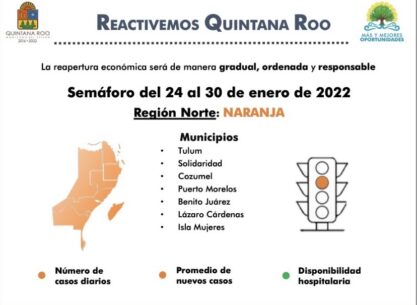 Traffic light for the entire state of Qroo goes to orange
We first told you about the traffic light going from green to yellow on January 10th of 2022 for the entire state of Quintana Roo. Now as of January 24th, 2022 the entire state will go to the orange traffic light. This is for both the north and south of the state. Expect to see more reminders to wear masks, maintaining distance and a few more restrictions to avoid crowding.
We are moving to orange due to the rise in cases in the state
The move to orange is not a big surprise because of the surging omicron cases sweeping Europe and the rest of North America. Usually Mexico follows the path of the United States in regard to virus spread, just a little behind due to less connectivity to the rest of the world. Since the omicron variant is highly transmissible, it spreads rapidly and often people carry it without having symptoms.
Many places that started with the omicron variant has cases rise rapidly and then peaked and started to lower after a two month period. So it appears it is our turn to have the latest variant pass though. We expect two or three weeks to peak. Testing in Mexico is very low, and actual number of cases is highly under reported. We can only take the official numbers and compare them previous months to see if levels are rising or falling.
Mexico does not require testing to enter the country, but many countries require their citizens to test negative before flying home from abroad. Testing is very accessible in the Riviera Maya, however, there are more people testing positive for test now. This highlights the need to be cautious on vacation as well as the need to change the traffic light to orange.
How the traffic light system works in Mexico
Mexico as set up a traffic light system with four stages. Each has different restrictions and based on case loads and available medical services, the traffic light changes. There is red, which is extreme caution, orange, yellow and green, which is the lowest level of restriction. The traffic light method is a fairly easy to understand and gives guidance for businesses to enforce different restrictions.
Each week the Governor of Quintana Roo announces on Twitter what the traffic light will be for the following week. There are also announcements for residents for vaccinations and boosters the the Governors Twitter feed.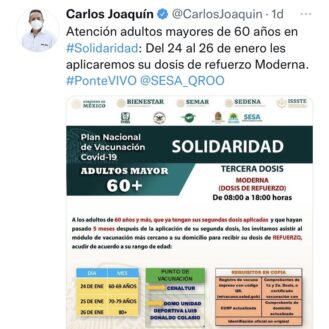 What restrictions are under the orange traffic light?
What things will change under the orange traffic light?
Essential businesses will operate as normal.
Places that will open but at lower percentages are hotels, restaurants, theme parks, historic sites, and tourist services.
Places only allowed to be open 30% are beaches, shopping centers, theaters, casinos, department stores, beauty salons, and churches.
Not permitted to be open are schools, gyms, bars, and clubs.
Analysis of how this affects tourists
Overall, most tourists will not really notice much of a difference. There will be more signs and even some traffic stops to make sure people are reminded of sanitary measures. Things will be spread out a little more, especially at hotels and restaurants, but as to how well other restrictions are enforces, we will see. It is very hard to hotels to be at restricted percentages when reservations are made well in advance. Even this time when announced, it was not focused on restrictions, but rather being more aware and not letting your guard down.
Since parks like Xcaret and Xplor are going to have restrictions to the amount of people per day, we do recommend booking ahead meaning buying your tickets here on the official website. This will guarantee the day you want to go.
To see the official website for the current conditions in the Riviera Maya and state of Quintana Roo, see the official government website here.