Mexico vs Florida for your vacation?
Sun, fun, and a good time is what many seek in a vacation. In the late 1950's and early 1960's people started flocking to Florida for it's warm weather and beautiful beaches. At this time the city of Cancun was not more then sand and the State of Quintana Roo was not even a State. Over the decades the family trip to Florida became a rite of passage for kids and summer time. Gradually over time the family trip evolved from the road trip to plane trip making a quicker getaway and further destinations possible. People started flying to Florida and boarding a cruise ships to see the Caribbean. The international vacation started to become the norm.
On January 23, 1970 development started in Cancun or the area of what was to become Cancun. This was just the beginning of the tourist destination of Cancun and the Hotel Zone. The rest is history as they say. Today the entire coast from Cancun to Tulum is dotted with development.  Hotels, resorts and a holiday activities for those seeking culture, sun, excitement and something different.
Since Florida is a tropical climate and the Yucatan Peninsula being just across the Gulf of Mexico, what are the differences? What is best for you?  We took a look at cost and what makes these two destinations similar and different.
Price difference between a vacation in Mexico and one in Florida
Lets face it, price is a major consideration in selecting a vacation spot. You want to be able to do more things there then you do in your regular non vacationing life but still come back home and not have to keep paying forever for the trip. The two most costly things about vacations are the transportation getting there and the hotel. We broke down hotel prices according to Hotels.com by the 2-5 star hotels and what the average price was.
Average prices Playa del Carmen, Mexico
USD 73

avg.

USD 114

avg.

USD 265

avg.

USD 483 avg.
Average prices Miami Beach, Florida, United States
USD 121

avg.

USD 181

avg.

USD 274

avg.
5starUSD 455 avg.
You can see that on the lower end (2 and 3 star hotels) are both on average cheaper in Mexico. This means that if you were to go on vacation for a week and spend 6 nights at one of these hotels the bills would be $438 for a 2 star hotel in Playa Del Carmen, Mexico or $684 for a 3 star hotel. In Miami the cost would be $726 for the 2 star hotel and $1086 for the 3 star hotel.
The all inclusive hotel difference between Mexico and Florida
On our price list you can see the 4 and 5 star hotels are actually cheaper in Florida. This may look good at first but there is a big factor to consider. This is also something you have to factor in with the 2 and 3 star hotels as well.  Most large hotels in Mexico are all inclusive which means that your meals and drinks are included in the price. This can mean a much better value. For example if you stayed a week in Florida at a 5 star hotel it would cost $2730 compared with $2898 in Mexico. Even if your hotel in Florida served up a breakfast that was included in the price there are the other two meals to consider. Lets say you will spend $20USD for each meal. That would be $40 for lunch for two adults and $40 for dinner. A total of $80 per day that is actually included in your hotel price in Mexico. In a week this might be 11 lunches and dinners or a total of $440 for two adults. The $168 cheaper average hotel rate for Florida goes away with this consideration and it could actually be a savings to stay at a 5 star hotel in Mexico of $272.
If you are interested in further looking at hotels for your vacation, try searching using the link on the side of this page. Here you can find great price comparisons and they make it easy to narrow down your search as well as find the location you want to be in.
Cost for tours Mexico vs Florida
Swim with dolphins encounter    $139            $89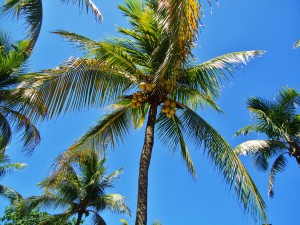 Animal Zoo                                      $35              $50
Historic Estate Tour                       $18             $28
Entertainment park                       $105             $89
Total                                                  $297            $256
You most likely will not be doing all the activities that there are offers but this give you a general idea of cost. Some activities are very similar like swimming with the dolphins and easy to compare prices. The hardest activity is the entertainment park. Florida is famous for Walt Disney World and the theme parks. We compared a one day Magic Kingdom ticket to the best equivalent in Mexico, an eco park called Xcaret.
Overall the savings is about 14% if you do activities in Mexico.
Car rental comparison between Mexico and Florida
This was a pretty clear comparison. Car rentals on average are  little over $100 dollars cheaper in Mexico for a week. There is once slight difference between Florida and Mexico here. Having your own car in Florida sure helps you to get round as most attractions do not offer easy public transportation or they have a very limited pickup. Many people come to Mexico and do not rent a car because most of the large hotels offer a transport pickup option and most activities have pickup services or are accessible by public transportation.
One week Compact car rental      $334           $234
Flights to your vacation
We chose a random day on the calendar and selected cites from North America to both destinations for flight price comparisons. All prices are USD.
USA                                             Miami         Cancun
Flight R/T from Chicago               $374           $601
Flight R/T from NYC                      $262          $437
Flight R/T from LA                         $392          $543
Canada
Flight R/T from Montreal             $515           $554
Flight R/T from Toronto               $499          $504
Flight R/T from Vancouver          $851           $990
As you can see from the random sampling of flight prices it is more expensive to fly to Cancun in general. Some vacation packages can offer a good value with flight included though and this should be considered.
Ease of travel
International travel is not for everyone and we know that some people like the comfort zone of knowing everyone speaks your language and you know what standards you will be presented with. This being said, Mexico has become a major international destination with most staff that work in tourist areas speaking at least two languages. Food and transportation have also been elevated by the amount of tourist that come to Mexico. Going to a foreign country can be intimidating but knowledge is power and often the fear of something is the lack of know about it. For those that have already been to Mexico and especially the Mexican Riviera, people will tell you how easy it is to get around and how little problems with communication they had.
Culture and things you cannot put a price on
One last thing to consider is culture that you expose yourself to on vacation. Florida does have some things that make it distinctively Florida and it does seem to have it's own color palate. It does have a special culture inside of the theme parks and it can make for a magical time. Florida in general though is very similar to most of North America. Mexico on the other hand has a vibrant culture that is not only expressed through food but also in sights, people and language. The experiences for you in Mexico can expand your knowledge of people and cultural understanding. Just think of the many Mayan archeological sites there are to visit and the wide variety of Mexican food.
We hope wherever you go on vacation you have a great time and make some good memories. Vacations are a needed break from the normalcy of life and can enrich us at the same time. We also hope this article highlights the differences between these tow popular travel destinations but also how similar it can be to go for an international vacation for almost the same price.
Where do you like to vacation? Mexico vs Florida? Do you think there is good value in the Riviera Maya? Let us know in the comments below.