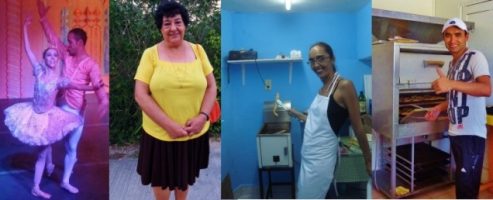 We wanted to bring you a gallery of the people of Playa Del Carmen. We believe if people know people better then you will not only enjoy your time here more but you will see what makes this place special. These are just some of the people that make Playa Del Carmen and surrounding area special. These are the people that serve you food, make delicious food for you, help you find housing, show you around or are just residents here.
People that work and live in Playa Del Carmen are from all over the world a Mexico and speak a variety of languages. Below are people from Italy, Israel, United States, Argentina, all over Mexico and other places. One thing that is common though is the love of Playa Del Carmen and sharing it with other people from all over the world. Your concept of what a "typical Mexican" looks like might be shattered by this gallery and you might find it much more diverse then you thought it might of thought.
These are just some of the people we have met while covering stories about Playa Del Carmen. You can always check out our interviews here on the site to get more in depth background information on some of the people in Playa.
We hope you have time to get to know the people here and it makes your vacation or experience a richer one.
You might also like to read our article about the secret life of the Mexican worker so you can appreciate how hard working people are here and what living is like in Playa Del Carmen.