People that are familiar with Playa Del Carmen know it as a beach town but it often lacks some of the cultural activities of other cities. As Playa Del Carmen has grown, so has the cultural scene and we are proud to tell you about all the hard work Coppelia's Ballet & Company is doing in Playa Del Carmen. Not only are they a school for children, they offer classes of dance to adults, they sponsor children that need assistance to learn dance, and they also provide public performances in Playa Del Carmen.
The Mother Daughter Team
Coppelia's Ballet & Company is run by Frida Yosif and her mother Natalia. They work tirelessly to bring dance and education to the area. While Frida is often dancing and instruction, Natalia is running the front desk and administering the business plus  acting as a gracious host to all that enter the doors. Both share a passion for dance and it is because of this passion the school and ballet have succeeded in Playa Del Carmen.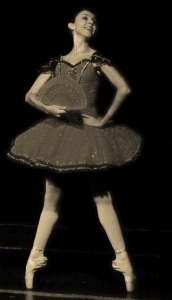 Frida Yosif's Background
Frida went to the School of Music and Dance in Monterrey where she graduated as a performer of classical dance. In 1992 she joined the Ballet of Monterrey. Since 1992 Frida has been teaching dance at such places as INBA, Emma Dance Studio, CEA of Televisa, and choreographic workshops of UNAM.
In October 2008 she founded the professional dance and arts school, Coppelia's Ballet in Playa Del Carmen. This school was incorporated into the American Ballet and the Imperial Society of Teachers of Dancing in London. This school has helped young people from the area learn the  discipline of  ballet, modern dance, jazz, music and acting.
In 2011 Frida started Coppelia's Ballet Company where she dances with her most advanced students. This is where the public performances come from.
Public Performances
The ballet performs public shows in Playa Del Carmen for the enjoyment of guest.  These take place about once a every month or two. It will warm your heart to see the ballet of all ages dancing. Ages from about 5-25 dance in the shows. Proud parents are often in the audience watching the performances.
These shows are done at their school in the center of Playa Del Carmen.  It is located on 14th St. between 30th and 35th Avenues. Just look for the sliding brown doors. Public performances are usually 100 pesos and last for two hours with one intermission. They perform such famous ballets as Don Quijote, Coppelia's, Giselle, and Swan Lake.
Tip: Seating is on carpeted steps, so bring a pillow if you need a little  extra padding.
Supporting the Community
Dance is an important skill to learn in the Riviera Maya because there are so many hotels and other venues that have shows and entertainment. Teaching young people the skill of dance will enable many to easily get jobs in the future. Coppelia's sponsers about 30 children that cannot afford to attend their school. Help is giving in the form of getting shoes, transportation to the school and fees. If you would ever like to help out Coppelia's Ballet & Company with a donation, it will be great appreciated and put to good use. If you would like to give a donation you can drop it off at their office on 14Bis St. with attention to Natalia or Frida.  (Note: the school entrance is on 14 Bis which is the next street from 14th where the public entrance is for the performances.)
Classes for Adults and Public
Do you live in Playa Del Carmen and interested in getting a little exercise and bringing out your inner dancer? Many people do not know that Coppelia's offers classes to both children and adults. They offer classes throughout the day and offer such things as beginner ballet, advanced ballet, contemporary dance, and jazz just to name a few. They offer monthly class prices and packages.
Information
For more information you can check out their website at: http://www.coppeliasballet.com/
or for more up-to-date information also check their Facebook page: https://www.facebook.com/coppeliasballet
Be sure to check out this local resource for culture in Playa Del Carmen. You will surely enjoy this local gem.