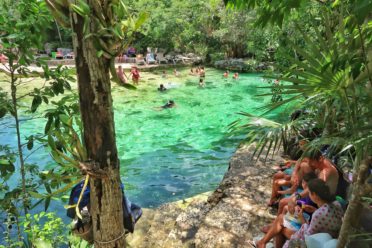 Cenotes are open and so are residential pools
Recreational activities in cenotes and residential pools are reactivated, within the framework of the new normal. They can be opened to the public operating at 30% of their capacity. They will need to comply with the health measures that they indicate, among which is to ensure that bathers maintain a healthy distance of 2 meters from each other.
The Secretary of Civil Protection, Risk Prevention and Fire, Francisco Poot Kauil, reported that, hand in hand with the coordination of State Civil Protection, the protocols and measures to be applied are reviewed to verify compliance with the guidelines in these areas that they will be able to operate gradually at this stage in which the pandemic is kept under control. For this, he said, operators must make boundaries in the areas before entering, at the exit, in the bathrooms and areas where there may be contact between the passers-by. In addition, he recommended placing a larger portion of chlorine than usual, to disinfect pools. He also mentioned that according to the epidemiological traffic light that governs the gradual reactivation of activities in the entity, when they enter the color orange, they can also operate water parks, spas and theme parks at 30% of their capacity. These will need to be operated with healthy distance measures.
The Playa Del Carmen government chaired by Laura Beristain Navarrete, calls on the population to respect the healthy distance measures, as well as hygiene, to avoid contagions and with it, to reverse the reactivation measures.
Cenotes near Playa Del Carmen
Cenotes are something that is unique to our area. Many people want to go and visit one while in Playa Del Carmen or the Riviera Maya. Here are some Playa Del Carmen cenotes that are close by or assessable to you while driving around. Since the beaches are still closed in many places, we would recommend going to some of the more remote cenotes. Many people locally have been wanting to get out of the house and enjoy nature. This will make it hard to meet the reduced admission to some cenotes close by.
Below is a map of cenotes and a link to articles with more information and photos. To use this map, click on a marker to get more information about each cenote. We hope you have a great time exploring the cenotes around our area. Let us know below in the comments what your favorite cenotes are. We would love to hear from you. Note: Not all cenotes on the map have reopened yet.