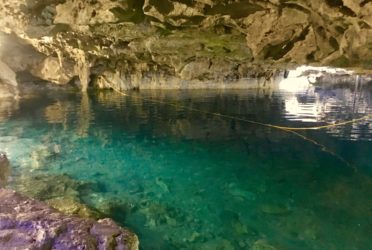 Cenote Chihuan
We love finding little treasures around the Yucatan Peninsula. This time we found Cenote Chihuan which is easy to miss if you did not see the sign on the side of the old 180 road. This cenote is about 35 minutes west of Chichen Itza.
When you pull off the road you only need to go a few blocks to the entrance. Usually there are just a few people here. Most people arrive by themselves because it is a lesser known cenote.
The entrance down to the cenote is actually in the building where you pay. You will descend down some stone steps and find the artificially lit cenote with crystal clear water.
The edge of the water is natural with rocks so a little care is needed getting in. Once in the water you can swim further into the cavern. There are ropes that you can rest on and you can enjoy the views of this underground cenote.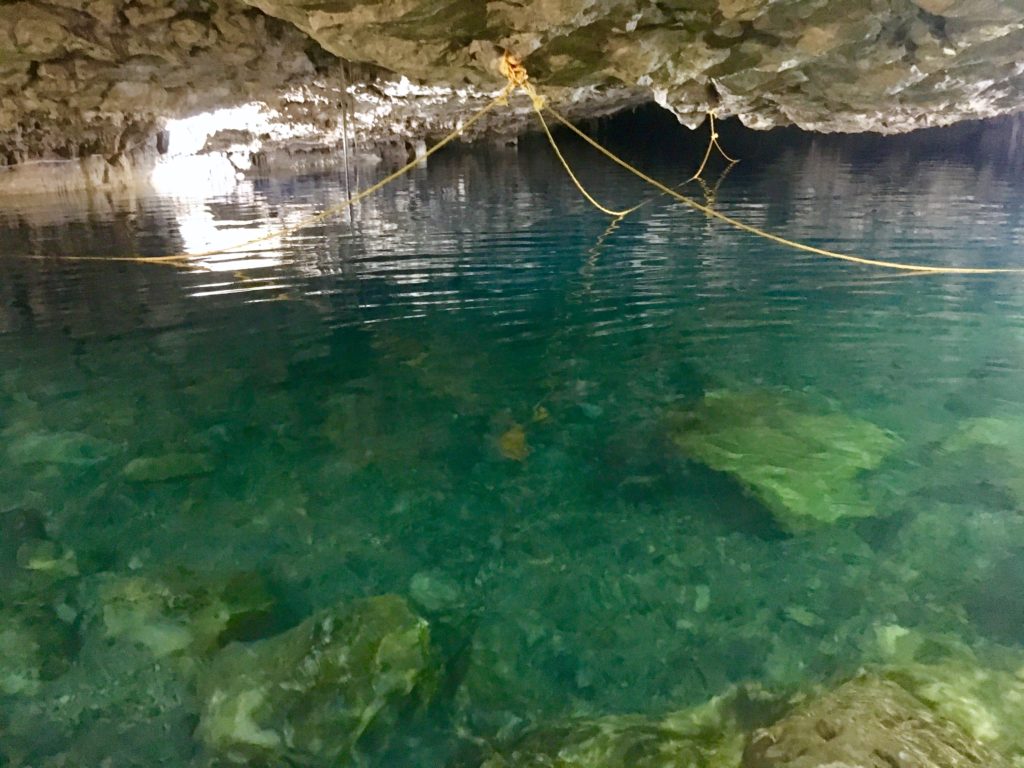 Our recommendations for visiting this cenote
This cenote is off the beaten path and not visited by big bus groups. The water is very clear and makes for a refreshing swim. If you are driving from Merida or Chichen Itza or just exploring the area, Cenote Chihuan makes for a nice stop.
If you have a problem with claustrophobia, this cenote is not the largest. the roof is between 6 and 12 feet tall. Most people should not have a problem but it is more enclosed then other cenotes.
If you like ruins, be sure to see our article on the lost Mayan city of Yaxunah which you can visit close by to this cenote.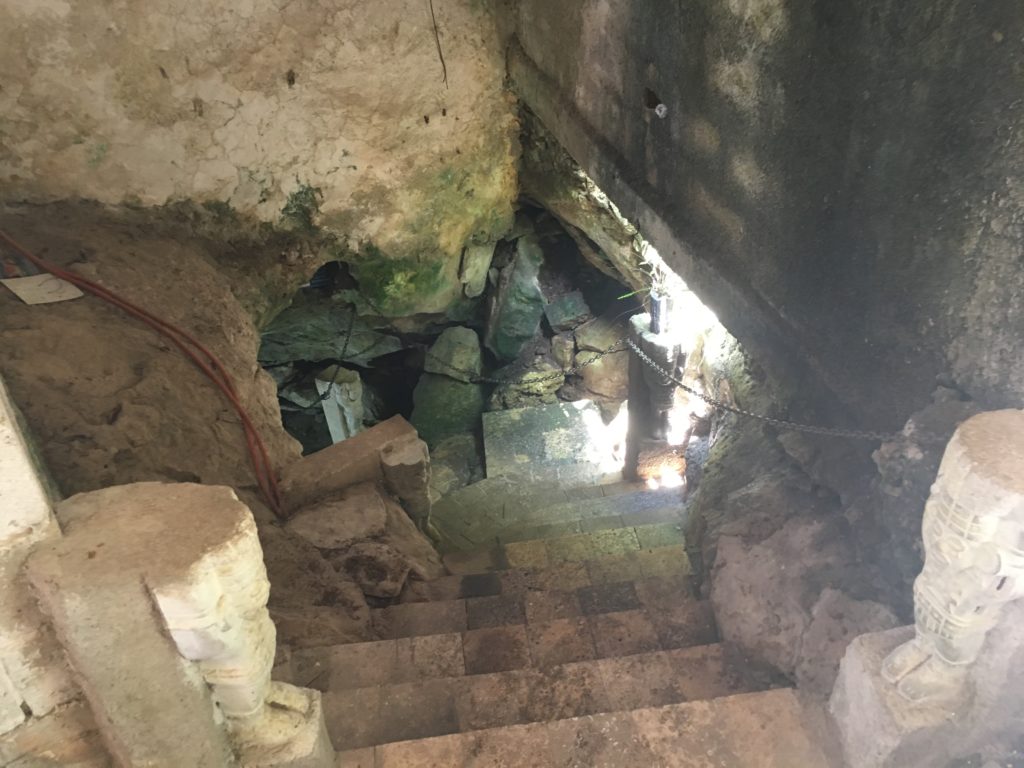 How much is entrance?
The entrance cost is 60 pesos per person.
Services at this cenote and nearby
There are basic bathrooms for changing at this cenote. Life vest are available. Make sure to bring your own towel.
If you are looking for places to eat, there are only basic roast chicken stands along the 180 road. You will have more options if you go to the town of Piste which is where Chichen Itza is. There are many roadside restaurants and buffets there. Going west you will have to get near to Merida to find good options for eating.
As you drive along the old 180 (not the toll 180) you will see people selling things besides the road. If you are traveling around the time of June-August you will see huayas being sold. These are small green fruits on branches. It is something of an acquired taste but a good way to try something new.
Where is Cenote Chihuan
Cenote Chihuan is in the town of Holca in Yucatan State. This is between Piste and Merida on the old 180 Highway. It is about a 35 minute drive from Piste (Chichen Itza) to this cenote if you go west on the local 180.
On the west end of town you will see an sign in either direction. Follow the road to the end and you will see the building with a sign. Enter the parking lot an park there.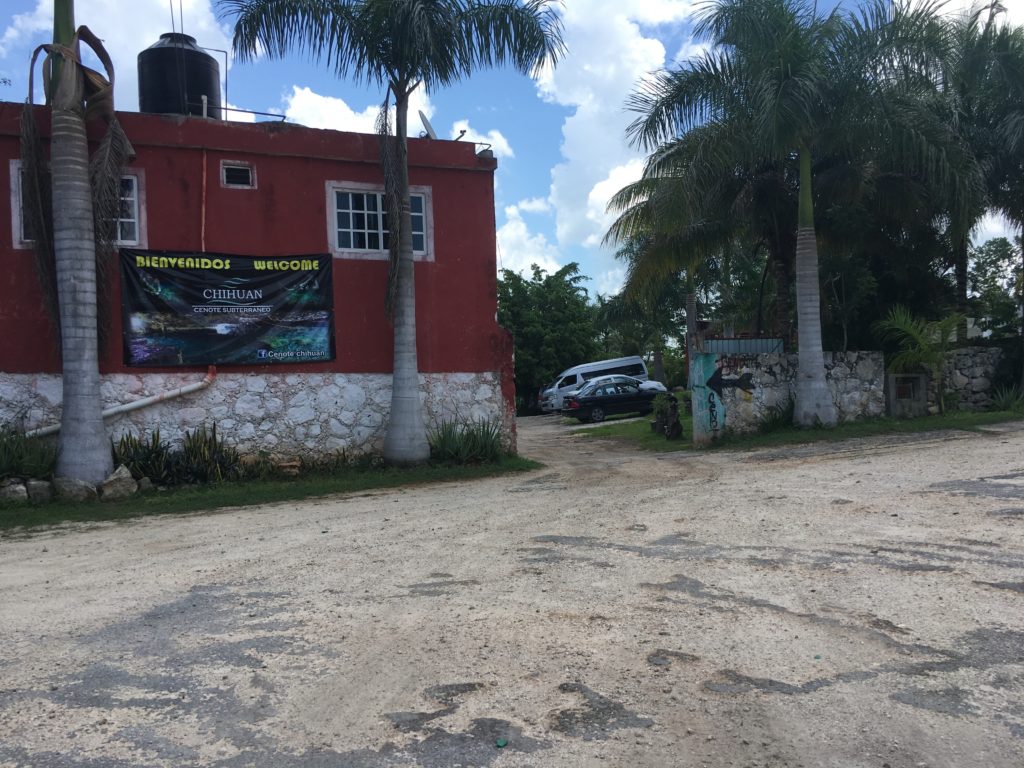 Have you been to Cenote Chihuan? Do you have questions about going here? Let us know in the comments below.
If you like visiting cenotes, see our large guide to different cenotes you can visit here.