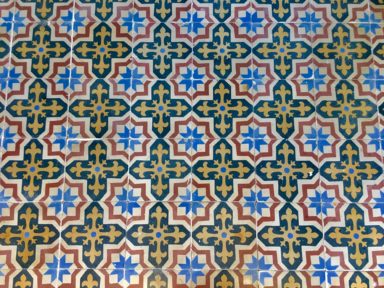 The amazing story of the pasta tiles of the Yucatan
You might have seen pasta tiles and not even known what exactly they are. You might also have seen them in restaurants and bar designs. For over 100 years these pasta tiles have been used here in the peninsula. What is most interesting is how they are made and that they are still available to purchase today.
Since the climate in many parts of the world is hot and certain building materials are not available, concrete floors are a way of life. One way to make floors more decorated is with tile. These pasta tiles make perfect carpets of color in rooms. The vibrant colors are brought out after they are polished and even with age, they seem to get better and better.
Our video of how pasta tiles are made
The process is fascinating of how these artisanal tiles are made. We got a rare opportunity to get a look at how these tiles are made in the city of Merida. Once you see how these are made you will have a much greater appreciation for them.
What makes pasta tiles so unique?
You might have noticed in our video the man hitting the pasta tiles with a stick. This was to illustrate just how strong the tiles are. If you were to do that to your ceramic tiles, you most likely would get a crack in them. These tiles are total concrete which makes them very durable. The life expectancy is a minimum of 50 years and many past tile floors last in good condition up to 100 years.
The ability to custom design these tiles is also special. Clients can change the colors in the design and even see about making a special design just for their project.
How are pasta tiles made?
Pasta tiles are all handmade and take a few minutes to make each one depending on complexity of the design. The tradesman that have learned the skill of making these tiles often do this for years. It is a really interesting thing to see.
The process starts with the form and then inserting a mold. Each mold is different for the design that they are making. In the photo below you see the craftsman with metal tins of colored liquid cement in front of him. The takes small scoops from each color and adds to each section that gets that color. Once every section has the correct color added the mold is taken out.
Then powdered cement is added on top of the colored part. Next the entire tile is put under the press. The pressure packs everything together and when it comes out of the press it is a complete tile that is then stacked to dry on it's side. These tiles are not baked or heated, it is just the pressure and the drying that make these tiles.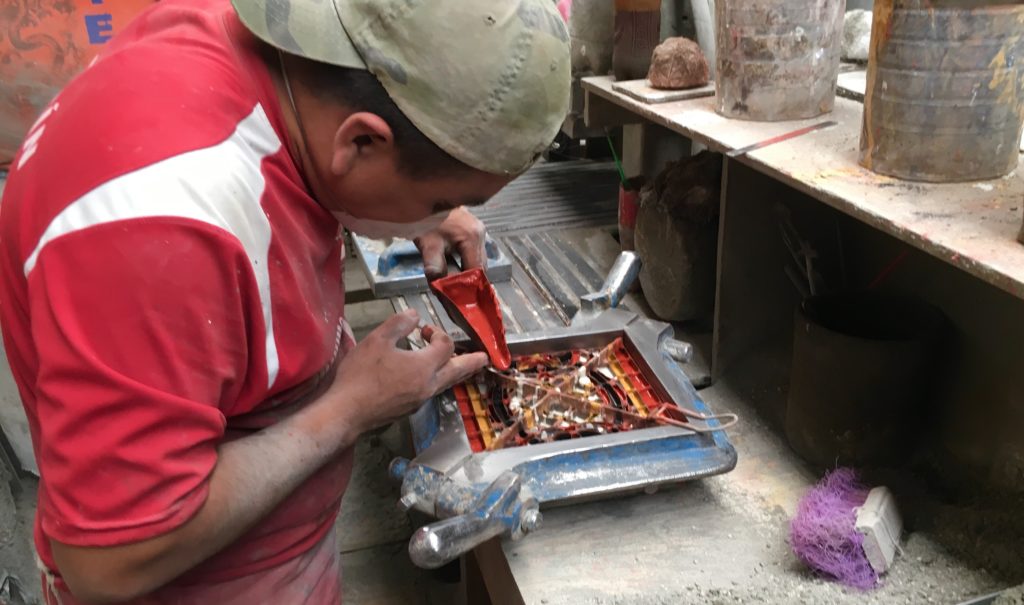 The tile molds
Below are some of the older molds they have that were used in the process of making pasta tiles. These molds can last years depending on how popular the design is. To make one of these molds it can take one week of work.
You might ask yourself "How do the colors stay so crisp and not run together when the mold is taken out during the process of the tile making". Well, this is just part of the magic of these tiles. Of course there can be slight variations since these are all handmade. But the quality control is good at spotting anything that will not pass. That way when the entire floor is laid it is a work of art.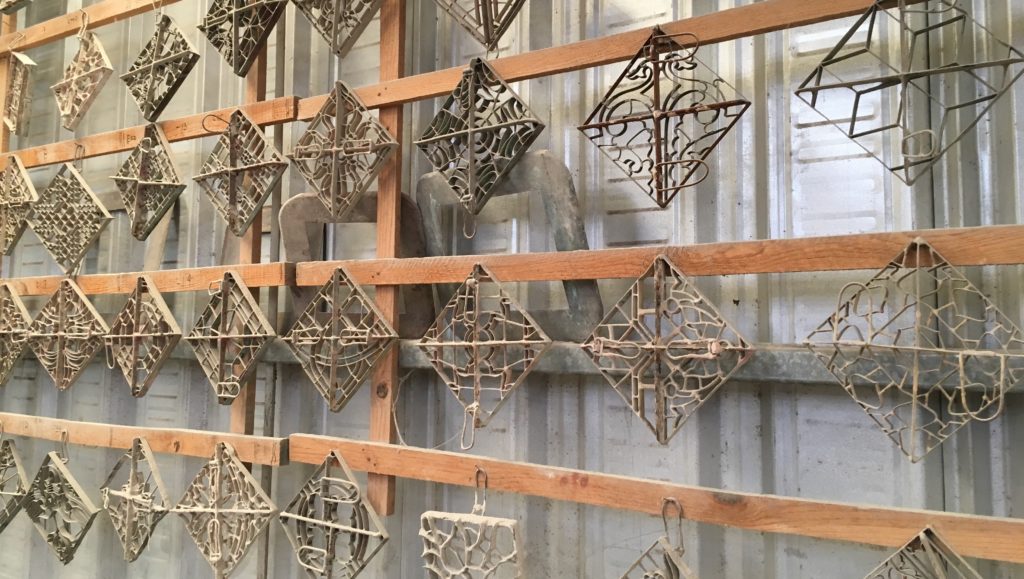 Why pasta tiles are making a comeback in popularity
Since pasta tiles were introduced to the Yucatan Peninsula they were popular in homes. They started to replace concrete and stone floors for this new trend in the 1890's. Many people added these beautiful tiles to decorate their floors. As factory made ceramic tiles started to enter the market among other cheaper materials, the use of pasta tiles faded.
With restoration of many of the older colonial homes in the peninsula, these pasta tiles are being added back into the design. Even modern home designs are incorporating these tiles into the home. Pasta tiles are durable, beautiful and very practical for construction here in Mexico. The diversity of designs and patterns allow people a wide range of options. Even mixing and matching tiles and choosing modern designs.
Now in many restaurants and bars you can find these tiles in the design. They can have a classic look and make durable design for high traffic areas.
Why not think about using this handmade art to your next project? Not only will you be supporting local tradesmen, you will have a great story to tell all your guest to your home. Plus you can enjoy them for a lifetime!
Where you can buy pasta tiles
One of the best places to go for pasta tiles is Mosaicos La Peninsular in Merida Yucatan. They are one of the older companies that have been making pasta tiles for over half a century. They have dozens of designs to choose from and they can deliver to anywhere. Tiles cost about 20-30 pesos each. This is a great considering the artistry that goes into them and the durability.
http://mosaicoslapeninsular.com/
Ordering and having pasta tiles delivered from Mosaicos La Peninsular
Since many of our readers are in Quintana Roo and not Yucatan state, you might wonder how is the process of buying pasta tiles. The first step is knowing what you want. You might want to take a trip to Merida and stop by their showroom. It can be hard to choose from the many designs but that can be a good dilemma to have. You will also get to see what they look like before they are polished.
If you want to make an order, you should expect about a month and a half to have your tiles made and ready for you. This is because Mosaicos La Peninsular does not keep thousands of tiles on hand for orders. Most everything is made to order.
Mosaicos La Peninsular uses a local delivery company that will do the route to Cancun and the Riviera Maya. You are able to order just one box or a whole house worth of tile. Ordering them for deliver only adds a few pesos per tile.
This is a very reputable company. They also have a person here that speaks English and can help you with your questions and order.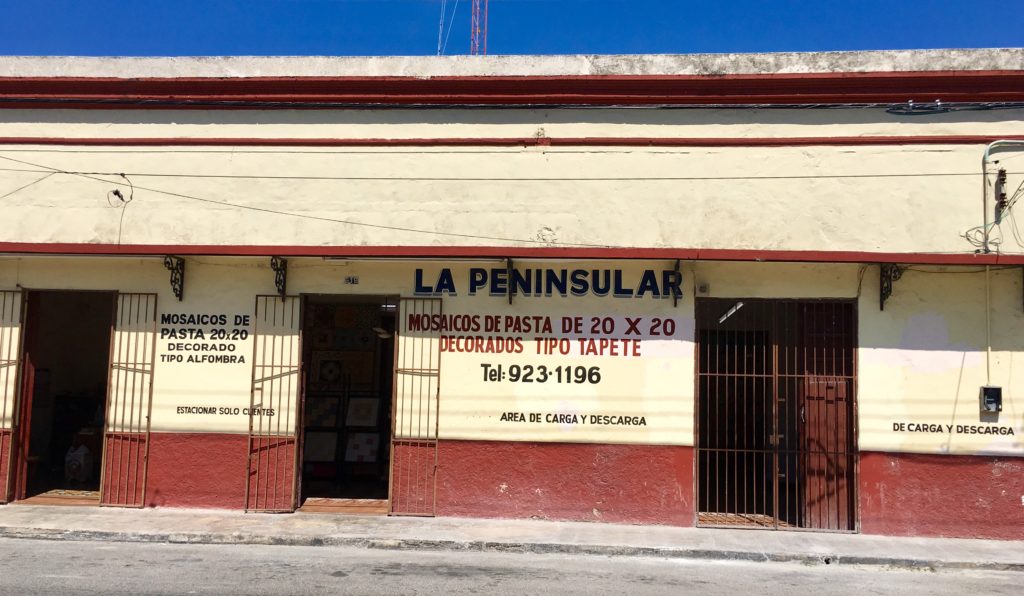 Also check out Mosaicos Dzununcan. This is the sister company that offers you a chance to custom color your tiles. Their website has a good tool to allow you to change colors with the different designs they offer. This will offer tons of options for you that can make it just what you want.
Did you know the history behind pasta tiles? Have you seen these colonial floors in the Yucatan? Let us know your comments below.
If you are looking to design a home here you might also like to read our furniture guide for Playa Del Carmen here.