Introducing the Oniric Condos in Tulum
It is pretty common to see lots of renders and billboards of new condo buildings being built in Tulum and Playa Del Carmen. But it can be nice to know some of the details that went into the design of a project. Beyond that, it is also nice to know the developer and know the project is being bought to you by expert in the field of real estate. So here is an introduction to the Oniric Condos. This is one solid project that has the perfect combination of design, services, location and desirability.
The concept of Oniric
The word "Oniric" is actually an English word meaning of relating to or suggestive of dreams and images or events imagined while asleep". So, the project is part dreamlike but also uses patterns found in nature.
The aim was to meet both the functional and artistic expectations that reflect Tulum's unique personality. The team proposed an architectural style that incorporated its essence, while also providing it with its own, different, surrealistic and dream-like personality, to be discovered not at first sight but through various tours, giving rise to sensorial sequences designed to enrich the daily rituals of its inhabitants. Such sequences are connected by the circular patio in which experiences, interactions, life, light, shadow, sound, silence, the communal and the individual come together; the balanced nucleus is the essence of the project.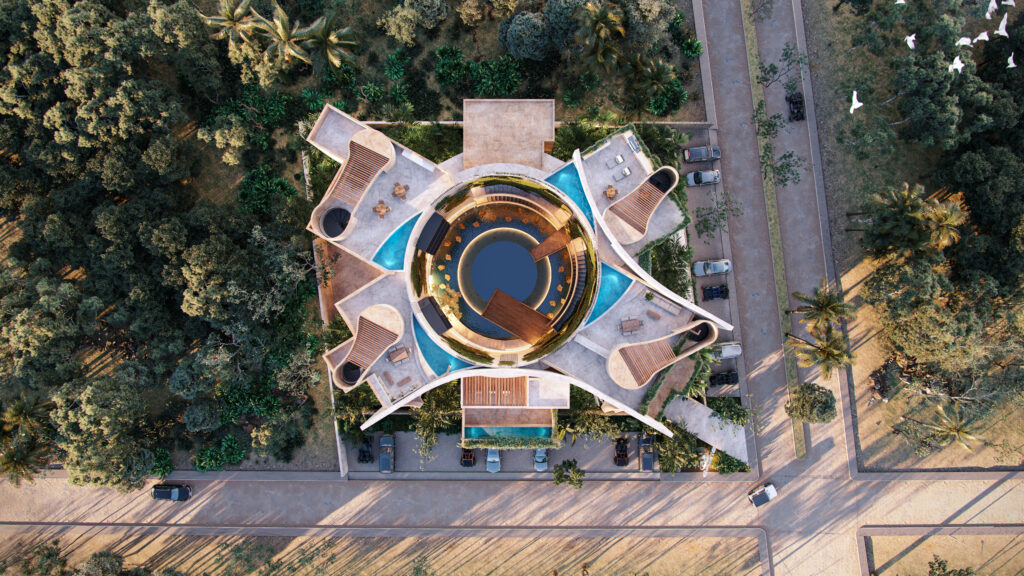 Special video introduction to Oniric Condos in Tulum
Many of you are familiar with Sebastian. He is a local expert and recommended real estate agent and has worked in the area for over a decade. Knowing what people want in properties and seeing many developers work on projects in the Riviera Maya, Sebastain teamed up with a well-known architectural firm from Merida, Yucatan. The combination of years of experience in the real estate market and wanting to develop something new for Tulum that would offer residents a special place to live and also a highly desirable area with great rentability. You can hear direct from Sebastian about this new project he is heading up. He is also giving our readers a "fly & buy" package, meaning if you come to visit and decide to buy, they cover part of the expenses to come visit. Hear the details in the video below.
Want to know more about these condos?
You can go direct to the Oniric website here where you can see more renders and download a brochure for more information.

What do the Oniric condos look like inside?
Oniric is designed to provide the ultimate in privacy, exclusivity, and luxury while also ensuring practical access to the outside world.
The development comprises just 27 apartments of differing sizes, featuring amenities for body, soul, and spirit. Each with no crossed views to ensure complete privacy. Each with its own design and layout.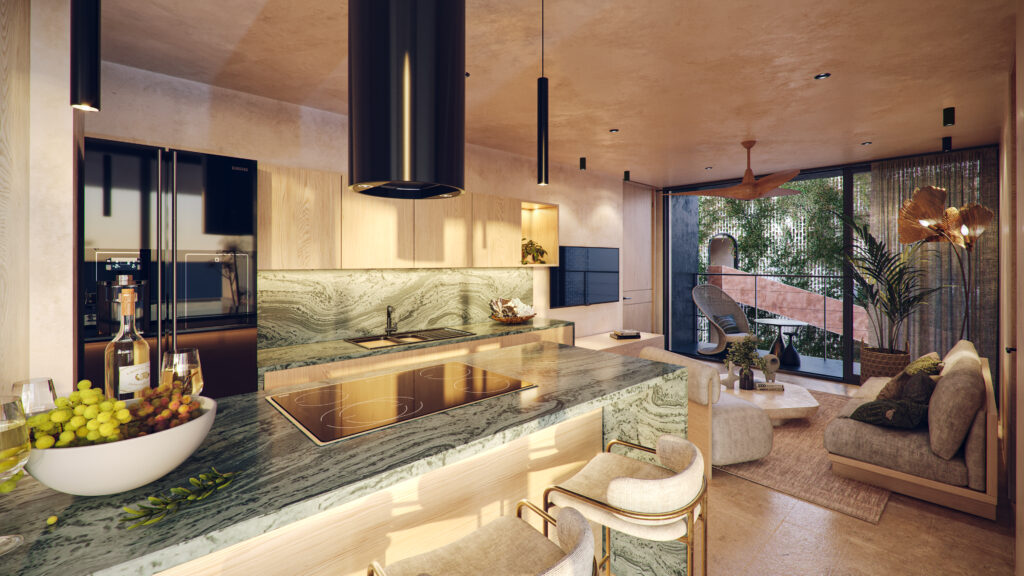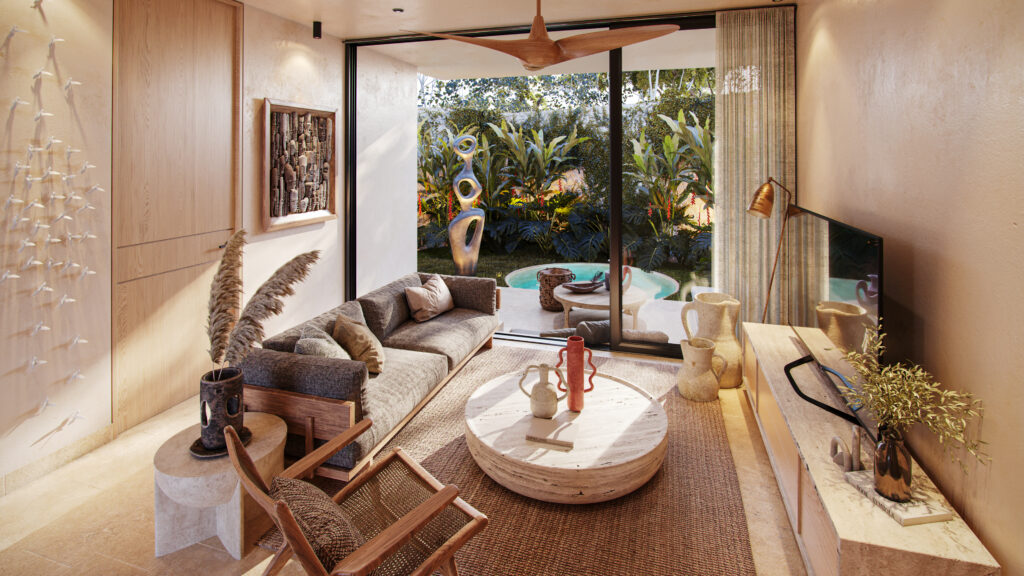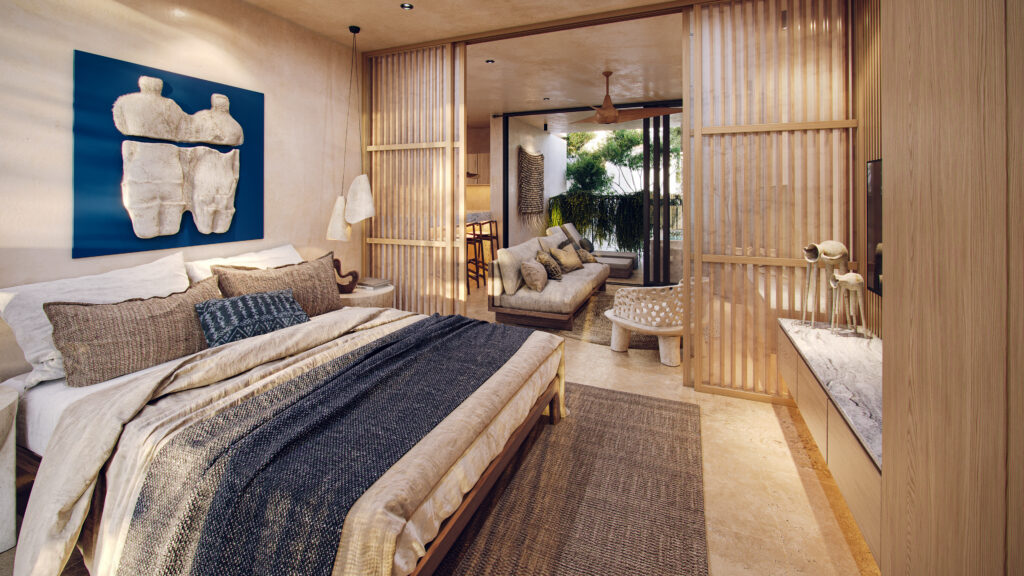 Amenities and Services at the Oniric Condos
ONIRIC swimming pool
Hanging gardens
Rooftop pool
Reflecting pool/fountain
Speakeasy with a food and wine pairing dining area
Wine cellar and kitchen
Massage area
Yoga and meditation area
Temazcal (sweat lodge)
Ice bath
Coworking
Green areas
Garbage chute
Lobby Security
Elevator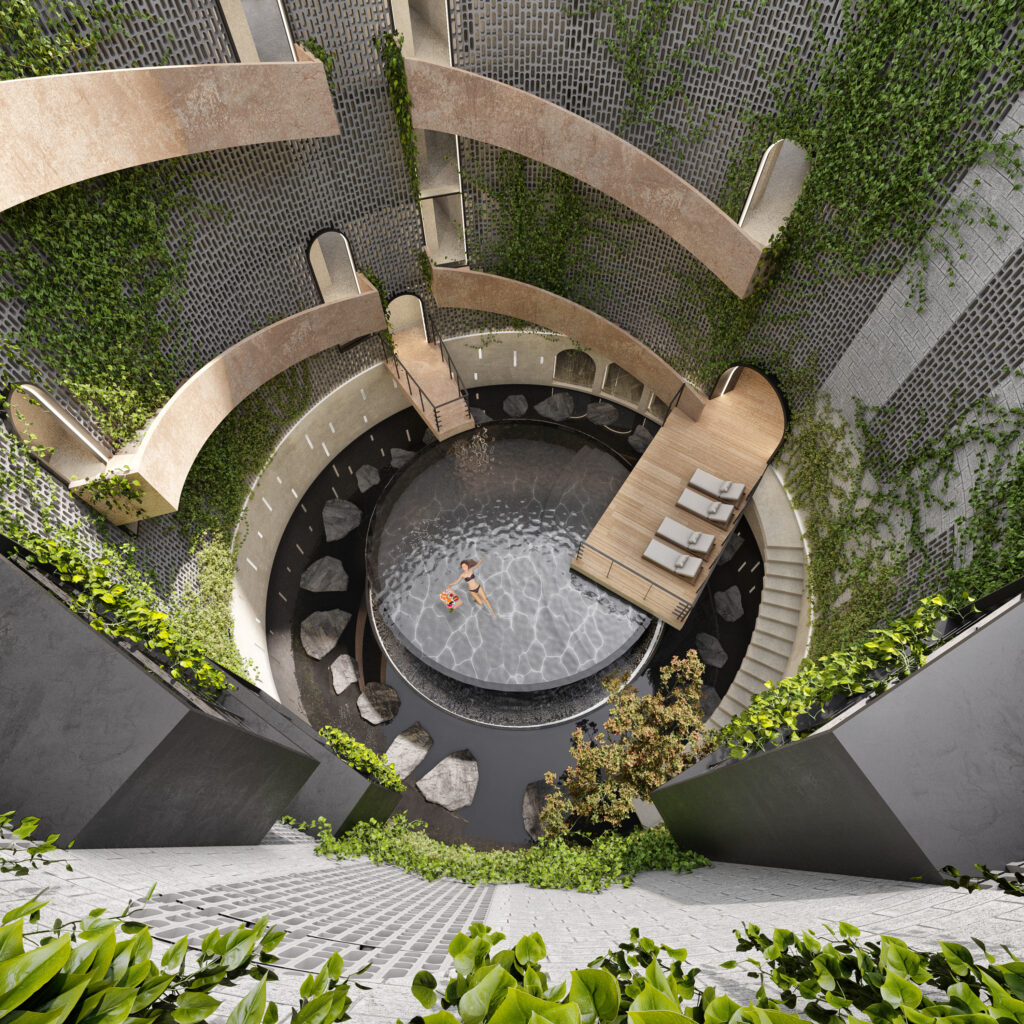 Where are the Oniric condos?
Tulum is known worldwide as the crown jewel of the Riviera Maya. Nestled in the heart of the age-old Maya civilization, its unique surroundings are characterized by dense low jungle, the spectacular beaches of the Mexican Caribbean, and the natural phenomenon of crystal-clear, freshwater cenotes or sinkholes, which are known worldwide.
Tulum is also known for its Boho Chic lifestyle, a combination of casual living characterized by luxury features, such as world-class restaurants and beach clubs, and a rich social makeup comprising traditional festivals, art exhibitions and cultural events, along with a full range of wellness activities and a fun-loving, cosmopolitan social circle. This is where the Oniric condos are being built, so people can take advantage to everything Tulum has to offer.
The Oniric Condos are being built in Region 8 of Tulum. This is a new area on the south end of Tulum that will be the closest to the beach. This places the condos in a new and unique area of Tulum and the heart of a trendy new area. If you are not familiar with the areas of Tulum, you can see a video, map and article here about the different areas of Tulum.
The condos are 5 minutes to the beach and 7 minutes from downtown Tulum. The new beach access road of Kukulkan is just 500 meters away.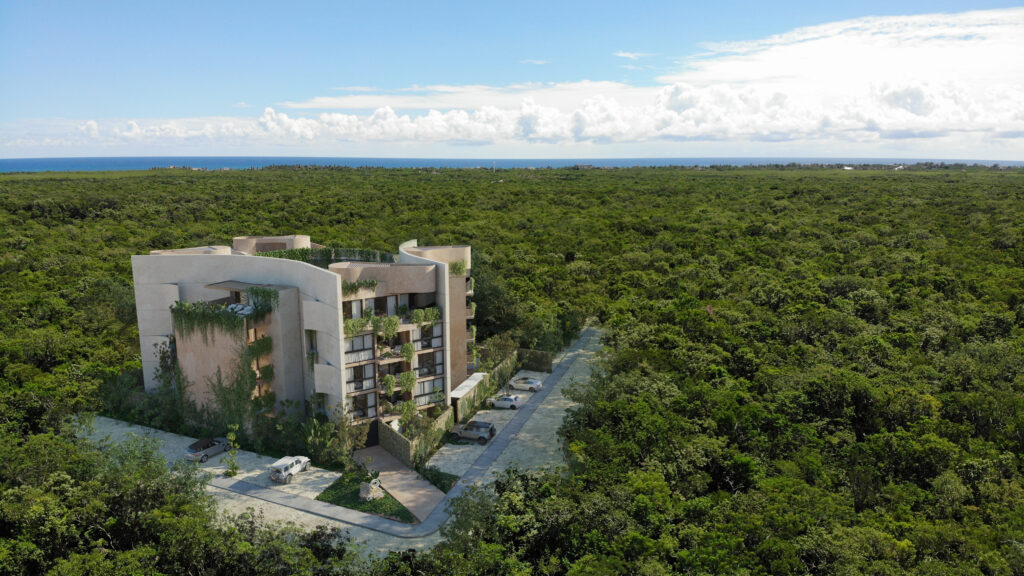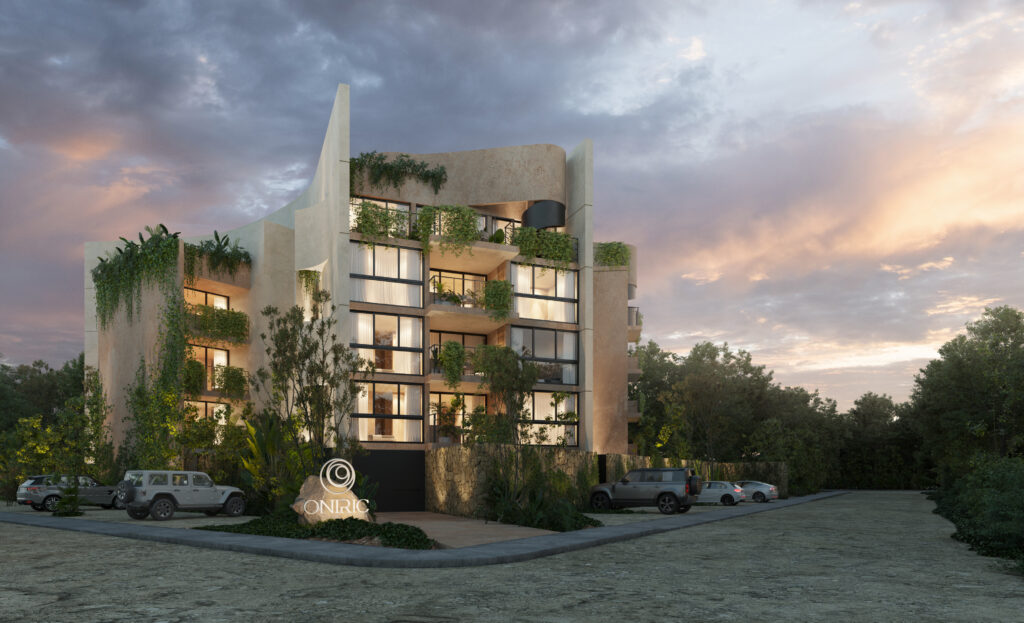 If you would like to know more about these condos, you can click the link to go directly to the Oniric website. There you can see more renders and download more information plus contact Sebastian and his team.