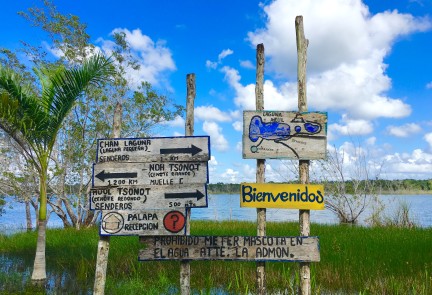 The Ojos Mayas Tour Company is relatively new to the area and they offer one tour to the public now. Even though they are fairly new they have been working on this project for five years in order to set up a sustainable tour and work with a local community.
This tour is for those seeking a deeper cultural experience away from mass tourism. This tour is right out of a National Geographic magazine with visits into Mayan homes and learning from a living culture. You will learn about the Mayan ways that are used in this time and you will be helping preserve this culture and knowledge.
Who is the Ojos Mayas Tour Company?
Ojos Mayas is a community based tourism project. It was designed to bring together travelers who want a deeper and more meaningful experience with a local Mayan community.   This project gives a real life experience and shows how the local Mayan people still hold true to some traditions in this modern world.
This type of tourism is important in the fast developing Riviera Maya. Many of the large hotels offer jobs to young people from small communities and the culture, language, knowledge and traditions are disappearing or being lost. Ojos Mayas works closely with maintaining a small footprint of bringing sustainable tourism to a remote area and uses part of the funds to provide jobs and further education of the local youths with the Mayan skills.
What is the Ojos Mayas Tour Like?
Your tour will start by pickup from an arranged pickup point, hotel or rental property. Depending on where you are coming from, transportation is about 2 hours to the community.
The tour usually starts with a pickup at 8:00am and you are back by 6:00pm.
Tours are limited to a minimum of 6 people and maximum of 12 people (if you want a private tour for a small group ex. 2-5 people contact them for special pricing) This is so there is not a major impact on the community and a more intimate experience can be had.
Upon arrival you will be at the main meeting point and be able to use the facilities. Your tour will start in the village either by van or "Mayan motorcade" (small moto taxis). If you go by the small motos you will have a unique experience going around the town driven by young local drivers.
Note: There can be some variations to this tour based on weather and other circumstance.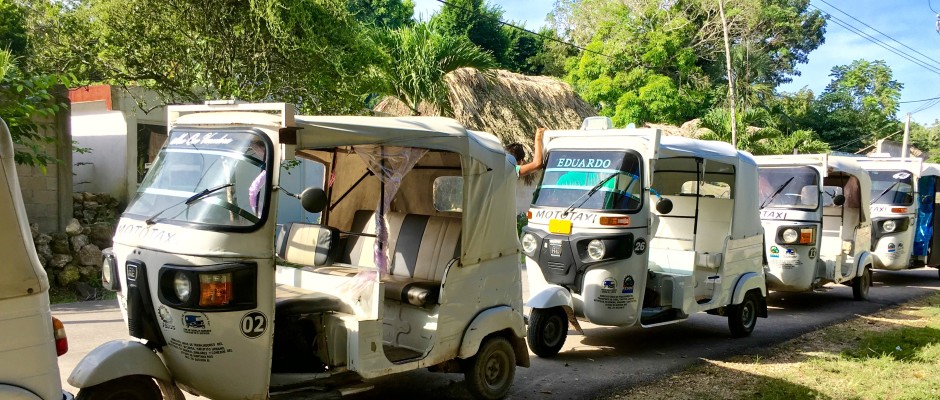 Mayan Herbal Medicine
You will visit with a traditional herbal doctor. You will be shown several plants and their leaves that grown in the community. Learning about their uses and how they are prepared to be medicine is fascinating to hear. Some of the plants have remarkable properties!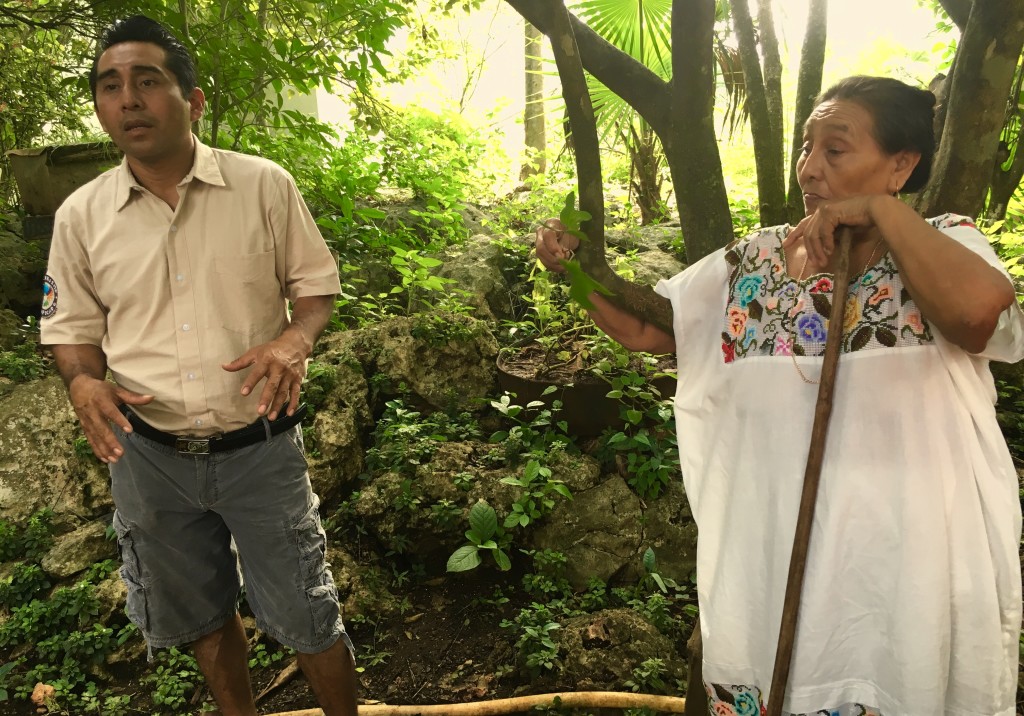 Listen to the Mayan history from descendants
Another activity you will do is a visit to a local elder in the community. You will hear stories about the War of the Caste which was a war between the Maya and the Mexican government.  Straight from a descendant of someone who fought in this war and has the original photos to tell the story, you will hear the stories.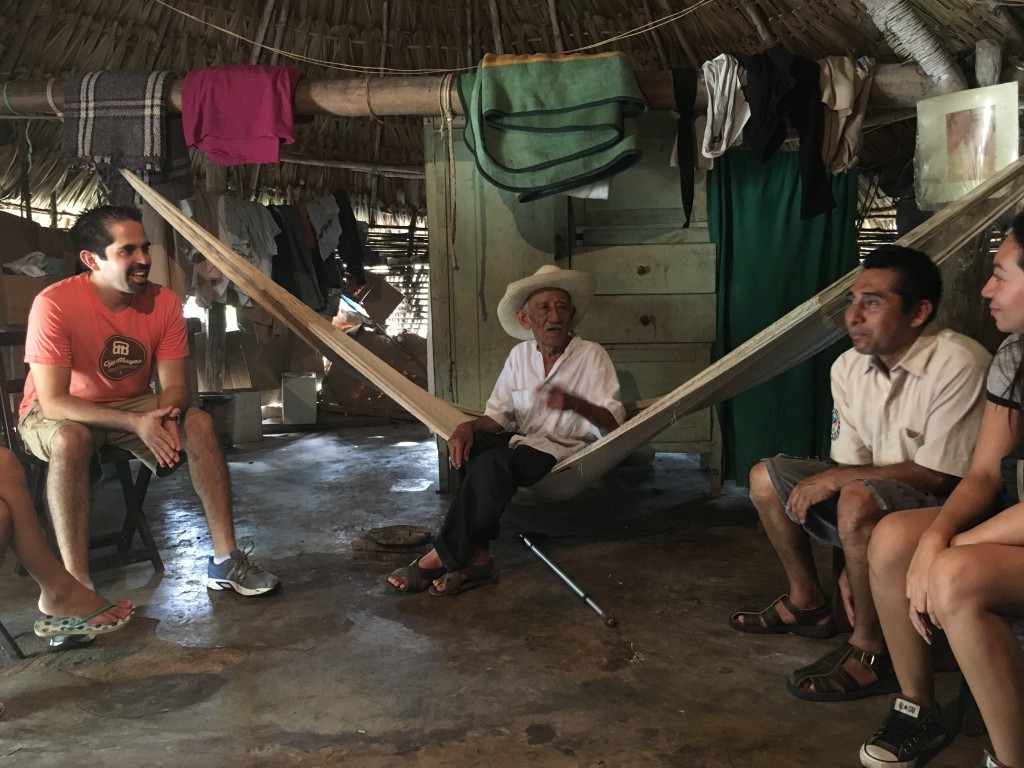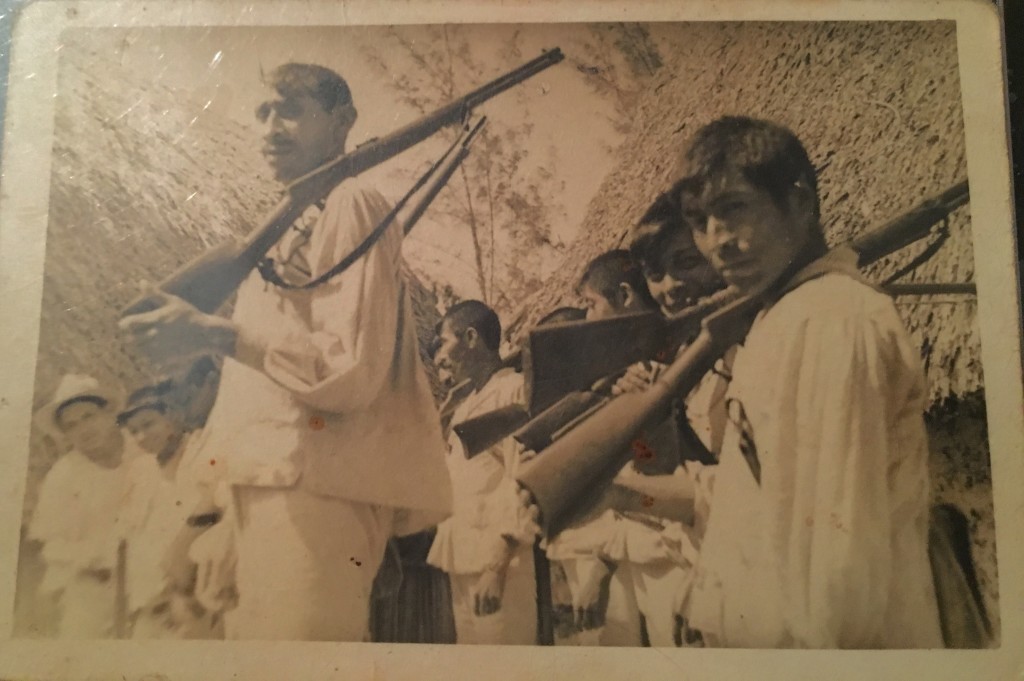 Learn about making fiber from plants
You will discover how sisal fibers are made. This plant was referred to as "green gold" because it brought extreme wealth to the Yucatan Peninsula. Seeing a real life demonstration will give you a much deeper appreciation of the effort that it takes to get the material and the craftsmanship in the products that are made from it.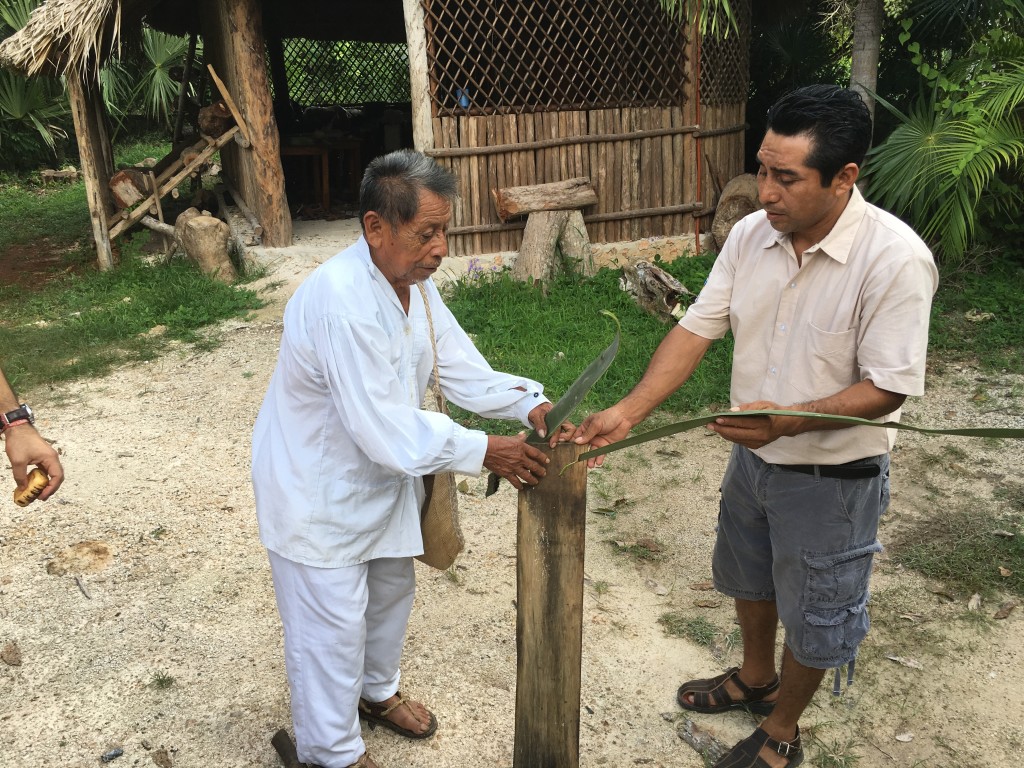 Mayan Honey production
The Mayan people are very famous for the production of high quality honey. You will see how this is done.
Interesting fact: The melipona bee is only found here and is stingless.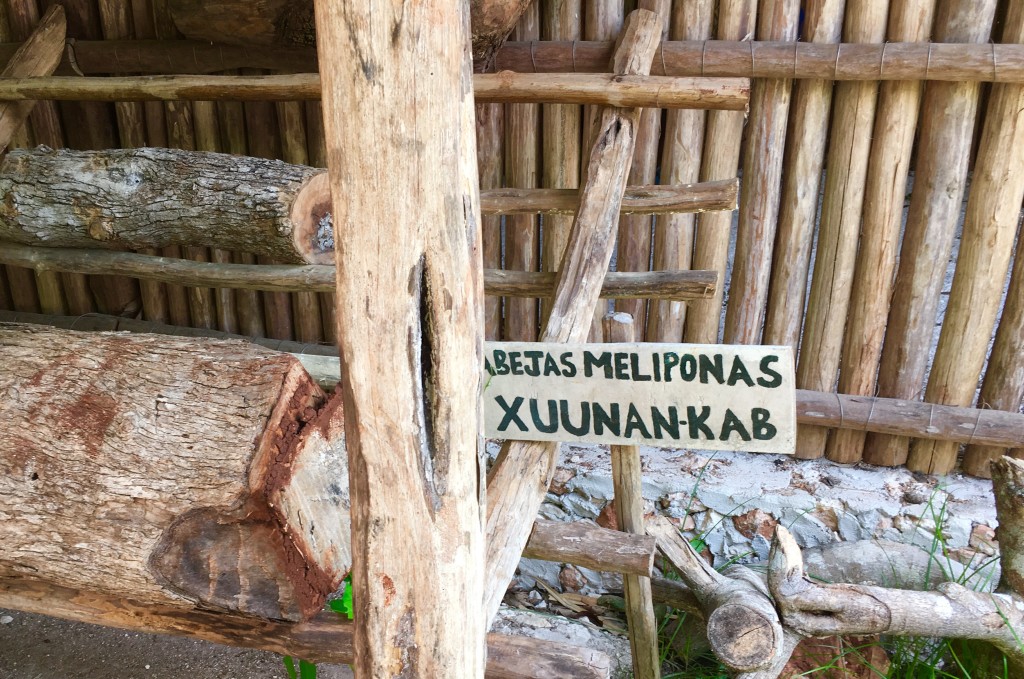 Swimming in Laguna Azul
You will visit the fresh water lagoon where you can cool off and swim. You will probably be the only people there!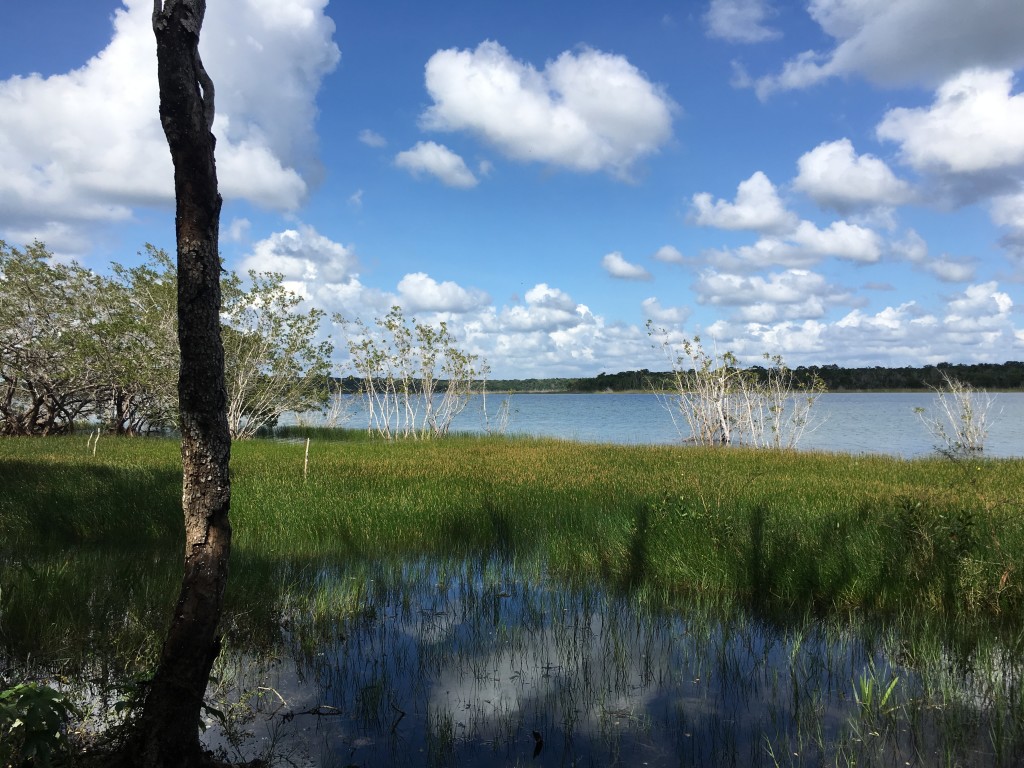 Lunch with traditional Mayan food
And last of all you will enjoy a locally grown and prepared meal. Everything comes from the community and you will taste the richness of the food and surely enjoy the handmade tortillas! Even the cups were from a local tree that produces a gourd like fruit that is cut in half to make cups.
We had fresh made tortillas, black beans, Chaya(a green plant similar to spinach) with eggs, fresh made salsa, roasted squash, watermelon juice and sweetened pumpkin and fresh fruit for dessert.
Note: If you have dietary restrictions ask about accommodations for you before you go.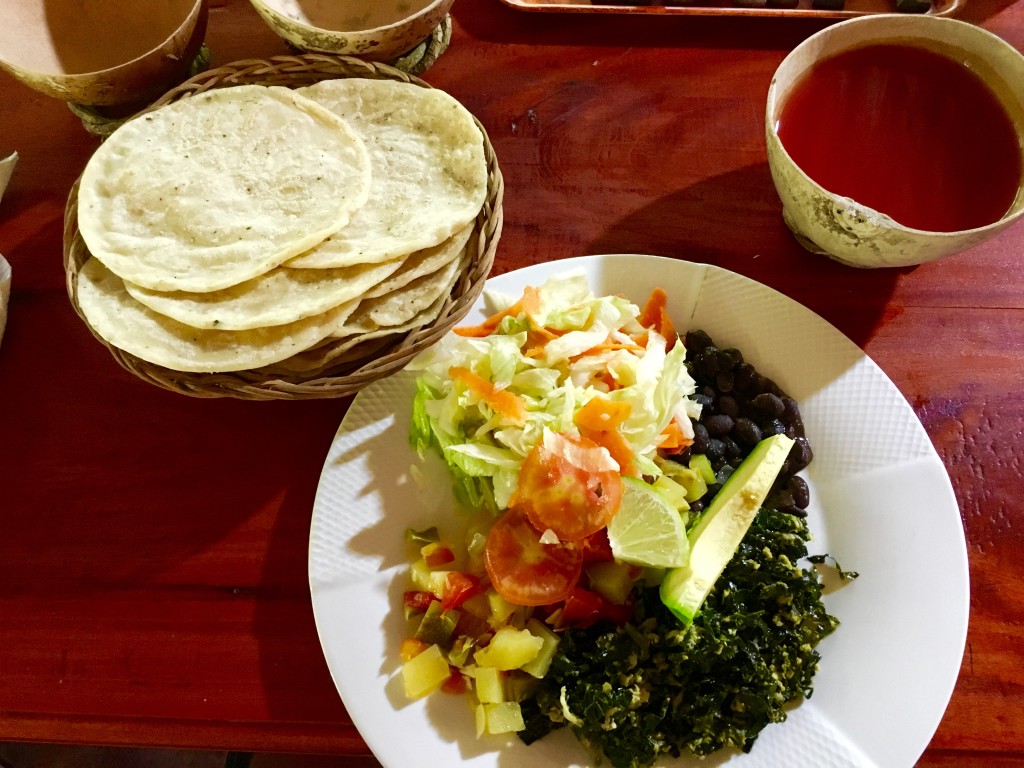 What is included in this tour:
Transportation in an air conditioned van.
Transportation with insurance.
Welcome drink.
All above activities.
Entrance fees.
Certified bilingual guide.
Regional cuisine for lunch.
What to bring on this tour:
We recommend comfortable clothes and shoes.
Perhaps a pair of sandals for use near the lagoon.
Swimsuit and towel.
Biodegradable sunscreen and bug screen if you think you will use them.
Tip money and money for souvenirs.
Perhaps a snack, there is good lunch included and snacks as well on this tour, but with a long day and early start you might want a snack bar or something.
Your camera.
It would be cool if you bought a post card or something from where you are from since this is a one on one with people living in the community and a small cultural exchange would make your visit more special.
Cost of tour and where your money goes
This cultural experience is 125 USD per person (if you have children that want to go on this tour please contact Ojos Mayas for prices). The money you spend on this goes to support sustainable tourism and keep alive the knowledge of the skills and local people. 40% of the cost of the tour goes to the community. Of this 40% half of the money goes to locals that participate in the experience, the rest is spent on programs for children in the community to learn the skills and heritage and the small remainder goes for the building maintenance.
Note: The preferable day to do this tour is a Saturday.
How to book this experience and contact information
Contact Ojos Mayas here at their website for booking information https://www.ojosmayas.com/
Recommendations for this tour:
This tour is recommended for people that want a real life experience and an in-depth look into the life and traditions of the local Mayans. This is a good tour for those that like to support sustainable tourism and avoid mass marketing tours and large groups.
This tour is real life and not for the adventure seekers who like to include zip lines or ATV's with a little culture. Depending on the ages and interest of your children you will need to make a decision if this tour will interest them. If you have mobility issues and are not sure you can do this tour, contact Ojos Mayas for specifics.
It should be noted that this tour does involve some transportation time due to the fact it goes to a more remote area to get a true life experience for those that take this tour. For this reason if you are staying north of Playa Del Carmen the transportation time can be prohibitive.