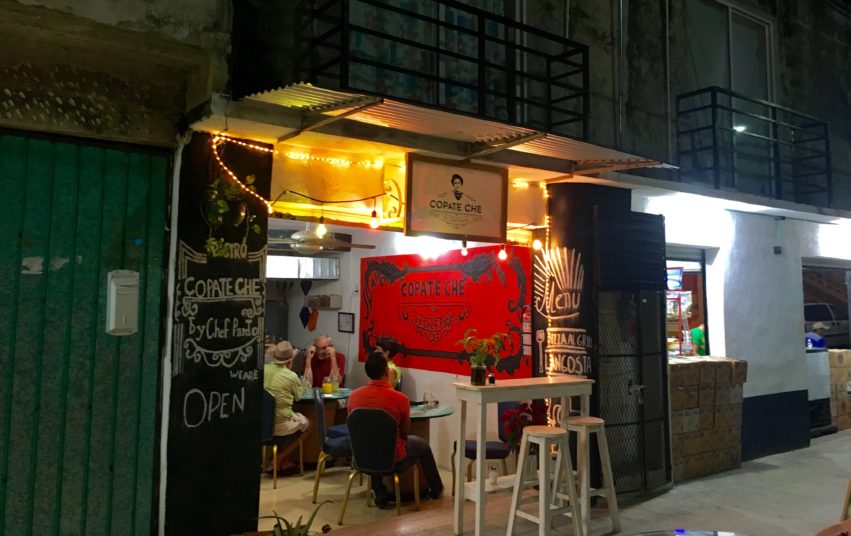 Taste the passion of cooking at Copate Che Restaurant
Update: Copate Che Restaurant is closing but don't worry, you can still dine with Chef Rene and Karla! They are starting Copate Che Catering. Now they offer private chef services and catering. You can read about it in our article here.
Do you like finding the hidden gems of restaurants in Playa Del Carmen? Do you like finding the people that have a passion for cooking? Or even better,  a great value for your meal? Well, we have a great little place for you. Copate Che Restaurant is run by a husband and wife team René and Karla. René, the chef, has cooked in many countries in South American as well as Mexico. Now they have decided to open a small gourmet restaurant here in Playa Del Carmen and share their passion.
We hope you get to go by this small restaurant and enjoy the creations of René and service of Karla.
 Here is our video introduction to Copate Che
We really wanted to introduce you to René and Karla who own and run Copate Che Restaurant. They are really great people that make the restaurant more special. We hope you enjoy watching.
What's on the menu at Copate Che?
The main theme of this restaurant is Argentinian food and all the influence from the European immigrants there. This means there are Italian, French, German and other European  dishes.
There are  few mainstays on the menu here but the cool thing is, this restaurant changes the menu each Monday. They announce it on their Facebook page. This way you get a fresh menu and also things that are in season
Below is a sample menu. As you can see it is well thought out and gourmet.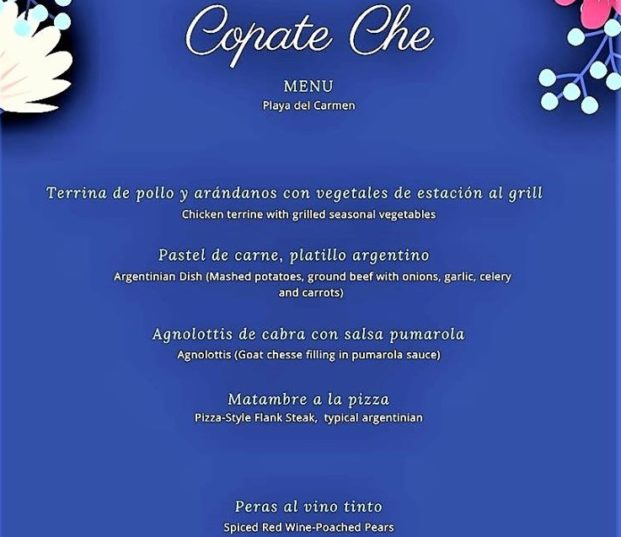 Now blind diners at Copate Che!
What is a blind dinner? This is a dinner that you do not know what is going to be served. It is a culinary treat to be treated like the star.  A special one of a kind dinner prepared just for you. The only impute you get is what allergies you have and one taste or ingredient you like. There is no deciding what to order, all of it is taken care of.
Non alcoholic drinks, a started, main plate and dessert is included in this. Besides a fascinating and changing menu you get to interact with the chef and his wife. Foodies will love this experience! The price is 650 pesos per person.
For 6:00pm-10:00pm Monday-Saturday they present this special offing to guests. Reservations are good to have since it is limited.
Menu prices at Copate Che Restaurant
Prices for a dish usually are around 100-200 pesos. This is one thing that really makes this restaurant stand out. The prices are very reasonable especially for the passion put into the food.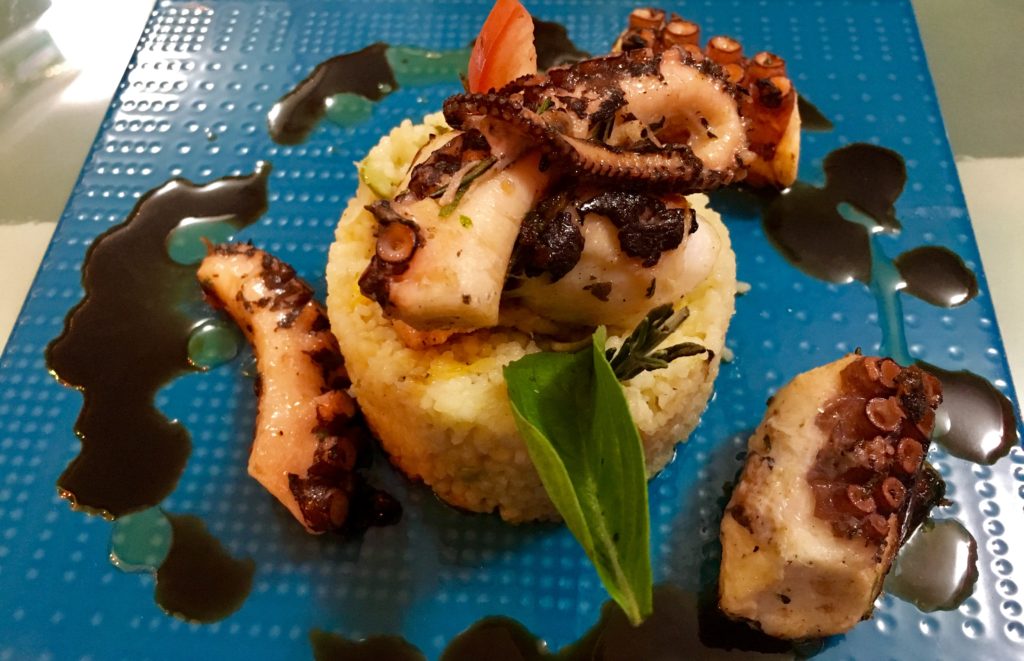 Making reservations at Copate Che Restaurant
Since Copate Che only has a few tables it is good to make a reservation at least one day in advance. The best way is by sending a WhatsApp message in English or Spanish to 984-117-6777 or call to 984-148-2733 if you do not use WhatsApp.
Hours and location
Copate Che is open Monday-Saturday from 1:00pm-10:00pm. The regular menu is available from 1:00pm-6:00pm and the blind dinners start from 6:00pm-10:00pm.
The restaurant is on CTM Avenue (AKA 46th Street) between 15th Avenue and 20th Avenue on the south side of the street. This is a little north of center in Playa Del Carmen. A taxi is a good option for arriving here. The street looks basic but the love flows out of this little restaurant.
More restaurants in Playa Del Carmen
If you would like to find out about more restaurants like this in Playa Del Carmen, see our guide here.
Have you been to Copate Che Restaurant? What did you think? We would love to hear your comments below.