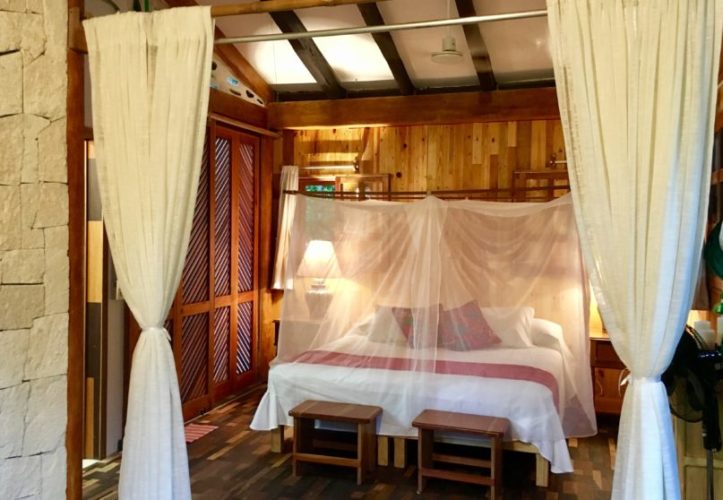 Chaktunche B&B Jungle Cabins in Puerto Morelos
We recently saw photos of Chaktunche and wanted to check  out this unique hotel. We were impressed with the attention to details and creative way they built these luxury cabins in the jungle. This is just one of the creative and great hotels to stay in while visiting the Rivera Maya.
Our video of Chaktunche eco cabins
We wanted to show you some of the many interesting features of this property so we made this video for you. We hope you enjoy it.
What is it like to stay at Chaktunche?
This will be a unique experience and relaxing. Your host here will take good care of you including the breakfast that is served.
Breakfast time
Breakfast is served at the main building in the mornings. They use organic ingredients and locally sourced produce. Imagine waking up with the sound of birds, a waterfall and sun coming through the trees and then having a delicious breakfast. For sure your day will start good here.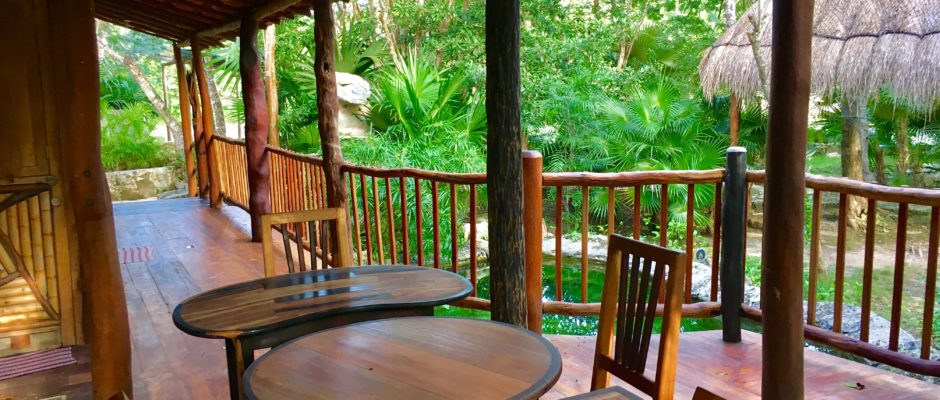 Pool area at Chaktunche
On the property there is a large pool that is open for guest. Next to the pool area is a place for massage. The area around the pool also makes for a great place to do yoga.
A nice hidden feature at Chaktunche is the small cenote which has access right by the pool. The cenote has a ladder that goes down into it and a light. The cenote is probably one of the smallest in the Rivera Maya but that is what makes it special. It is shallow and perfect for a romantic spot. See our video for a look at it.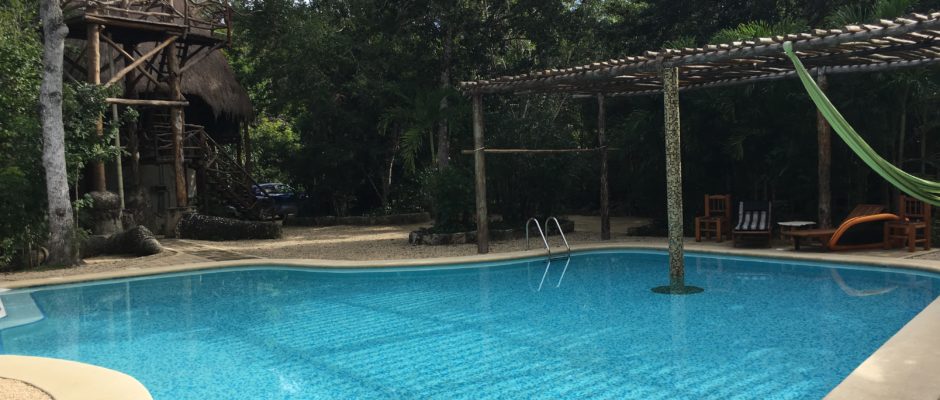 The area surrounding the cabins
The property is heavily wooded with lush tropical forest. There are many local animals and birds that will sing and be seen in the woods.
What are the cabins like at Chaktunche?
Currently there are three cabins for rent but more are planned. Each cabin is unique to say the least. Much work has gone into these semi luxurious cabins that will make your stay comfortable.
Each cabin has a bathroom with shower, lights, fans, netting over the beds and custom made tropical hardwood furniture and carpentry. The beds are very comfortable with good linens.
Tips for staying at these cabins:
Only use or bring biodegradable lotions or but repellent.
It is best if you have your own car for transportation.
Communicate with the host about meal options for dinner.
No food is allowed in the cabins so not to attract animals and insects.
Reserve at least one day in advance.
Where is this unique hotel and how to reserve
Chaktunche B&B cabins in on the Ruta de Cenotes. This is the road that goes from Puerto Morelos to Leona Vicario. The cabins are located near KM9.
To get to Chaktunche it is best if you have your own car since this is a remote property and you will want to go around to visit some of the local cenotes. It is possible to get a taxi in Puerto Morelos to the cabins.  Chaktunche is 25 minutes from the Cancun Airport and 15 minutes from Puerto Morelos.
If you also want to know more about this area and what is near, see our article here.
How to reserve here
There are two ways you can contact them and book. You can book through their Airbnb page. Or you can contact them on their Facebook page.
Our recommendations for this unique hotel in the Riviera Maya
We recommend at least two nights here so you have a chance to settle in, relax, use the pool and look around the area. This is also a good weekend getaway for people that live in Playa Del Carmen or the Riviera Maya and want a change of pace for the weekend.
Have you been to Chaktunche? What did you think? Let us know in the comments below.