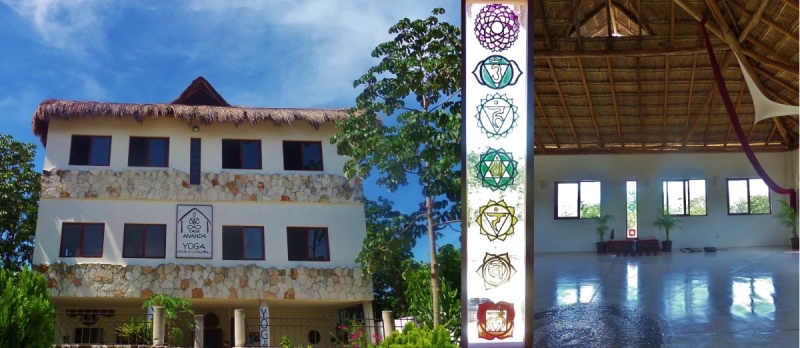 Casa Ananda Yoga
The Riviera Maya attracts a lot of people that enjoy the peacefulness and qualities associated with yoga. In Playa Del Carmen you can find many places where yoga classes are offered but Casa Ananda is a whole house dedicated to yoga and the ideals. At Casa Ananda you will find a great peaceful atmosphere where you can practice many types of yoga. It is a mix of locals and people traveling that find the place. Usually some English is spoken so you can comfortable there if your Spanish is not fluent.
Casa Ananda is not just for adults, if you have children they have children's yoga. There room for the kids is fun and even has a special door!
The woman behind Casa Ananda is Amorhania who designed the project. All through the three story building you will find many thoughtful details such as the doors to the yoga rooms that are all unique, tranquil entry garden and alcoves in the building. Amorhania teaches, does massage and also acts as a gracious host to all that enter.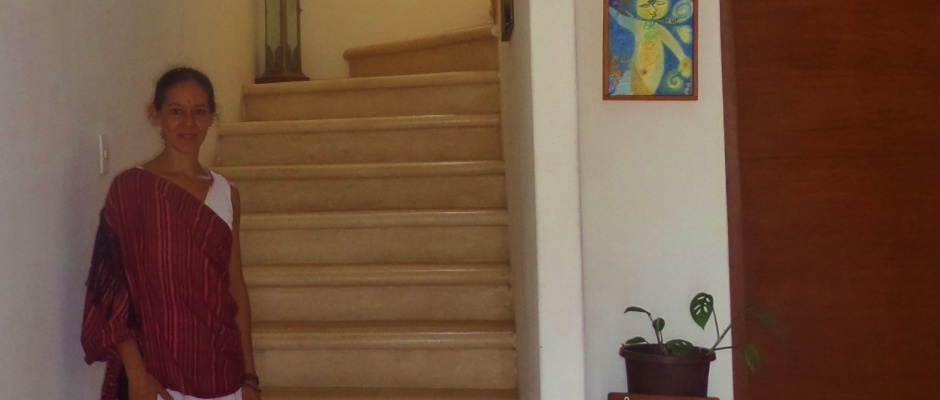 The house itself has three different rooms for yoga. There are bathrooms with showers, a gift shop, bike parking, and massage room.
Casa Ananda Hours
Reception hours are Monday- Friday 7:20am-12:30pm and 4:50pm-8:30pm Saturdays 8:20am-12:30pm.
Saturday Buffet
Saturdays are a good time to visit because they offer a vegetarian buffet breakfast for 60 pesos. It is from 10:30am-12:00 noon. You can find fresh fruit, yogurt, rice, beans, salsas, eggs, potatoes and fresh tortillas or what ever the chef comes up with. You are guaranteed a healthy meal and dinning among likeminded individuals.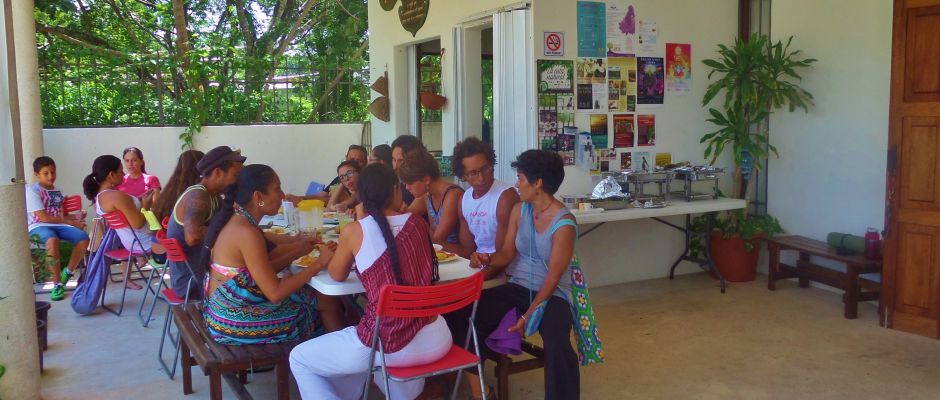 Prices for Yoga
Monthly prices are 700 pesos
Individual classes are 90 pesos for adults and 50 pesos for children
Private classes for an individual or couple are 500 pesos
Or if you prefer a package of classes 8 classes-for 600 pesos, 12 classes for 700 pesos, 20 classes for 900 pesos.
Massage at Casa Ananda
Massage is offered in the quiet massage room at Casa Ananda. They offer 13 different massages and have about seven different talented masseuses. You might just find the good quality massage that you have been looking for in Playa Del Carmen here. Prices are 40 minutes for 400 pesos, 50 minutes for 450 pesos, 1 hour is 500 pesos, 1 1/2 hours is 610 pesos and 2 hours is 720 pesos.
Where is Casa Ananda
Casa Ananda is not in the center of Playa Del Carmen and is on the other side of the highway. You will need a bike, car or taxi to get there. If you follow 34th Street up and across the highway you will come to 75th Avenue and it is on the corner. Taxi drivers may not know where this is so have a general knowledge of the area to assist them.
Av. Andres Q. Roo (aka calle 34 Norte) At the corner with 75th Avenue Colonia El Pedregal, Playa Del Carmen
Want to know more?
Check out their website for class schedule and more: http://www.anandayoga.com.mx/
Or you can visit their Facebook page here.