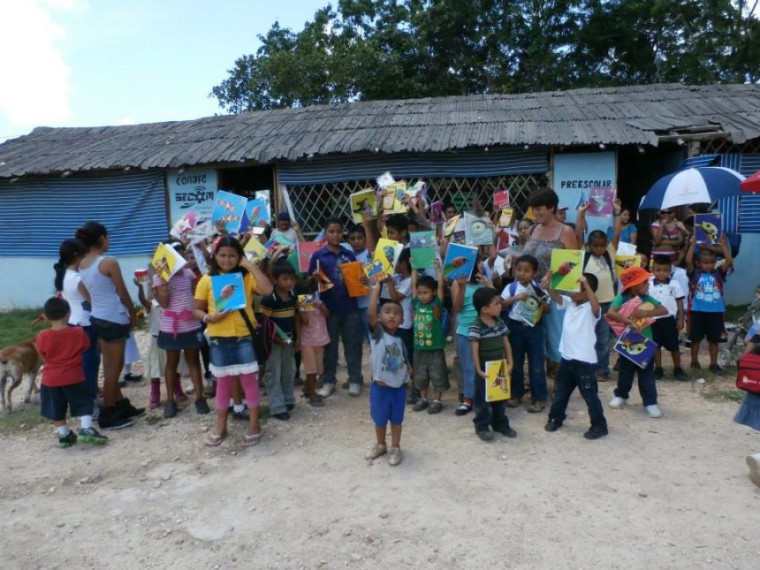 Nonprofit in Playa Del Carmen
Doesn't every child deserve a high school education?
Yes, you can change the future of Mexico by helping young people have the proper supplies to get an education! Not having the tools to learn means no learing takes place. Not being able to afford simple school supplies can keep families from sending children to school. That is how the K.K.I.S. Project got started.
Education is expensive regardless what age the children are. In elementary school there are expenses for transportation, uniforms, monthly fees and school supplies. In high school expenses are tuition cost, school fees, field trips, uniforms, and books. It cost about $600 USD a year to have a child in high school. For families that K.K.I.S works with this is two months wages. This is where K.K.I.S. comes in to help.
What is the K.K.I.S Project?
K.K.I.S stands for "Keeping kids in school". This is a noble cause because there has always been a link between how much education a person receives and the types of jobs available and economic benefits to ones family.
Interesting fact: Did you know that the hotel association now requires people to have a high school diploma to get a job? This is one of the major employment opportunities in this area, so it is more then ever important for children now to get a basic education.
K.K.I.S has been working in Playa Del Carmen since 2011 and in a four year period they have been able to help 2,582 students get school supplies. Most of the students that are assisted are below the poverty line. K.K.I.S works with two areas of Playa Del Carmen and are able to track how the project is doing and what an impact it is having with the children as more are able to have a fuller education and complete their basic schooling. With your help they will be able to reach out to more areas.
K.K.I.S is a 100% volunteer organization. There are three full time volunteers that head things up and then other volunteers that assist. They are also a Mexican non profit organization and registered in the United States as a 501 c3.
How you can help K.K.I.S
How can you help out? There are several ways that you can.
Volunteer.
Buy supplies for children here or bring school supplies from your home country.
Donate funds.
Contact them and ask what other things might be needed.
How can you volunteer?
Volunteers are used to give out school supplies or if you have teaching skills, you can even help with things like English lessons in schools .
Contact the KKIS project for more information. Here is their website: http://www.kkisproject.org
What type of supplies are needed?
Here is a list of things that are most needed. They have complied this list to make it easy for people to donate the most needed items.
12 or 24 pack of colored pencils.
Folders with pockets inside.
Simple calculators.
Glue sticks.
Scissors.
Where you can drop off donations
The Snorkel Shop | Calle 8 between 20th & 25th Avenidas
Glamor Salon | In the Mega Shopping Center on Ave 30 and Constituyentes
Charitable Organization
Since this is a registered organization in the United States you are able to claim your donations as tax exempt if you make them though the K.K.I.S website.
Note: If you donate cash while in Mexico it is not possible to give you a receipt for tax purposes, hence not making it possible to make a tax deduction.
This however might not make much of a difference because what you do donate will be helping children fulfil their education and knowing you are helping a good project is a reward in itself.
Many of us that travel to the area or those that live here are in a position to help out with this charitable organization. K.K.I.S has an excellent reputation in Playa Del Carmen and is why we wanted to tell you about them.
We hope you get to know more about them and help out if possible.