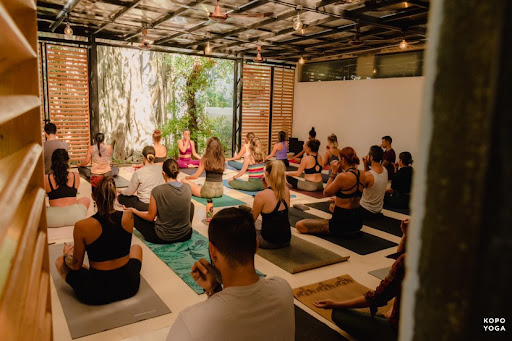 Namaste in Paradise: A Guide to the 5 Top Yoga Shalas in Playa Del Carmen
In recent years, Playa del Carmen has grown from a little fisherman village to the fastest-growing city in La Riviera Maya, overshadowing Tulum, and even Cancun.
And so has the yogic and spiritual community; yoga shalas have been popping up all over the city, and ceremonies and events are being organized daily, on the beach, in the jungle, and of course in Playa Del Carmen's yoga studios.
Are you looking for a morning stretch, a yoga teacher training, or just something different to do while in Playa Del Carmen? Let's get ready for enlightenment! Join me as I guide you through the best but lesser-known yoga studios in Playa Del Carmen.
Here's our list of the top 5 Yoga Studios in Playa del Carmen:
1) Kopo Yoga
Calle 22 Nte entre Av 25 y 30, Paraiso del Carmen, 77710 Playa del Carmen, Q.R., Mexico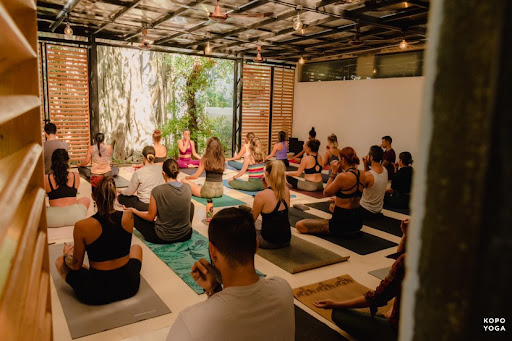 Kopo Yoga is a stunning yoga studio located in the heart of Playa del Carmen and surrounded by captivating nature and wildlife. The star of the show in this one-of-a-kind yoga shala is a gigantic ficus ("kopo" in Mayan) kindly watching over a blend of local and international yogis coming there to practice traditional forms of yoga, mainly Vinyasa, Ashtanga, and Dharma Yoga.
The studio has a lovely, secluded vibe and is a great place to relax and connect with your spiritual side. The open windows and wooden staves, make it a special place to practice comfortably in a relaxing atmosphere. A unique vibrancy envelops the room, making it a perfect space to find yourself, go within, and surrender to the practice.
Kopo Yoga also regularly organizes a plethora of events, such as cacao ceremonies, sound healing, and various workshops if you wish to work on your handstands or backbends. When visiting Playa Del Carmen, Kopo is a must to check out! And if you're living here and wish to advance your yoga practice, the teachers there, Mariel Chapoy (Power Vinyasa) or Adriana Zavala (Dharma Yoga) are some of the bests in town and will undoubtedly help your practice rise to the next level.
As a side note, the vegan restaurant next to Kopo is fabulous, if you get the munchies after your morning yoga, go give a try to Corazon Contento, your taste buds will thank you.
2) Casa Ananda
Av Andrés Quintana Roo 2, El Pedregal, 77712 Playa del Carmen, Q.R., Mexico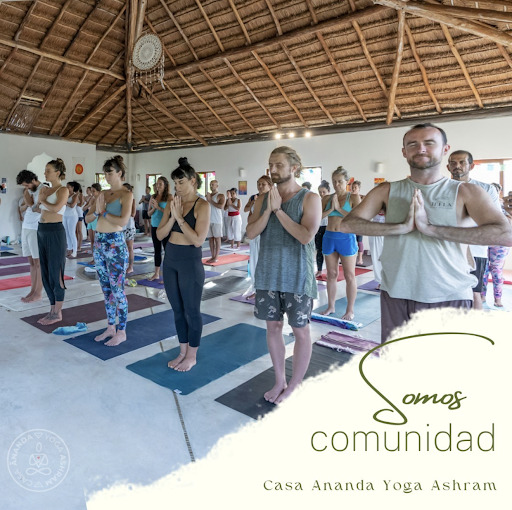 The Ananda Yoga Ashram house is a Yoga school that offers classes for all levels of practice, but they do specialize in yoga teacher training and have done so for decades. They are located slightly outside of Playa Del Carmen's city center, in the Pedegral district.
Ananda Yoga Ashram "from the Heart" fully honors its name, every corner of the ashram breathes love, and everything is planned, built, and organized so that the experience is as beautiful as it can be.
Amorhania and Fernando, the owners, built there a magical place where people genuinely practice what they preach, both teachers and students, the ideal place to reap the benefits of a deep yoga practice.
Casa Ananda offers a wide range of classes, including Vinyasa, Hatha, Natural, and Prenatal. Fernando is also a Tai Chi and Chi Kung master if you feel like trying something new. And on Saturdays, they have a special yoga class just for kids!
Amorhania and Fernando also frequently organize events, like Kirtans or Satsangs, and invite sound healers or artists to create unique and wholesome experiences in their Shala. So check out their agenda regularly to stay up to date with what's going on in this vibrant place!
3) CoCreamos
Luis Donaldo Colosio M 408 L 13 Av 10 norte C 76 y78 CP 77710 Zona Urbana A, 77728, Playa del Carmen, Q.R.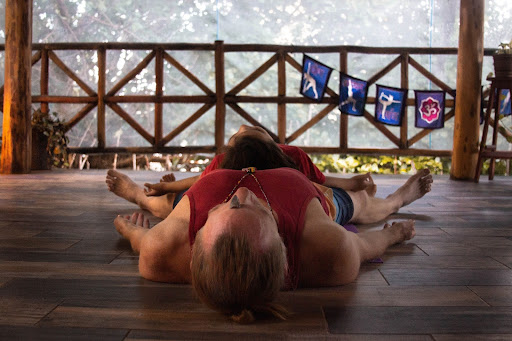 Cocreamos is a bit more than a Yoga Shala, it is a truly unique space in the Colosio district of Playa Del Carmen, where people, yogis, artists, and artisans are invited to share and co-create.
In the words of Marisol, the owner, "Cocreamos is my home, where I give my classes and therapies, my space is open to all friends to come and work their magic."
What Marisol provides at Cocreamos is a healing experience where through breathing, mindfulness, the power of your thoughts and the elements of nature, you will be able to feel renewed and in harmony with yourself and your environment.
Her practice is called Qi Yo, this form honors Tai Chi, Qi Gong, Yoga, Martial arts and Balinese Shamanic Healing. It is a practice for everyone, with multiple physical, emotional, mental and spiritual benefits.
This is a synergy of ancient practices adapted to the modern western practitioner. It is dynamic, deep, slow, balanced and psycho-physical, and designed to help you reconnect to your physical, emotional, mental, energetic, and spiritual body, and recreate an intimate relationship with the elements of your environment: Water, Fire, Air, Earth, and Space.
Cocreamos is also the only space in Playa where you will find very unique and traditional forms of yoga, such as Iyengar Yoga and Kemetic Yoga.
But Cocreamos is not only about healing practices, Marisol calls it "A Collective Nest for the integral development of the being". They also dabble in meditation, mindfulness, Temazcal Therapy, Massage Therapy, and various ancestral psychophysical practices with a focus on Introspection. Cocreamos also organize farmers' markets where local producers can exhibit their products or thematic festivals where the Playense Family gets together with workshops, talks, and open microphones for artists such as poets and singers.
4) Playa Yoga Tribe
15 Avenida Nte entre Av. Juarez y Calle 2 Nte, Centro, 77710 Playa del Carmen, Q.R., México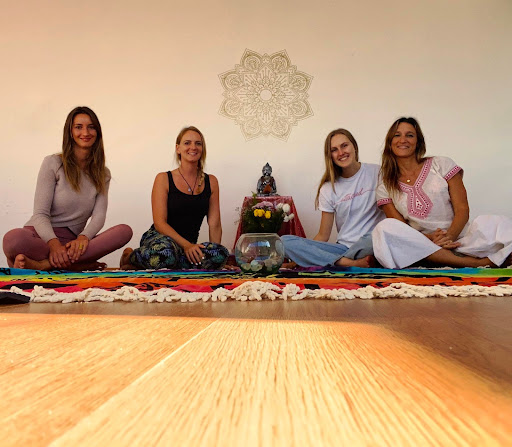 Playa Yoga Tribe, a reference in the Yoga Community in Playa, was formerly located in the green village boutique hotel but has recently moved to the Imix Holistic Space. Classes, are scheduled all day long and cost only 100mxn for a yoga class, making it a very affordable way to practice yoga in Playa Del Carmen.
There you can practice very diverse forms of yoga, depending on who is teaching that week. They also organize regular meditation sessions, Reiki, and Breathwork (Pranayama) classes and sometimes combine yoga, sound healing, and many other creative ways to put you on your path to relaxation and mindfulness.
Playa Yoga Tribe has a unique community vibe, and classes are held by a collective of teachers that changes over time, making it the most diverse yoga shala in Playa Del Carmen.
From Ashtanga to Power Yoga, from Kundalini to Chakra yoga, and Hatha to Yin. Yoga is taught there in all shapes and forms, so check out their schedule, and find your own tribe!
5) Ashtanga Yoga Playa
Av. Sian Ka'an & Av. Solidaridad, 77710 Playa del Carmen, Q.R., Mexico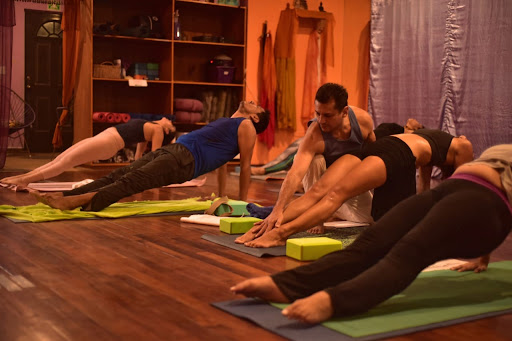 Ashtanga Yoga Playa is the only yoga studio in Playa Del Carmen dedicated and dedicated only to Ashtanga in its purest form. It is located away from the touristic side of Playa Del Carmen, in an Indian-style yoga shala where you will be met with wooden floors and a very quiet and sacred vibe.
Ashtanga Yoga is one of the most physically demanding styles of yoga and is based on a very strict set of sequences of postures; Students work their way up through the series to more and more challenging poses.
This yoga studio in Playa del Carmen is especially famous for its gifted and warm teacher, Juan Carlos. His classes are held in Spanish, but he will accommodate easily English speakers. Ashtanga is his passion, and you will feel it throughout the class. And if you're lucky enough, he might show off his Tibetan bowl skills during savasana and send you into another dimension crafted of bliss and relaxation.
Please note that even if Ashtanga is a very challenging practice, beginners are very welcome to join, and Juan Carlos will always provide alternative postures that will fit your skill level.
If you are a beginner or a skilled yogi and you are looking for a practice that will challenge your body and mind, Ashtanga Yoga Playa is the place to go!