Stripping off that weight with pole dancing classes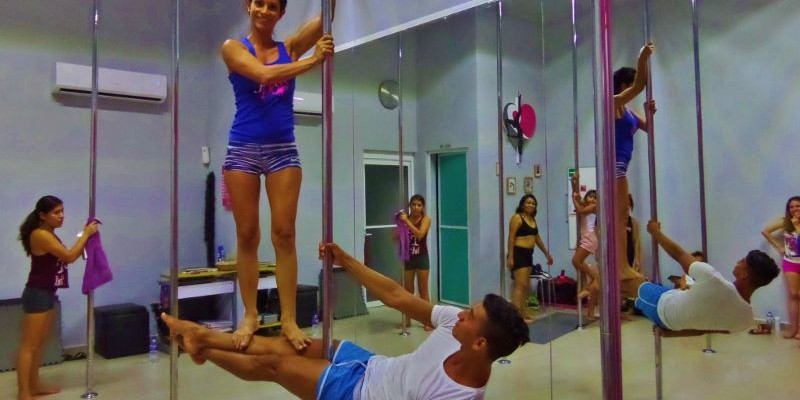 Luva Pole is a fitness dance studio where you learn pole techniques in a fun atmosphere. You will work on core strength, arm and leg strength and flexibility. This is just another fun activity to try out in Playa Del Carmen. It can be good if you live here or are just here for a short while.
The location is easy to get to in the center of Playa and the small studio is very clean and air conditioned. There are seven tall poles and a mirrored wall so you can see how you are doing.
What is a class like?
Each class starts with a warm up. Classes can be for beginners or more advanced. All fitness levels welcome. All three of the current instructors speak enough English to instruct you and make you feel comfortable. During the class you will learn the basics and different positions. You work your way up from there. We took a class so we could tell you just what it is like. You will work different muscles and your body will have to get used to it so we recommend not doing it two days in a row because you might be sore at first.
The hour goes by very fast and it is a fun interactive class.  Everyone is supportive of each other. Both men and woman are welcome in classes. At the end of the class there is a cool down period.
After you take a class you will have more appreciation for people that can dance with a pole and do moves. But just think after you take some classes you can impress friends with your skills on the pole!
What to wear and bring with you for a class
Women and men should wear short shorts because you need your thighs to hold the pole with skin contact. A tight shirt will allow you free movement. In the class you do not wear shoes or socks.
Important tip: Do not wear any lotion on your body or hands. The natural oils on your hands will be enough to contend with. You need to be dry and be able to have good skin contact. Those movies where strippers are all oiled up are totally false.
Bring an absorbent towel. You will constantly need to wipe the pole to get natural oils off and if you start sweating you will need  towel.
Class Schedule for Luva Pole
Classes are Monday-Friday 8:00am-11:00am and from 6:00pm-9:00pm. Classes are one hour. On Saturday they have open practice classes that are included in packages.
Since there are 7 poles a reservation is necessary. The number to call is 984-157-9484.
Prices are 4 classes for 500 pesos, 8 classes for 700 pesos, 12 classes for 900 pesos, 16 classes for 1000 pesos, unlimited classes in one month for 1,100 pesos, one class is 150 pesos but if you buy a package that goes toward the price of the package.
Why not try this fun activity in Playa!
Location
Luva Pole is located on 8th Street between 20th Avenue and 25th Avenue. It is in the small plaza that faces the Palacio Municipal.
Have you done a pole class? What did you think? Let us know in the comments below.