Siete Detalles Store in Playa Del Carmen Selling Mexican Pewter and Talavera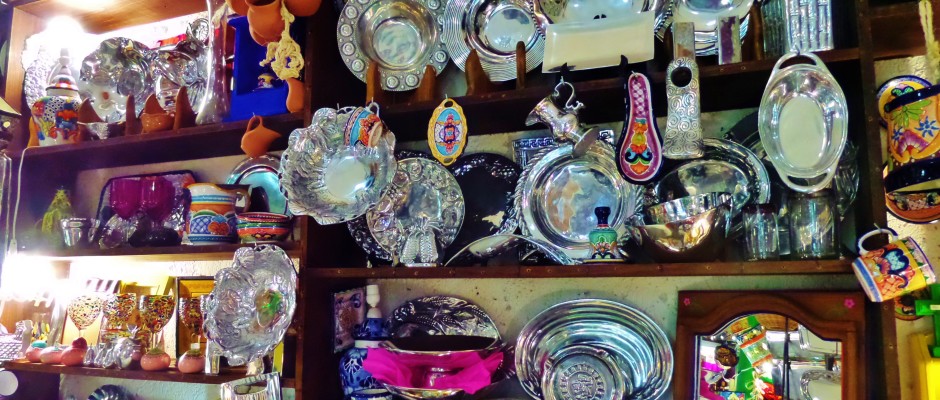 The Siete Detalles Store
Alicia, the owner of Siete Detalles store (named in honor of her seven children) has been bringing crafts from different parts of Mexico to sell in Playa Del Carmen. Many people consider her store to be one of the best places to find good crafts especially Mexican pewter crafts and Talavera ceramics among others. Alicia has been in Playa Del Carmen for 22 years now and has become a cornerstone of good Mexican pieces at the corner of 1st Avenue and 14th St. It is not on 5th Avenue, but just walk one block off of 5th and you will find it. You may of passed by it and would recognize it from the windows full of shiny pewter items and colorful ceramics.  The store is small but all the wall and surface space is used to display an array of ceramics and pewter.
Mexican crafts have been undervalued due to cultural biases but once people come to know the rich history and meaning behind these works of art it gives people a much greater appreciation of them. Alicia has a great understanding of the things in her store and can tell you all about them. She speaks mainly Spanish so if you want more in depth information and your Spanish is a bit rusty you might want to take a friend with you to help translate.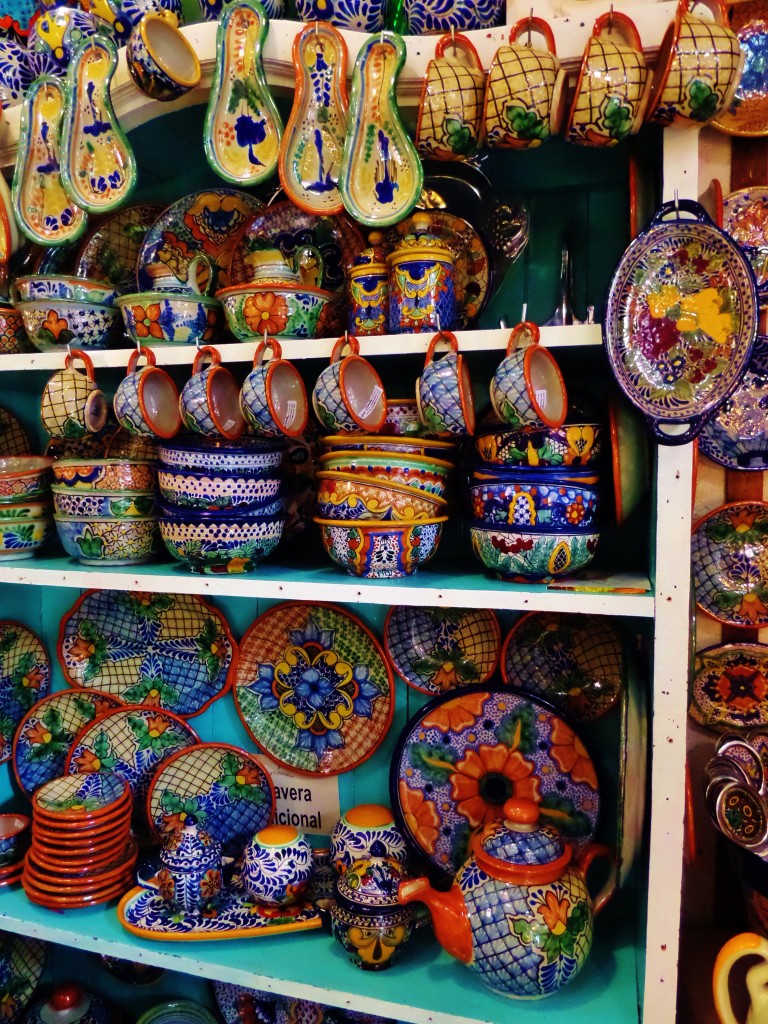 What is Talavera?
Since Alicia carries a majority or the two crafts, pewter and Talavera ceramics, here is a brief history to give you a better understanding and appreciation of these crafts. Talavera comes from Puebla, Mexico. The Puebla area of Mexico is rich in quality clay and always has been a place of making functional ceramics.   Between 1550 and 1570, Spanish potters from Talavera de la Reina in Spain came to Puebla to teach the locals European techniques of using the potter's wheel and tin glazing. These new methods were mixed with native designs to give rise to what became known as Poblano Talavera.
The glazing technique of Talavera was first used for the tiles that still decorate many of the buildings in Puebla. Later, it was used to make plates, pots, jars, religious figures and other items. By the mid-17th century, the industry here had become well established. Guilds were formed and ordinances passed to ensure quality. The blue glaze was used only on the most expensive pieces due to the cost of the mineral used to produce it.
The time period between 1650 and 1750 was known as the Golden Age. This art form made everyday items into works of art.  This unique style and truly Mexican pottery, has been around for over 400 years now and is primarily made in Puebla City. Vases, cups, plates, serving bowls, and tiles are some of the items made in the Uriarte Talavera factory. This factory is where the highly regarded, expensive pottery is hand made.
Where is Talavera made?
All of the Talavera pottery's intricate designs must be hand painted by using natural dyes derived from minerals unique to Puebla. It takes several days to produce one piece of pottery. There are about 200 factory workers today. Other than the factory and shop, you can see the Talavera pottery on the colonial buildings in the historic downtown area.
Pueblan Talavera is one of the world's select "Denominacion de Origen", a geographic designation reserved for agricultural and food products of distinct characteristics owed to an exclusive area (like tequila from Tequila, Champagne from France, Pisco from Peru). The D.O. provides legal protection against less authentic products of similar style trying to take advantage of known products. D.O. applies to Puebla State and the Municipality of San Pablo del Monte in neighboring Tlaxcala State. Alicia can show you the official mark on the ceramics in here store.
What is Mexican Pewter?
Mexican pewter is a combination of various alloys, consisting  of lead-free, non-toxic aluminum. It is different from American and English pewter, which are made primarily of tin and are more delicate. Mexican Pewter is often compared with the look and durability of silver. But unlike silver and other pewter, Mexican pewter does not tarnish and requires very little maintenance. Each piece of Mexican pewter is separately sand cast by hand. Molten metal is poured into molds made of sand. The item is then carefully polished by metalcraft artisans, leaving it with a bright and shiny finish that is also slightly rustic. Each piece is an individual product of the craftsman's hands, and slight variations, minor imperfections, and artisanal touches are therefore to be expected. Mexican Pewter can be used for any type of food, including salads.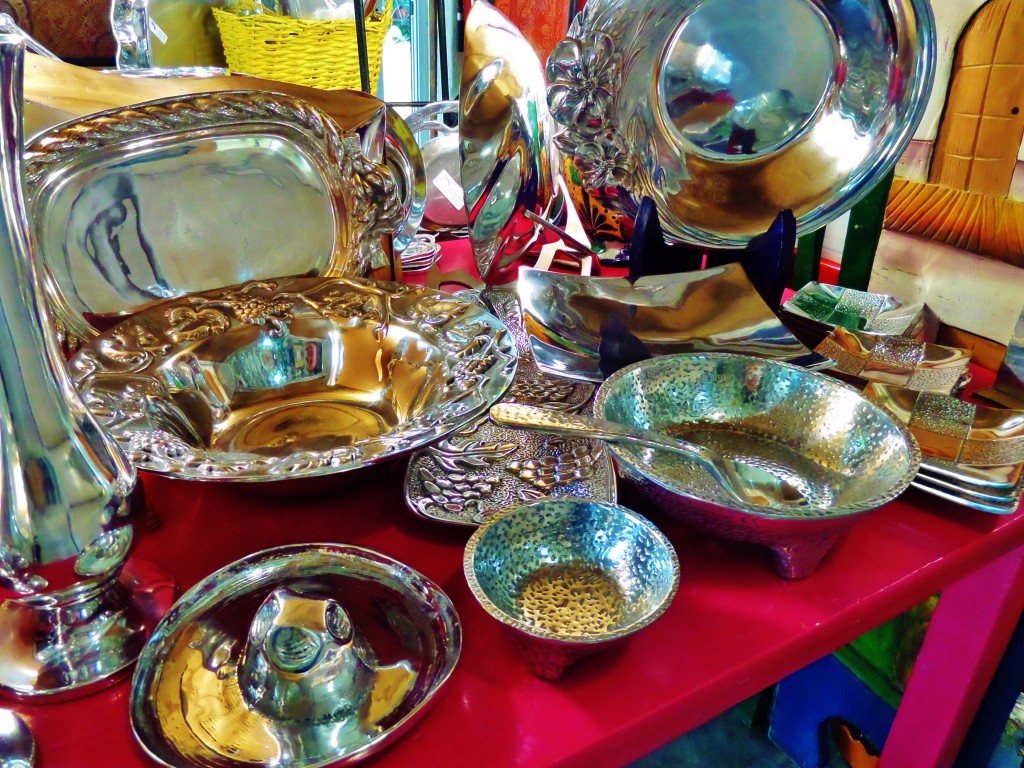 Why not stop by this store and see the crafts that Alicia has selected for sale in her store. A beautiful item just might end up going home with you.
Where is the Site Detalles Store in Playa Del Carmen?
Siete Detalles is located on 1st Avenue between 12th Street and 16th Street.

When is Siete Detalles store open?
The store is open 8am-9pm daily but will sometime s be closed, so just go to the side and ring the hang bell to alert the owner you are there for a visit.