Sanborns-Great for Weekend Breakfast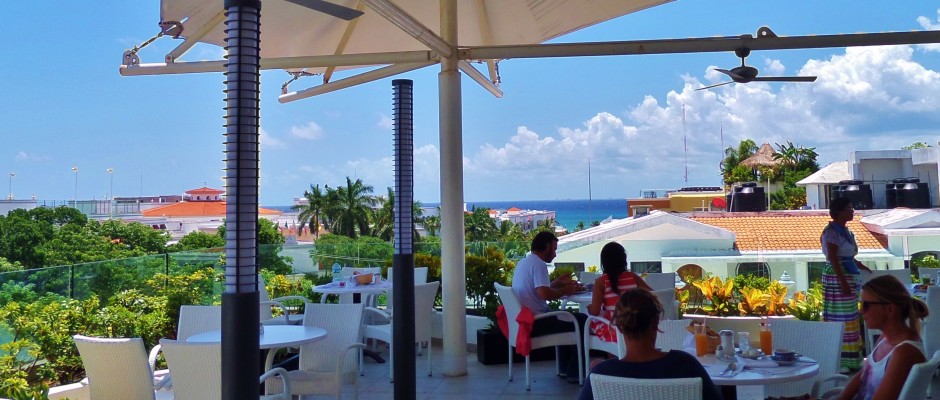 Sanborns is a Mexican institution. It is like the grand old department store that has everything, even a restaurant. Sanborns recently opened in Playa Del Carmen in the Quinta Alegria shopping plaza. It is not the full size department store that other locations offer but it does have one of the best roof top restaurants. Sanborns offers meals all day in its restaurant but we really like the breakfast feel of the place. It offers indoor air-conditioned seating or roof top outdoor seating. The rooftop is shaded and provides a great vista over the Caribbean to Cozumel in the distance.
The breakfast buffet is only on the weekends and is a nice place to take in a slow meal . It cost 165.50 pesos which is not the cheapest meal in town but it does come with one of the better views which makes it all worth while. The buffet is open until 12 noon. It is all you care to eat and consist of some typical Mexican favorites like chilaquiles. Coffee and juice are included. There are more traditional foods as well like pancakes, fruit and eggs. They have table service as well and you will notice the servers in a traditional Mexican dress that is synonymous with Sanborns.
Sanborns is located on the top floor of the Quinta Alegria Plaza located on 5th Avenue and Constituyentes Avenue. You can take the escalators up or the elevator to the top floor. After breakfast you can look around the random selection of shiny merchandise they have. They have an odd mixture of electronics, alcohol, Mexican style inspired home goods, sunglasses and candy just to name a few of the oddly selected things they offer.
If you miss breakfast on the weekend you can always come for a drink at other time and enjoy the view and give your feet a rest from walking around Playa Del Carmen.
Have you been here? What did you think? Let us know in the comments below.