Get your bagel fix at Robin Bagels + great sandwiches!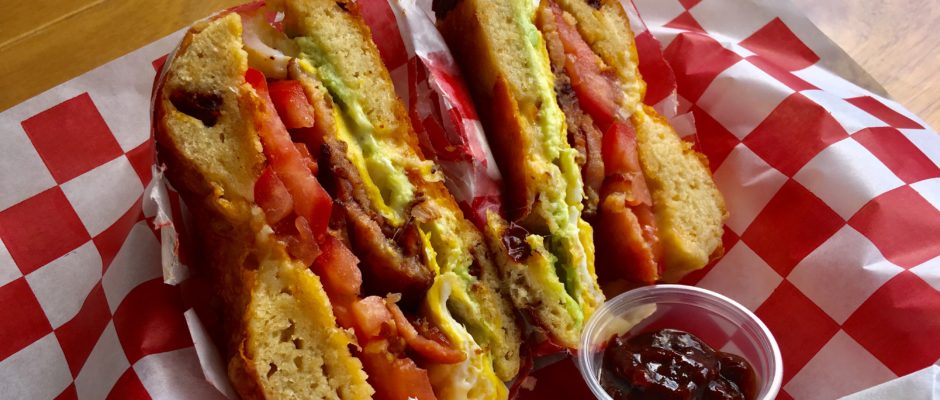 Welcome to Robin Bagels
Looking for bagels in Playa Del Carmen? Robin Bagels has you covered! With handmade bagel goodness and delicious sandwiches, this is a place to check out.
The café type restaurant has a few counter seats inside and one table outside. It is  a very clean restaurant with inexpensive beverages as well. Expect friendly service here. English, French and Spanish spoken.
Unfortunately they are not in the center which would be a good tourist restaurant. So this bagel restaurant will have to be reserved for locals and for people make the effort to visit.
What's on the menu at Robin Bagels
Bagels in Playa Del Carmen are hard to come by and even harder to find that are not super market quality. Here they hand make their bagels with a lot of varieties too. If you want to get one or some, you can get a bag of bagels here to go.
The menu offers sandwiches at very reasonable prices. The photos pretty much speak for themselves so we wont go into much detail about how delicious they are. They are great sandwiches with good combinations.
If you are not up for a sandwich, you can get a bagel with one of Robin Bagels dips.
Place your order ahead of time
Since each sandwich is hand crafted the moment you order, it is good to give them a heads up if you like. Then there is no waiting line at the restaurant for your bagel. They have a WhatsApp number for you to pre order:  984-136-2835
Hours and location of Robin Bagels
Hours:
Monday-closed Tuesday-Saturday 7:00am-2:00pm. Sunday -Closed.
Location:
This restaurant is not in the center of Playa Del Carmen. It is on Avenida 115 with Calle Mision del Oro. This is close to the new plaza and Los Olivos neighborhood.
Have you been to Robin Bagels? What did you think? Let us know in the comments below. We would love to hear from you.