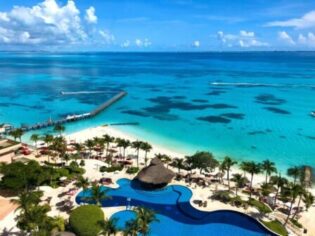 Riviera Maya tourism is already gearing up for a big year!
As we all pull out of a slump in tourism in 2020, many countries and vacation destinations are assessing the damage from a year where hardly anyone traveled. The travel season for most of the northern hemisphere is almost over as fall weather creeps in. The economic impact to many economies is just starting to be realized and it will take many areas years to recover. But, as luck would have it, the Riviera Maya is poised to reap a lot of benefits this year. We are already seeing a strong upswing in tourism to the area and we predict a fairly decent winter 2020/21 season considering everything that has happened this past year. Here are the 6 reasons why we predict this.
Reason #1 Countries with travel restrictions
If you are looking to travel soon, you might find it difficult to find countries to travel to that accept you. At one point during the pandemic, 93% of the worlds population lived in a country that had travel restrictions. On the map below you can see how many countries in yellow and red had travel restrictions at one point.
Even as some countries open the borders again, there are many that have limited entry or even require United States residents to show drivers licenses to allow entry from only some states with the corona virus under control. Other counties require a negative test from the coronavirus before entering. Mexico has had no travel restrictions for tourist arrivals by air during the entire year. There is no quarantine procedures or proof of insurance for entering Mexico. This does not go without risk, but it has seemed to work as the return of tourism comes, there has not been a correlation with the situation of the pandemic in Mexico.
Now that people are feeling more comfortable with travel and virus peaks seem to be over in many countries, more people are looking to travel this fall and winter seasons. With less options open to millions of people, Mexico and the Riviera Maya are poised to welcome more than its fair share of tourism this year.
For our Canadian readers
Canadians are frequent visitors to the Riviera Maya. Currently in Canada there are quarantine restrictions in place for tourist returning from Mexico. Many cannot afford to spend two weeks at home after a vacation to Mexico. We hope in the future, conditions change and there is no need for restrictions. One positive not for Canadians who want to travel to Mexico now, both WestJet Vacations and Air Canada Vacations are offering free insurance which covers medical expenses if you get sick at your destination.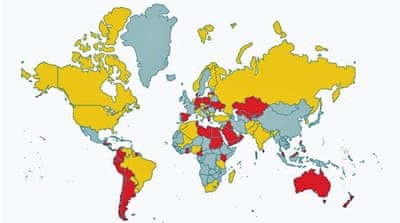 Reason #2 The weather is great!
As we move further from the peak of the pandemic and things calm down, we are entering the fall and winter season for the northern hemisphere. As most people head inside for the next five months to hibernate, here in Playa Del Carmen and the Riviera Maya, people are heading out of the house to the beach. The timing of more people traveling and the cooler months, descending on Europe and parts of North America could not highlight more the opportunity to enjoy the sunshine in Mexico during the October to March period.
In the Riviera Maya we have a year round summer like weather with an average of about 330 days of sunshine. Swimming in the cenotes and the ocean is possible all year round. For more about what the weather is like in Playa Del Carmen, see our article here.
Reason #3 Great weather, but how are the beaches?
The beaches are also in some of the best shape in years! As many of you know, the Caribbean has been experiencing more seaweed than normal and it has been washing ashore in various countries around the Caribbean. For the past six years the level of seaweed coming ashore has been a source of frustration for people looking for those perfect turquoise waters to swim in. From about October 2019 until now, the beaches have been in some of the best shape in years! Just look at the photo below taken in September 2020 of the beach in front of Playa Del Carmen looking north from the Cozumel ferry pier.
For those that have been on the fence about coming to the Riviera Maya because of seaweed, well, the photo below might just push you over the fence and come this year. This does not mean we can have issues again or from time to time, but things are looking good this year and have been trending in a positive direction this past year. Having great weather and great beaches are going to be an extra added attraction this year continuing into next year.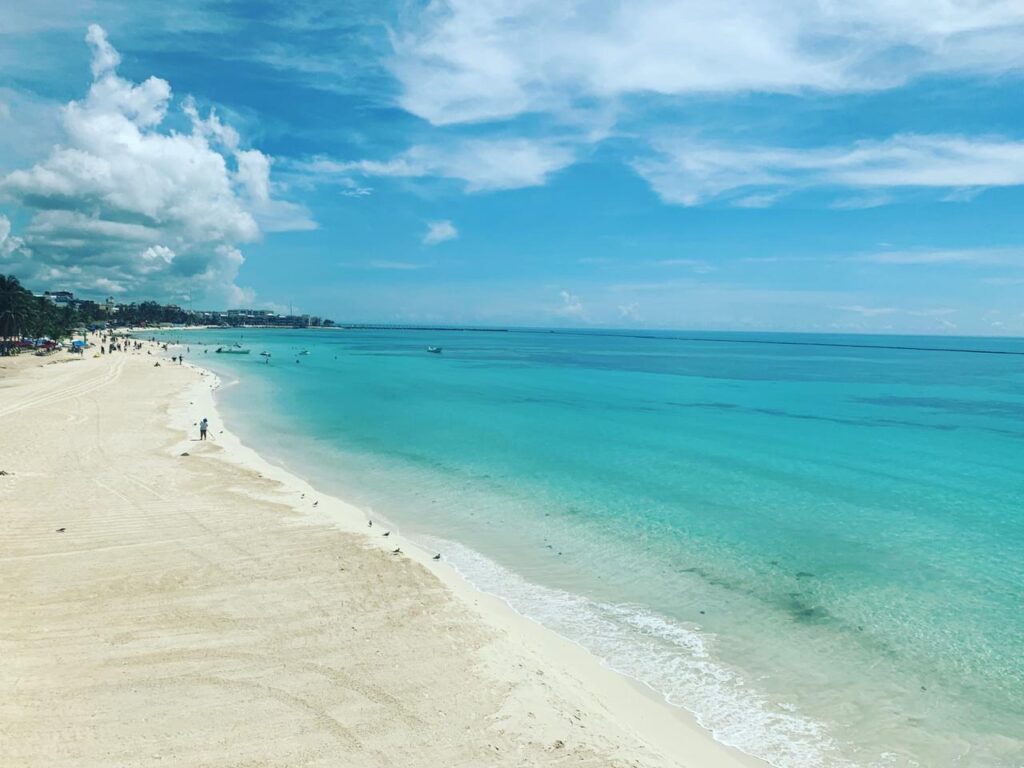 Reason #4 Prices and discounts
You might think that after a tourist drought there would be some bargains our there to lure people back, but not as much as you might think. There are several reasons why you don't see deep discounts and a couple of ways how you might pay a lot less for your vacation this year. Here are our tips:
Many hotels have not had super low prices for the first three quarters of the year because under the gradual opening they were only allowed 30% occupancy. The occupancy rate has been allowed to go up, but still many hotels cannot afford to give away rooms for steep discounts because the cost of opening a running a hotel are high.
Many prices on food and tours are already good value and near cost, so often more discounts are not possible.
There is already steep demand for accommodation and services. You might have seen our article about Tulum now, it is nearly packed during which is normally a summer period of lull. For this reason, prices have remained fairly normal.
How to save some money on your next trip to the Riviera Maya
Overall, Mexico and the Riviera Maya offer great value to visitors. This continues to be a good reason for people to plans their holiday to the area.
Reason #5 Things are open
Tourist attractions have been gradually opening since June 2020. It has been a gradual process and many here have been patiently waiting for jobs to return and the pain to pass. Some of the first things to open were the parks of Xcaret. These are some of the largest attractions in the Riviera Maya. One of the second most visited attractions from the Rivera Maya are the Mayan ruins. These have been opening in September and will keep opening as things progress. We have a lot of the dates some of the sites are opening here.
Many of the tours and other parks are open as well. You should be able to find about everything you want for your activities now in the Riviera Maya. Tip: Most tours and parks have some limited capacity, so this year booking in advance is recommended. See our article on the best tours from Playa Del Carmen and the Riviera Maya.
As far as hotels, restaurants, beaches and more, these are all open. In Playa Del Carmen for example, there are plenty of places to each and now all the beaches are open to the pubic.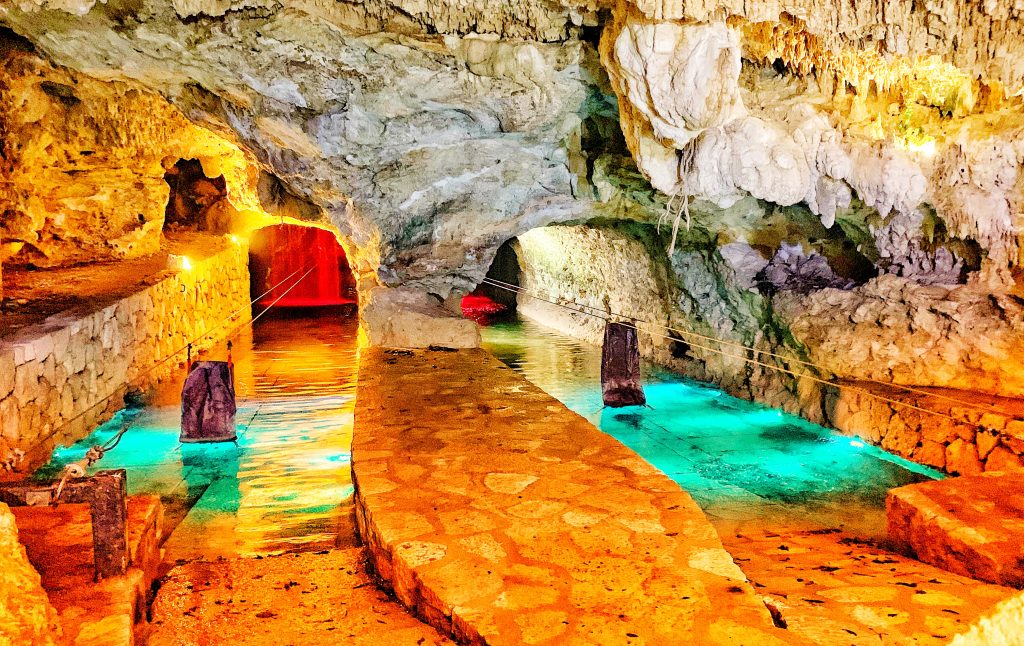 Reason #6 The Riviera Maya is prepared as much as possible
Since the beginning of the pandemic, the tourism sector for the Riviera Maya has been preparing. Such things as set standards for hotels and certifications to make sure businesses are compliant for sanitary measures have all been established. Most places now have all staff in mask and some with face shields. Hand sanitizer is at the entrance to almost all businesses and just about any precaution has been instituted. We have seen this first hand and are impressed with how much and how far every business has come this year to make sure things are ready to open as safe as possible.
There is a good article about what it is like to travel to Playa Del Carmen now here on our website here. We describe more in detail what it is like and what things might be a little different. This update can give you a look at recent methods to insure safety of visitors.
Conclusion
Already this year indicators are pointing to a rapid recovery in the tourism sector for the Riviera Maya. It cannot come fast enough for some, but the Riviera Maya is poised to be in much better shape than many other places. We realize this might all sound overly positive and promotional, but this is really how things look on the ground here. Our website is not the official page of the Rivera Maya and don't gain much from you coming or not, we just want to tell the story of what is happening here. We realize not all people feel comfortable traveling this year. If this is how you feel, we hope to see you in the future more conditions change.