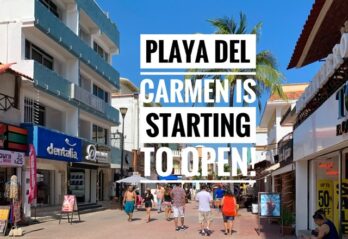 Playa Del Carmen is opening again, slowly
What has been a long time for everyone, the government of Playa Del Carmen has announced starting June 8th, 2020, things will start to open again. This is a cautious step to opening back up businesses, tourism and more for those that live and like to visit the area. Below are the details.
Starting Monday, June 8, the orange color at the Epidemiological traffic light of the Activemos Quintana Roo Plan, announced by the state governor, Carlos Joaquín González, the municipal president, Laura Beristain Navarrete, stressed that the economic reactivation in the municipality it will be responsible, orderly and gradual. The mayor of Playa Del Carmen hailed the efforts being made at the state and federal level for the economic recovery of Quintana Roo, so that today it is possible to take a new step in establishing the new normality.
It is important to mention that the color in orange will only apply to the municipalities of the north of the state and the south remains in red.
Playa Del Carmen has been the first municipality in the state to implement health, hygiene and safety protocols that businesses must observe to prevent COVID-19 spreading to their employees and customers. The measures go according to the specific technical guidelines for the return to economic activities established by the Secretaries of Health, Labor, Economy and IMSS, published in the Official Gazette of the Federation (DOF).
With the entry into force of the orange traffic light, the activities authorized for its gradual reopening are: general groceries and self-service stores, banks, construction, fishing and agriculture.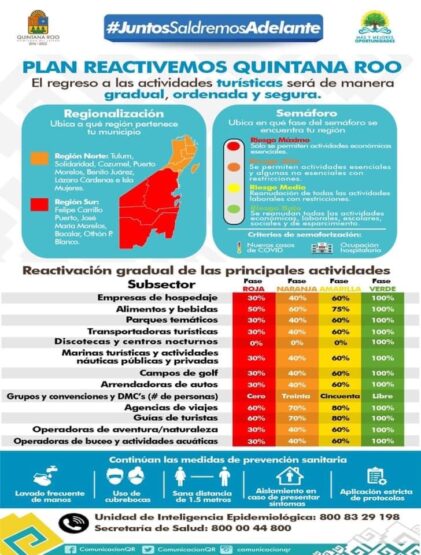 What things can open now in Playa Del Carmen?
The following tourist activities are allowed to open 30%: lodging, tourist transporters, theme parks, public and private, golf courses, tourist guides, diving operators, restaurants and food sales, theaters and cinemas, shopping centers, hairdressers, massages and spas, religious centers, home stores and informal street commerce.
Although outdoor activities are allowed, beaches and public parks are kept closed. Jobs related to cleaning, hiring, packing and administrative services, consulting and construction services are authorized to open 50%.
To see how things are coming along in Playa Del Carmen, check out these webcams.
We will continue to keep you informed for further information regarding the opening of more services and businesses. Lets all work together for a good recovery, as well as be patient, so we can be safe.