Turn over a new leaf and eat healthy here at the leafbar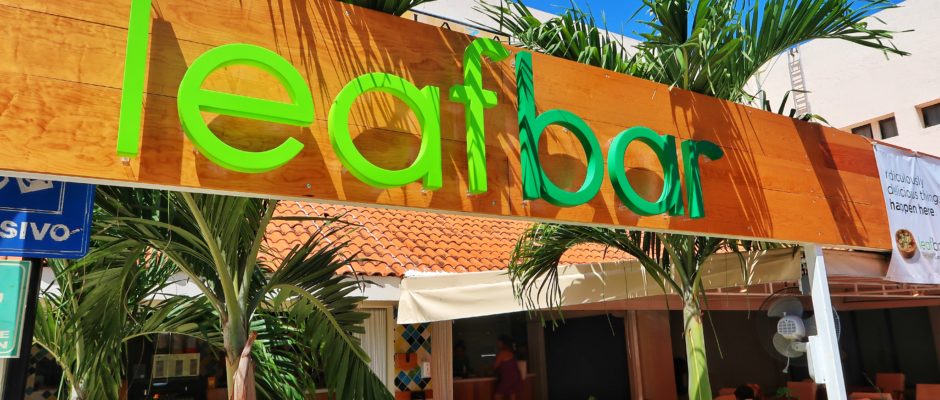 Leafbar Restaurant
There is a new healthy eating restaurant in Playa Del Carmen. It is the Leafbar Restaurant on 8th Street. Here you can choose between quiche,  a sandwich or a salad. All the ingredients are fresh and there is a slight gourmet twist which raises the quality of the food.
As you might know it can be hard to find salads in Mexico. We are glad there is another option in Playa Del Carmen for a quick and healthy meal. Compared to other restaurants that serve salads this restaurant will give you a more gourmet option with more locally sourced ingredients.
The restaurant is from Chef Moti Doron who has been behind some of the other healthy eating options in Playa Del Carmen. The atmosphere is casual with patio seating under a canvas roof.
What is on the menu at Leafbar?
There are three main things to choose from on the menu here. You can choose a quiche, salad or sandwich. Prices range from 120-140 pesos for a meal.
The salads can either be made from a recommended combination or you can choose your own ingredients. On the salads you can get dip added. They have some good combinations like a smoky eggplant dip, hummus, and a beet with gorgonzola cheese dip. They also have some different dressings like their cilantro jalapeno (which is not that spicy) and worth a try.
Both on the salads and sandwiches you can choose your protein. There are options like lemon rosemary chicken, tofu or fresh tuna.
The sandwiches come on ciabatta bread which comes from a local bakery.
Where is the Leafbar?
Leafbar Restaurant is on 8th Street between 10th Avenue and 15th Avenue. The restaurant offers free one hour parking.
Hours open
Monday-Saturday 10:30am-7:00pm Closed Sundays.
Have you been to Leafbar before? What did you think? Let us know in the comments below, we would love to hear from you.