Wining and dining at the intimate Imprevist Restaurant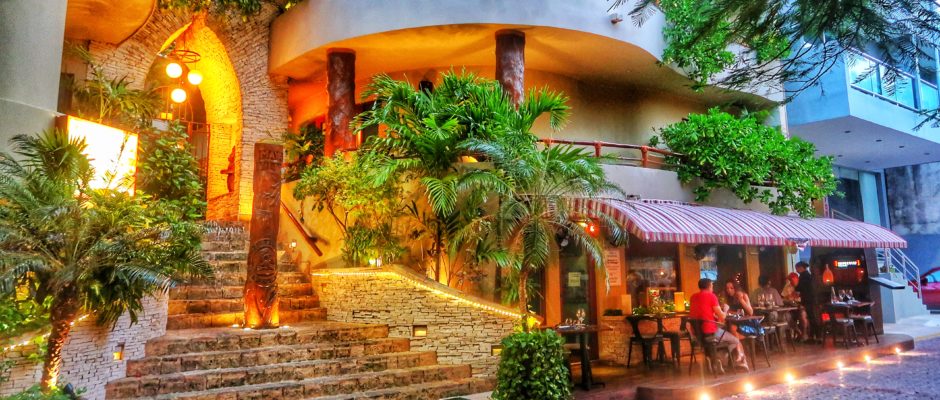 Imprevist Restaurant
Imprevist Restaurant is a small tucked away restaurant in the center of Playa Del Carmen. If you are just wondering 5th Avenue you would miss this place. Imprevist is a small more romantic and private place to eat with a gourmet menu, good cocktails and wines. Here is a full review.
The atmosphere
You have two options for dining here. There is the sidewalk out front that is on the fairly quiet 1st Avenue. The second option is in the sunken restaurant just a little below street level.
The restaurant is small and intimate with an arched brick ceiling. There are about 24 seats inside. The interior of the restaurant is cooled.
Our video overview of what it is like to eat at this restaurant
Like everything on our website we visit it so we can tell you about it and answer your questions. Here is our brief video overview of Imprevist Restaurant.
What is the menu like at Imprevist?
The menu is split down the center between international specialties and Asian fusion. On the international side you can find things like grilled octopus, pork belly with scallop and apple puree bordelaise sauce (pictured below), catch of the day, vegetarian and seafood risotto, beef filet and rib eye.
On the Asian fusion side of the menu you can find things like chicken skewers with lemongrass, green curry, salmon with bok choy, Pad Thai, and Mongolian beef.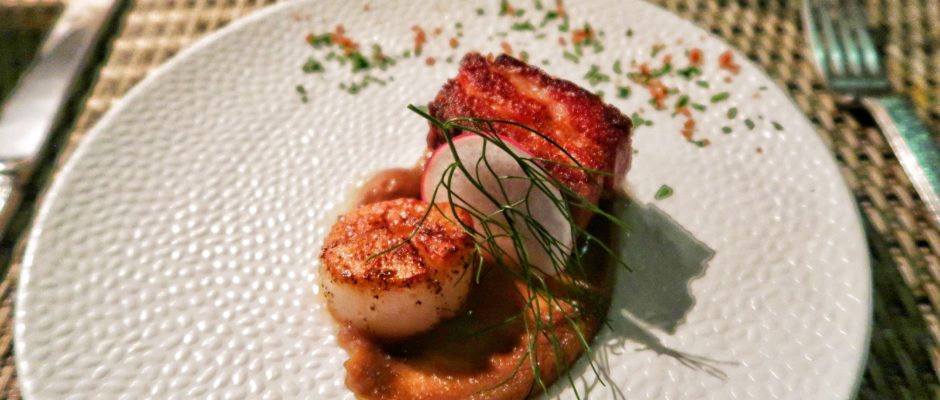 Menu prices at Imprevist Restaurant
Here is a sample of what prices are like here:
Cocktails 130-210 pesos.
Wine by the glass 150-280 pesos. Wines by the bottle 590-1500 pesos.
Appetizers  160-320 pesos.
Main courses 240-465 pesos.
Dessert 120-160 pesos.
Breakfast is 230 pesos for adults and 190 for kids. Continental breakfast is 110 pesos.
Our recommendations for this restaurant
This is one of the finer restaurants to eat at in Playa Del Carmen. It is a good place for dinner. This can be a romantic night out or just for that special occasion. That is why we are adding this to our special dinner restaurants guide to Playa Del Carmen.
Not only do they have a gourmet menu there is a good selection of cocktails and wines. Take note of the Mexican wines, they offer some very good ones! This is a good opportunity to try some wines from Mexico if you are not familiar with them.
Where is Imprevist Restaurant?
Imprevist Restaurant is located on 1st Avenue between 14th Street and 16th Bis Street. There is only on street parking. Parking is limited in this area so you might want to check out our parking guide to see where you can park in the area.
The restaurant is just one block off 5th Avenue. If you are walking you can access 1st. Avenue from 12th Street or 16th Bis Street. There is no connection of 14th Street from 5th Avenue to 1st. Avenue.
Hours at Imprevist Restaurant
Dinner hours at Imprevist Restaurant
Monday -Thursday dinner from 6:00pm-11:00pm. Friday and Saturday 6:00pm-12:00pm. No dinner hours on Sunday.
Have you been to Imprevist Restaurant before? What did you think? We would love to hear your comments below.  
If you liked this brief overview of this restaurant, see our guide to restaurants in Playa Del Carmen here for more.