Taste traditional Thai food at the Hola Bangkok Restaurant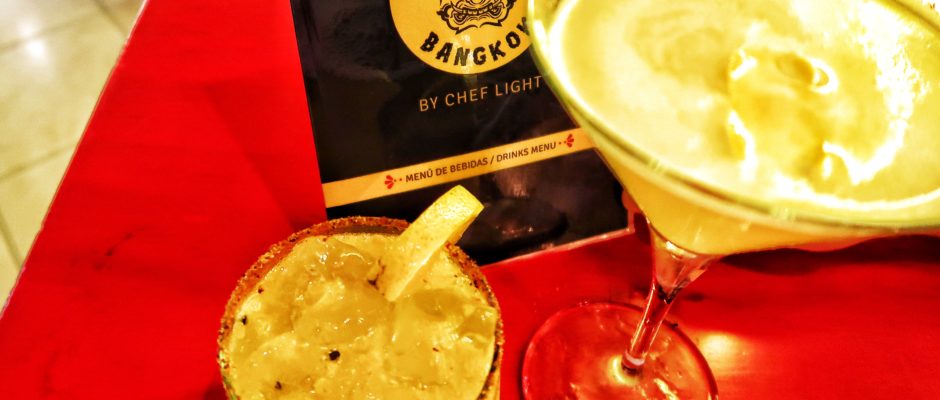 Hola Bangkok Restaurant
The Hola Bangkok Restaurant offers traditional Thai taste to guest in Playa Del Carmen. Brought to you by Chef Light, this restaurant gives guest a nice dinner option with cocktails or wine. With reasonable prices you can enjoy a night out in Playa Del Carmen.
The restaurant features an open kitchen separated with a glass wall. You are able to see the flames flair as they cook your meal which is very interesting to see.
Hola Bangkok offers indoor airconditioned seating or patio seating out front in the plaza.
Our video introduction to the restaurant
Like everything on our website, we go there to taste, experience and then write about it for you. Here is our short video review.
What is the menu like?
This is a pretty straight up Thai restaurant with all your favorites. The menu is marked so you can identify more traditional dishes. This restaurant is also very accommodating to guest who do not like spicy food. They can let you now what has spice and also put spic on the side like the photo below with the Pad Thai.
This restaurant has the traditional appetizers, curries and Thai specialty dishes. They make this a little more upscale with the cocktails and wines.
What are the prices like at Hola Bangkok Restaurant?
Here are some sample prices off the menu:
Drinks and cocktails
Mexican beers 45 pesos
Craft beer and Thai beer 83-90 pesos
Cocktails 90-125 pesos
Appetizers
Soups 135-140 pesos
Satay, rolls and more 100-195 pesos
Main courses
Curries 210-250 pesos
Noodles and rice 195-225
Vegetarian options 110-185 pesos
Main plates 190-210 pesos
Desserts
Hours
Sunday-Wednesday 1:00pm-11:00pm. Thursday-Saturday 1:00pm-11:45pm.
Where is the Hola Bangkok Restaurant?
This restaurant is on 5th Avenue between 34th Street and 38th Street. It is in a plaza on the east side of 5th Avenue in the back.
Have you been to the Hola Bangkok Restaurant in Playa Del Carmen? If so what did you think? We would love to hear from you in the comments below. 
If you like to read about restaurants in Playa Del Carmen, see our full restaurant guide here. If you like Thai food especially, see our Thai restaurant guide here for Playa Del Carmen.