Clorofila Vegetarian and Vegan Restaurant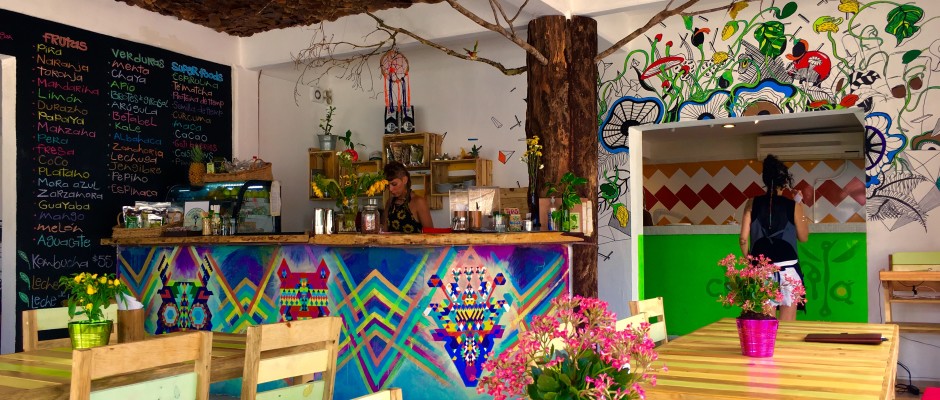 Clorofila Restaurant is a new vegetarian and vegan restaurant in town that really cares about the quality of the food and taste. Even if you are a meat eater you will enjoy this restaurant and enjoy the fresh taste of the food. Who knew vegetarian food could taste so good!
Clorofila Restaurant
With a nice vibe and location looking over the avenue this is a good place to come for breakfast or during the day for a meal.
Coming soon!
They will also add products for sale here. We will update you when it is ready.
Menu at Clorofila Restaurant
We really like that they have a lot of creative combinations and detailed taste that will give you something new to try and options you do not get in other restaurants. For example you can have a specialty drink here called Mangle Blanco which is coconut milk, banana, maca root and molasses.  You can have hamburgers here made of zucchini and oats or beets, quinoa and tamarind, or lentils and carrots or chickpeas and parsley. All of these burgers come with a choice of bread or portabella mushrooms. That is just a sample of the creative combinations they have here.
There is a breakfast and lunch menu for here.
Below you can see one of their sandwiches and the side option of potatoes.
Menu Prices
Breakfast 68-90 pesos for plates.
Salads 78-94 pesos.
Sandwiches 68-80 pesos.
Sushi 85-104 pesos.
Pastas 76-114 pesos.
Deserts 58-90 pesos.
Juices 40 pesos.
Smoothies with coconut milk 50 pesos.
Specialty drinks 50-85 pesos.
Vegan and Vegetarian options in Playa Del Carmen
For more restaurants like this, you should see our Healthy Guide to Playa Del Carmen here.
Hours
Monday-Saturday 9:00am-6:00pm
Phone Number
984 879 4552
Where is Clorofila Restaurant?
Clorofila is on 30th Avenue and the corner of 20th Street. This is in front of DAC Market.

Have you been to Clorofila Restaurant? What did you think? Let us know in the comments below.