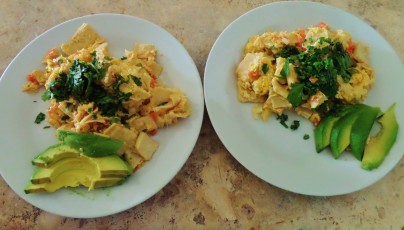 Breakfast is said to be the most important meal of the day so why not do it up right for less then $1.00 per person. Breakfast can be one of the most inexpensive meals as well. For the price of this meal there is no excuse to skip it.
Tortillas
Tortillas are a staple in Mexico and often you have left overs from a meal. Half a kilo is about 21 tortillas so that means if you have a meal at home for two people  you might have half or more left over. This recipe incorporates the use of tortillas. The great thing about this recipe is that you can use fresh or day old. Using day old helps reuse food. It does not matter if the tortillas are a little hard because you are going to put them in a pan and cook them which softens them.
Other Ingredients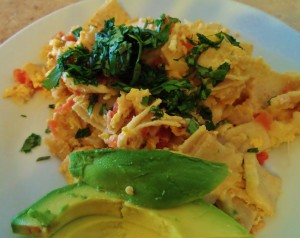 1/4 White onion
1 plum tomato also know in Mexico as Salad tomato
3 eggs
Queso Oaxaca- small amount of the white cheese will melt in nicely
Chopped Cilantro
salt and pepper to taste
1/2 avocado for the side
Preparation
Take about 10-14 tortillas and cut them into small squares. In a frying pan add a little oil and then add tortillas.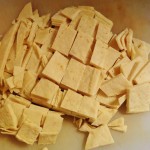 Add chopped onion and cook on stove for about 7 minutes. Next add chopped tomato, salt and pepper and the 3 eggs. Cook until eggs are done. Add cheese so it can melt in. Top with cilantro and side with avocado.
Optional
1/2 chopped serrano pepper chopped for a little spice or
1/2 green pepper chopped or
a little salsa
Provecho!