Check out these cool Mexican designed yoga and fitness clothes!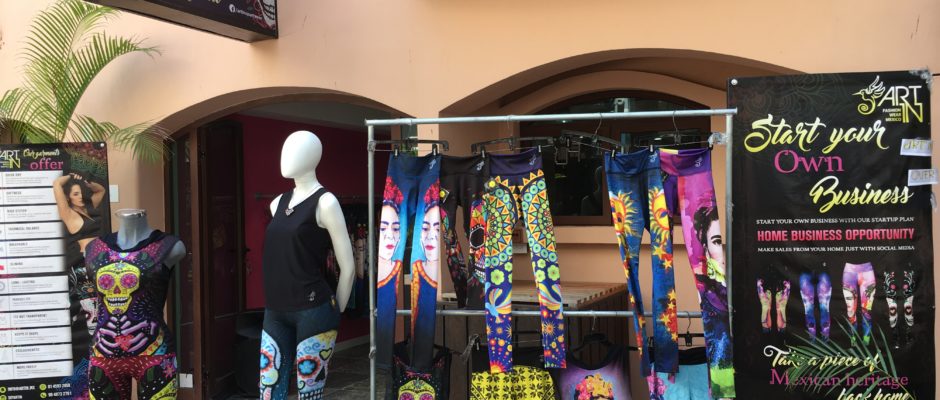 Art In Fashion Wear fitness and yoga clothes in Playa Del Carmen
Here is a store in Playa Del Carmen that has workout clothes that will make going to the gym or yoga class more fun! Art In Fashion Wear Mexico has Mexican inspired designed clothes that are unique. These clothes show off the vibrant life, art and history of Mexico.
Art In Fashion Wear Mexico has sourced fabrics that work good for fitness so you can stretch and let the fabric do the breathing. We thought this was a cool innovative store that some of our readers would like to know about.
For many, finding yoga wear and fitness outfits can be difficult. Here you can find affordable designs and perhaps take home a souvenir that will inspire you to keep working on that beach body for your next vacation to Playa Del Carmen.
Most of the clothes are for women but they do have shirts for men also (see photo below).
Our mini video fashion show of the cool clothes
In this mini video you can see some of the Mexican inspired designs for fitness clothes. This mini fashion show will give you a good view of many designs. See the end of the video for the cute part.

What makes these clothes special?
High quality textiles.
All designed by Mexican artist.
Exclusive designs that will express your individuality.
For some of the clothing lines they work with a group of women that have limited resources. Art In Fashion Wear Mexico provides training and jobs to raise the standards of living for them and their families.
Breathable and stretchable fabrics for workingout.
The material used to make the clothes
Here are some details about the fabric used to make the clothes:
High stretch. The material will stretch up to 40%.
Long lasting. Durability as the fibers do not wear out and withstand tension.
It is soft, reducing friction for when you are moving and exercising.
It retains it's shape.
The material is not transparent. It is thick enough to stretch but not become see through.
If you think this is a great idea you can be a franchise opportunity
If you like fitness wear or yoga clothes and see a market where you live, this business is also available for a franchise. Contact them for details.
Contact information for Art In Fashion Wear Mexico
Email: info@artin.mx
Phone: 984-218-2878
Facebook: https://www.facebook.com/art.in
Where is the Art In Fashion Wear Mexico store?
You can find this store between 1st Avenue and 5th Avenue on 16th Street. This is near Plank Restaurant.

Have you been to Art In Fashion Wear Mexico Store? What did you think? Let us know in the comments below.