Is 2021 Going To Be The Mega Travel Year?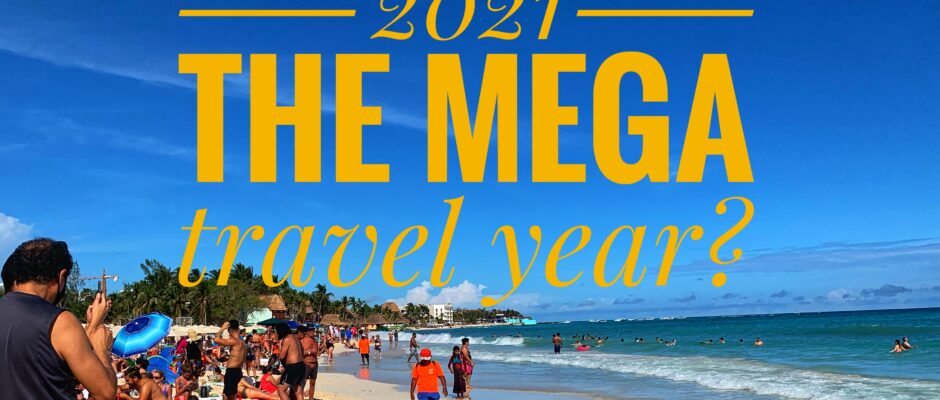 Is 2021 Going To Be The Mega Travel Year?
We are just about to wrap up 2020, and what a year for travel it was! It was probably the worst year for traveling in everyone's lifetime. The global pandemic shut boarders, added restrictions and kept people at home. We are, however rounding the corner with possible vaccines and people feeling more optimistic about traveling in 2021. So what travel trends are we seeing? It is interesting to see how things are looking for this next year.
So how did the Riviera Maya fare for travel in 2020?
We started the year fairly well for travel. We have had some of the best beaches in years, which attracted the attention of many travelers that love the Riviera Maya. The weaker peso also was a slight draw for travelers as well. The travel season from January to early March was almost normal, and then the bottom fell out. As the pandemic spread from Europe to the Americas, the writing was on the wall for travel. Boarders started to shut and stay at home orders ensued. Large all inclusive hotels started to empty out and close. This was the first sign of how the year was going to go for the Riviera Maya.
The whole process was a learning curve since this was most peoples first pandemic. Some in the Riviera Maya thought it would slow down to the trickle for about three months and then the pandemic would pass. As we waited in Mexico, it seemed not to be coming as fast as many thought. Then it started to impact the health of people in the area and we started to look like everywhere else.
Most things closed related to tourism and officially were allowed to open again on June 8th. Although travel to Mexico never closed for people arriving by flight. When things started to open again in June, the public beaches were closed and many stores and hotels had not opened yet. It was a sigh of relief for many here in the Riviera Maya to see things opening slowly again. Since the June opening tourism has returned about 10% each month until early October. Tourism has leveled off for the close of 2020. Most likely because of spiking cases in Europe and the US, plus the continued quarantine for Canadians when returning home
Overall the Riviera Maya did fairly well. Some parts of the Riviera Maya did especially well, like Tulum. We even saw a lot of new faces in Playa Del Carmen. Many places that people normally go in the Caribbean were closed or had more restrictions. This meant that a lot of people "discovered" Mexico in 2020.
What is 2021 looking like now?
Now that some vaccines are approved and starting to be distributed, people are looking forward to traveling again. For much of 2020 those that are more at risk, for the most part, stayed home. It is still going to be a little while before things can return to normal, but 2021 is looking like a big year for travel.
We did a travel poll back in early May and got some interesting results. About 64% of our readers said they would still travel in 2020. Also about 38% said they would come back to Playa Del Carmen in early 2021 or when a vaccine was available. We do think that some of that 64% changed their minds about traveling in 2020 as the pandemic wore on. It does, however, point to 2021 being busier with people taking their 2020 vacation in 2021.
Right now we are seeing heavy bookings from April onward. The period of January to March is still a little slow for the normal tourists that come during this period. However, it is important to note that many people are booking cancel free reservations or last minute so they can have some flexibility to see how things are when the dates come for travel. Others that had booked travel in 2020 and canceled it, or took a credit, are booking the duplicate vacation in 2020.
Can you expect some travel deals?
It is interesting to see the shift in travel this year in the Riviera Maya. The short term vacation market was a lot less, but the long term renters flew in to fill the gap. More digital nomads and people escaping boredom came for longer stays in 2020. Hotels also had limited capacity restrictions, so prices did not drop as much. Right now, however there are some good travel promotions for the early part of 2021.
The big savings are small and mid size hotels. This market has been hit the hardest. People have either been booking all inclusive hotels because they feel more at ease there and have all the restaurants, or private houses on the beach.
Travel tips for 2021
The second quarter of 2021 we are seeing prices pretty normal as there is strong demand for hotels and rentals.
We do recommend booking hotels early if you are planning on traveling after March 2021.
A big tip we always tell our readers is the good hotels and vacation rentals always get booked up first. The one rental car company we recommend in Playa has been booked solid for the December and part of January already.
If you want to book an all inclusive, Lori is a great travel agent that actually stays at the hotels in the Riviera Maya and can tell you what it is like with regulations and what might be the best hotel for you.
Tours, it is better to wait to see what is open by the time you are traveling. About 60% of tours are available now, but some good ones are still not running yet.
If you are planning on traveling in the first part of 2021, booking hotels and flights with free change of date or cancelation is a good idea. Everywhere is still in a state of changes and changing regulations.
If you need airport transportation to and from your hotel, this is a good company to book with.
We hope you get to travel a lot in 2021. It is even better if we see you around the Riviera Maya. We will be here letting you know what is going on and what is new to see in the area. Safe travels everyone.