Yan Ten Beachfront Restaurant Review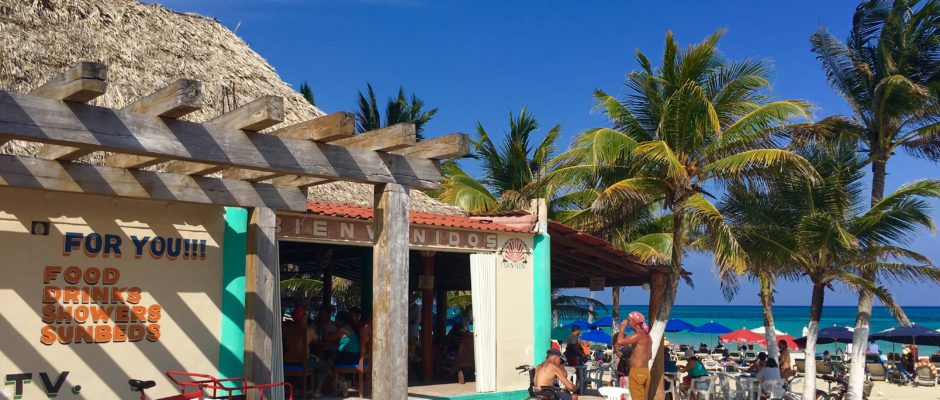 Yan Ten is one of the old beachfront restaurants in Playa Del Carmen. On sunny days this place has chairs our front and people enjoying the ocean view. How does this place compare with others along the beach?
The menu is seafood and is about all the things that have been on a menu for the past 15 years. Not much has changed at this place over the years. Prices range from about 80-140 pesos for food. The pictures on the menu are tempting but the reality is not so much. The top left of the menu is the shrimp nachos for 110 pesos. Below is the photo of what they serve.
The shrimp nachos were disappointing from the photo. They were tortilla chips with black bean sauce and cheese. The shrimp were the kind they sell in bags in the freezer and are the smaller cheap ones. The salsa of chopped onion, tomato and cilantro came on the side. Basic bar food and we cannot imagine anyone walked away saying "Wow that was a great meal".
One nice thing here is the beach chairs and loungers. This is not as popular as some of the other beach bars and clubs and if you get here a little early in the day you can sit and chill and order some drinks and food.
This place gets more locals that just want a no frills place to take in the view.
Our Recommendations
If you go here expect to find basic beach food and plastic chairs. It is a no frills beachfront restaurant with some loungers out front. If you are in the area and want a place to go, Wah Wah just by 2nd street is a better option or if that is too big and too many people, Tarraya at 2nd Street and the beach has similar food but cheaper drinks and more palm trees out front.
Where is Yan Ten Restaurant?
This place is on 4th Street and the beach.