Wok Playa Restaurant Review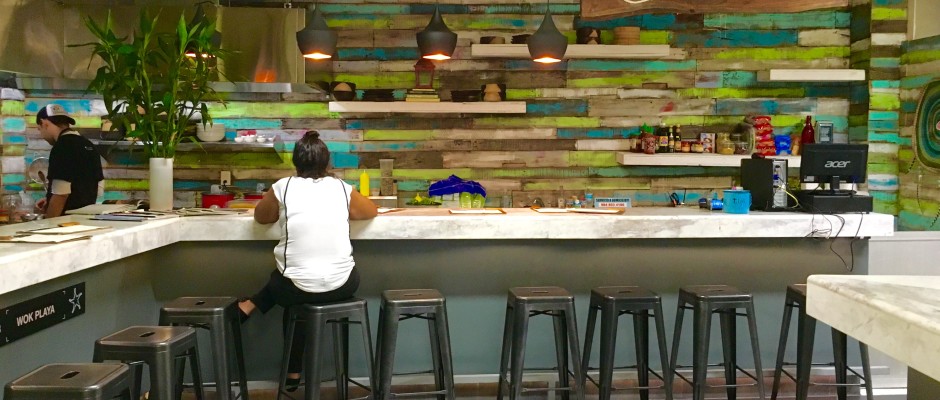 This is another one of the venders in the Mercado Paseo Del Carmen food court. This is an Asian inspired food stall, mainly Thai tasting. Here is our review.
Wok Playa
Wok Playa is one of two Asian food stalls in the Mercado. It is in the back corner with vintage wood plank walls. There is seating at the counter or high top tables in the center of the food court.
Menu at Wok Playa
The menu is pretty straight forward and not overly complex with too many choices. Rice, noodles and soups with Thai or Asian taste. It is hard in Playa Del Carmen to find all the flavoring ingredients but they do a good job bringing it together. We like the fact they offer brown rice or jasmine rice. Most dishes can be prepared with different meats and vegetarian style.
The proportions are nice. The wood bowls look pretty big but they have a thick bottom so that are not as deep as they might seem.
Prices are generally 100-140 pesos for a bowl which is good for the taste and quality but a little expensive for a market. Note: Drinks are not on the menu and that means prices are not either. Just note the Lychee soda is 50 pesos each. It is made in Mexico and artisanal but another higher then prefered item for a market.
They do have vegetarian options here so we have added them to our Vegetarian and Healthy Eating Guide to Playa Del Carmen.
Our Recommendations
With not too many Asian food restaurants in Playa this is a place where you can get some. The food is healthy tasting with good fresh ingredients. It is better then some Thai restaurants in Playa but also is just a market stall, so there is not a restaurant setting so we wish the prices were just a little lower. If you are on the south end of town and want some Asian food and do not mind spending about 160 pesos for a plate and drink then check this place out.
Hours Open
Monday-Sunday 11:00am-11:00pm
Where is Wok Playa? Map
Wok Playa is a food stall in the Mercado Paseo Del Carmen. This market is on 10th Avenue by Calle 1 Sur. It is below street level behind the Paseo Del Carmen shopping plaza. It is in the back of the market in the corner.

Have you been to Wok Playa? What did you think? We would love to hear from you in the comments below.