Where to Eat in Playa Del Carmen
Best restaurants and places to eat!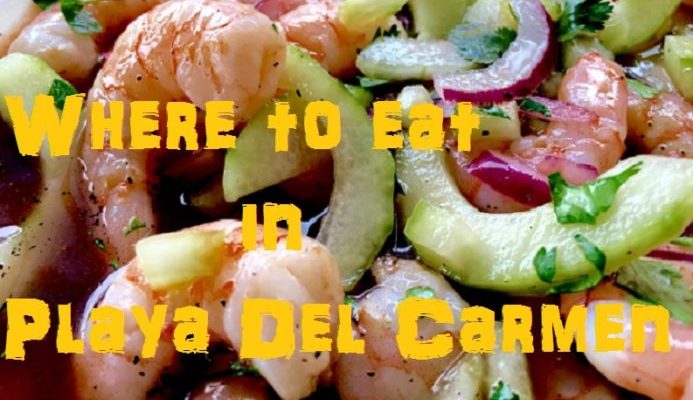 Are you looking where to eat in Playa Del Carmen? There are many good restaurants in Playa Del Carmen. In this article we tell you where to eat. These are all places we would eat at and restaurants that offer good value and consistent quality without being a tourist trap.
Many tourist come to Playa Del Carmen and blindly walk 5th Avenue to choose a restaurant because a person in front of it shoved a menu in their faces. We cringe at the fact that there are so many good places restaurants to eat in Playa Del Carmen but so many tourist fall for the traps of restaurants that serve up ordinary or subpar food. We want you to have the best meal possible when here and that is why we are making this guide. These are all the restaurants we would eat at if we came here (knowing all we know about restaurants here).
We work constantly tasting new restaurants here in Playa Del Carmen for our Restaurant Guide. We have been to over 300 restaurants here (not all make it on the site) and like to give independent reviews and help others discover the best places to eat, especially for those that appreciate good food.
Note: If this guide was helpful or you enjoyed these restaurants or have others you want to mention, let us know in the comments below. We would love to hear from you.
Our picks for where to eat in Playa Del Carmen
We tried to think about if we had one week where would we eat at. This guide is for all three meals a day and you can apply it for whatever you are looking for.  We will list 7 places in each category so you can have a great selection during your stay here. Also we do mention what days are best to visit because many restaurants in Playa Del Carmen are closed one day a week and this can be different days. We would hate to send you to a great restaurant only to find it closed. Lets start with breakfast. Provecho!
Where we would eat breakfast in Playa Del Carmen
It is always good to start the day off right and with these seven different options you will be! Most of the places on this list will run you about 100-140 pesos for breakfast. A few will be a little cheaper and two are more expensive.
Day 1 Monday
Aldea Corazon is right on 5th Avenue and is easy to get to especialy if you are just starting out your vacation in Playa Del Carmen. This restaurant has a nice Mexican feel complete with the waiters in white, more traditional outfits. Here they serve traditional breakfast plates but also Mexican specialties. You can eat in front over looking 5th Avenue, inside or in the secret garden in the back. For more about Aldea Corazon see our article here.
Day 2 Tuesday
Want to have breakfast in a nice peaceful garden? We sure do, and that is why we like to go to El Jardin Restaurant. We recommend coming here during the week because they are not open on the weekend. Enter this garden setting and have a healthy breakfast and their fresh squeezed orange juice! You will be accompanied by classical or jazz music on the speakers as you eat here which only adds to the ambienace. If you oversleep a little to, don't worry, they serve breakfast all day here! Also ask about the lunch specials because as you will see below in our lunch section, your are coming back here! For more about El Jardin Restaurant see our article here.
Day 3 Wednesday
When you are on vacation you will want to know where to eat in Playa Del Carmen for some beach time and we don't mean just soaking up the sun in a bathing suit. There are a few good places to eat on the beachfront and C-Grill is one and that is why we would come here for breakfast. You will get a healthy breakfast overlooking the ocean. You no doubt will be impressed as soon as you enter the hotel with public restaurant and see the pool and palm trees. This breakfast option is one of the more expensive options but you should indulge a little and enjoy the sea view. For more about C-Grill see our article here.
Day 4 Thursday
La Ceiba Restaurant will give you a more local feel and a chance to get a little sample of Mexican breakfast food and tropical smoothies and juices. This restaurant is attached to a small fruit and vegetable market on 30th Avenue. There is always a nice little buzz of energy here and the good coffee will give you a little pick-me-up as well since it is good quality. Definitely get a mixed juice here and enjoy your meal. For more about La Ceiba Restaurant see our article here.
Day 5 Friday
Today is it time for Chez Celine. This is a French style café and bakery right on 5th Avenue. We recommend going here during the week because on the weekend there is often a line for waiting because it is so popular. The reason we like going here is because:
Nice setting. There are a few tables inside in the air conditioning but outside it is like a casual French café.
They have good coffee.
There are breakfast specials for around 100 pesos. Included in the breakfast, is their good baguettes with jam.
If you do care to indulge a little and get a pastry, they have amazing croissants, muffins, tarts, and other French style pastries.
For more about Chez Celine see our article here.
Day 6 Saturday
Any day is a good day to eat breakfast at Papa Charly Restaurant (except when it is closed on Sundays). This charming open air restaurant has very good quality coffee to start you off with and delicious looking plates like French toast and omelets. The prices are also very reasonable here.  It is a little off 5th Avenue but worth the walk or taxi ride. For more on Papa Charly see our article here.
Day 7 Sunday
On Sundays it is nice to have brunch so we would go to Plank Restaurant. They have a brunch special where you order your main plate off the menu and then have a small buffet of dried fruits, cereals, fruit and small pastries. The nice open air restaurant opens onto a sunny street and this setting makes for a nice relaxed brunch. For more on Plank Restaurant see our article here.
More Breakfast restaurant options
For more options you can see our Guide to Breakfast Restaurants here. If you do not want a full breakfast, then you might consider just a coffee and a pastry. See our Coffee Shops Guide  and Bakery Guide here.
Where to eat in Playa Del Carmen for lunch
This is where you can get some excellent value because some restaurants have lunch specials to entice people to come in during the day. You can sometimes find food that is normally twice as expensive on special for lunch! Most places on this list offer a lunch special around 100-130 pesos and some are just good to eat at with regular menu prices. We hope you are hungry! Here is the list.
Day 1 Monday
Here is a good option right on 5th Avenue! Los Hijos de la Tostada is one 5th Avenue near 38th Street. Here they have seafood tostadas mainly. The vibe is young and food fresh. The combinations are good and the food is pretty consistent. This restaurant will give you a feel of Playa Del Carmen and also not break your budget.
Day 2 Tuesday
You are in for a treat today! Papa Charly has one of the best deals for lunch and it is not just the price that is good., it is the food as well. We recommended coming here during the week because they only have the special Monday-Friday. Here is the special offer:
Choose from a salad or pasta dish and then….
Choose a main plate and….
Get the drink of the day and then…
Choose from their desserts for a little something sweet to end your meal with.
Note: Make sure you ask for the special lunch offer because it is not always written.
All this for around 100 pesos! When you are there tell Juan the manager thank you for such a good meal if you enjoyed it. He speaks Spanish and English.
Day 3 Wednesday
Just down the street from Papa Charly Restaurant is Elemento Restaurant. This is a highly overlooked restaurant in Playa Del Carmen with only a few locals coming here regularly to enjoy a nice casual lunch. The three things that make this restaurant special are:
Creative way they present the food and have it tasty.
Good value for what you get.
Nice garden seating or inside seating and this location shares an open space with a design store making for a pleasant environment.
They often have a special here for lunch. For more on Elemento Restaurant see our article here.
Day 4 Thursday
Time for some homemade Italian? We like this hidden find of a restaurant. Primer Plato is a small Italian restaurant with only about 15 stools for sitting. Dishes are very affordable! All of the pasta is handmade to order. We recommend going for the upper end priced menu items because they are so worth it! They are only about 20 or 30 pesos more. Don't be in a rush here because you can wait 15-20 minutes for your dishes. Just take in the small restaurant and enjoy your food when it comes. This restaurant is a little hard to find so be sure to see the link to the article for more details.
Day 5 Friday
Remember El Jardin Restaurant where we said it was good to go for breakfast? Well here it comes again! There must be something good about this place! Come here for lunch in the garden again. You can order off the menu or get the special of the day for less than 100 pesos. The lunch special inclused the drink of the day, a soup and main plate. Either way you end up with a nice lunch. Remember this place is not open on the weekends. Also here is a tip: Ask about their special Friday night events. This is the only night they are open and they have a special menu and live performances.
Day 6 Saturday
Do you like roast chicken? Well here are two options close to each other. One is more local and Mexican and one is more gourmet and French style. Both are very affordable and similar in price. Either one you choose will be a good option!
Restaurant option 1
La Brocherie Restaurant is a French style roast chicken place. The concept is simple, the taste is complex, the owner a true foodie and the deserts are to die for. Even though this restaurant is on a simple street the owner and chef, Fabian, loves to cook up a good meal with good value. You really should order the chicken here and make sure you see the deserts. There are two chefs that make the deserts and supply this restaurant. If you get a chance, talk to Fabian. He loves food and talking to people. You can eat here for under or close to 100 pesos. You can see a map of there this restaurant is in our Roast Chicken Guide to Playa here.
Restaurant option 2
For an authentic Mexican roast chicken place you can go to Asadero de Pollo. This is a very basic place but always roast up good chicken. You can get meal packages here and eat like a local. For photos and a video of this restaurant you can see more in our Roast Chicken Guide here.
Day7 Sunday
Looking where to eat in Playa Del Carmen on a Sunday? Many people head to the beach on Sunday in Playa Del Carmen. Mamitas Beach is very popular with the 20-30 year old crowd. So this lunch restaurant option is perfect.
Brochetas
On 28th Street going toward Mamitas Beach is Brochetas. This restaurant has different skewers of fish, chicken, beef and more. They come with a side of fries or broccoli. This is a nice place to grab a bit on the way to the beach and you can make it as healthy as you want depending on what your choose. There homemade dessert is great and you should see if they have it. For more on Brochetas Restaurant see our article here.
More options for lunch?
For more restaurants that have lunch specials see our Guide to Lunch Specials here.
Where we would eat for diner in Playa Del Carmen
This is the hardest category to pick because there are so many restaurants in Playa Del Carmen. It was much easier to pick from the limited amount of restaurants that serve breakfast and then there are the places that offer great lunch deals, now we have hundreds to choose from, so here it goes. If these restaurants don't meet your taste, then be sure to check out our full Restaurant Guide here.
The reason we selected the restaurants below are for these criteria:
They are relatively easy to get to and not out of the center of Playa Del Carmen
They are not taco stands or basic places. For dinner most people want a little more elegant meal.
We don't just name the same restaurants all the concierges tell people to go to because they get commissions. We would eat at these because we know they are consistant, give good quality food, are delicious, will make your vacation unique, and the atmosphere is nice.
We also thought about variety and to give you good suggestions that include seafood, Mexican food and all the other great international options that are here in Playa Del Carmen.
Day 1 Monday
Monday is a good night to go to Don Chendo Restaurant. This is an Italian restaurant with good pastas and pizza. The pizzas are a more Chicago deep dish and are somewhat gourmet. The restaurant is cute and has a nice vibe after dark. It is out of the tourist area but well worth the taxi ride here or walk. The Owner Russell is a foodie who loves making people happy and providing good food. We like it because it is very consistent, delicious plus it has good value. You can expect to pay around 100-150 pesos per person here. For more about Don Chendo Restaurant see our article here including a video. Closed Sundays.
Day 2 Tuesday
Want something a little casual and Asian? Like noodles and a great frozen drink? Babe's Noodles and Bar is a local favorite and a favorite of us. They are always consistent and the food always taste good. If you want a drink you must try their Mezcalitas! They are a huge frozen drink with a little mezcal in them. It will be a perfect combination to your meal. Closed Mondays.
This restaurant recently closed for renovation but is back up and running as of August 2017. It is in the same location on 10th Street between 5th Avenue and 10th Avenue.
Day 3 Wednesday
Tonight is a small gourmet fusion Mexican restaurant just off 5th Avenue. Enjoy the complex flavors from around Mexico skillfully fused together in unique combinations. Axiote is a small restaurant with a strong chef in the kitchen.
Although the food is first class this restaurant is casual feeling and you can relax on vacation with a delicious meal.
This restaurant is on 34th Street between 5th Avenue and 10th Avenue.
Day 4 Thursday
Do you want to hear some live music and eat authentic Mexican food? Well we have the place for you! La Perla Pixan and Mezcal Store is one of our top picks for a Mexican restaurant in Playa Del Carmen. La Perla (for short) is a true Mexican restaurant with taste from around Mexico. Here you can get authentic food from Oaxaca and other areas complete with Mexican liquors like pulque, mezcal, tequila and pox. This restaurant on 34th Street has a palapa roof (thatched roof) and bench and tree trunk chairs. This will be a nice night to explore the real taste of Mexico and have some fun cocktails. See link above for more info.
Day 5 Friday
Los Hijos de los Tostadas is the place to go for seafood tostadas. This restaurant is casual with a youthful vibe with great consistency and value. This restaurant is right on 5th Avnenue and we choose Friday night to go here because it has a little bit of energy for you to start your weekend off with. Tostadas are about 40-50 pesos each and two can fill you up. Our two favorites are the Camaron Roca which is a batter dripped shrimp with chipotle sauce and reduced red wine sauce drizzled on it and the Tuna Sellado which is a generous portion of fresh tuna drizzled in cilantro sauce. Learn why we tell people about this place when they ask us where to eat in Playa Del Carmen. Los Hijos de los Tostada see our article here.
Day 6 Saturday
Saturday nights are a nice night to go out to something a little special and if your vacation is coming to a close you want to have a nice night out. That is why we recommend Catch Restaurant. The location of this restaurant is special as it looks out over the ocean from the rooftop of the Thompson Hotel on 12th Street. You will also get to see the amazing pool on the roof. You can come here for steak or sushi as the menu has a range of taste and prices. The cocktails are also made well here. Prices per person can range from about 200-900 pesos. For more on Catch Restaurant see our article here.
Day 7 Sunday
We have two semi touristy restaurants for today. This gives you two options and although we don't eat at these two often, we do take visitors here because they have something to offer that is special to tourist. Both restaurants offer Mexican/local cuisine. One is right on 5th Avenue and one is just on the edge of the center. Both of these are tourist priced so just expect to be paying more for the experiences.
Restaurant option 1
Frida Kahlo Restaurant is meant to show off the Mexican food culture with a little pizzazz. This restaurant adds a modern twist on some traditional Mexican recipes and presents the food in a very creative way. This restaurant is also know for it's gastromapping, a form of showing images on the table and making it look like a 3d movie. You can enjoy this show before or after your meal. All of this combined makes this a fun place for tourist to go to. For more on Frida Kahlo Restaurant see our article including a video.
Restaurant option 2
This restaurant is also good to go to as a tourist because of it's unique setting. It is in a cave! Alux Restaurant is just outside of the center and a short taxi ride will get you there. Once you descend a staircase you will be in the Mayan underworld. Before or after dinner you can walk the loop through the cave and explore the small rooms and unique corners of this restaurant. For more about Alux Restaurant you can see our article here.
We hope you have enjoyed our guide on where to eat in Playa Del Carmen. Do you have some favorites as well? Let us know in the comments below. We would love to hear from you and also if you found this guide helpful.
You might also like to read about our list of best restaurants in Playa Del Carmen. Some of them are not on this list because they are a little more out of the center but if you are looking for a good meal and experience you can visit them.