The Summer of Seaweed
How Playa Del Carmen and the Rivera Maya have dealt with it.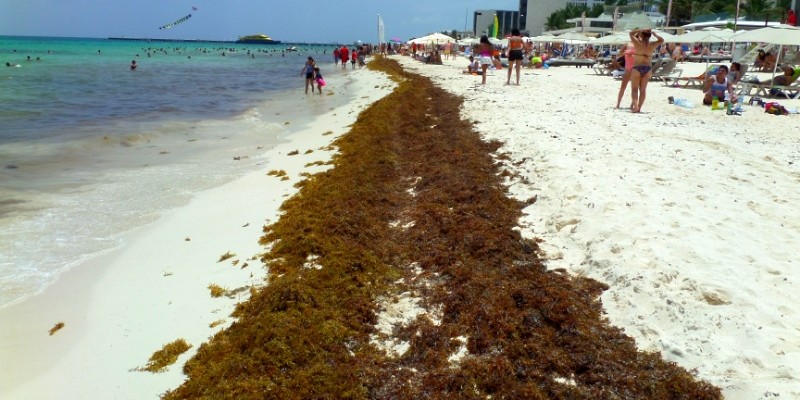 It actually started late 2014 summer and at first everyone thought it was just some seaweed washing ashore. That happens from time to time. Then it kept coming.
This is not the first time this has happend and we are not the only ones being affected. It is however something we have not seen in decades. Much of the Caribbean, Gulf of Mexico and Florida have been effected as well. Here is a look at this historic inundation of seaweed on the beaches that we have been faced with.
Update: We have gone up and down the coast a little and as of September 6 we are at about a 8 out of a 100 for seaweed. The warm temperatures and the wind currents have brought some to our shores. This is not a major issues but we just like to keep you updated as to what things are like here. Of course there are some areas with none and some with a little more.
When will the seaweed go away?
We are glad you asked! In fact many people ask how things look at the beach because it is a day to day changing situation. People actually have been checking in with people in other parts of the region and looking at webcams to get a daily report. Then people make decisions to go visit a beach along the Rivera Maya or stay put. This however is not possible for people that book their holiday months in advance.
Nasa and Texas A&M have developed a website that gives advanced predictions of the floating mats of seaweed. It is an interesting website to look at. It is called the SEAS project which stands " Sargassum Early Advisory System". Here is the website: http://seas-forecast.com/ Tip: Go to the forecast section and look for Yucatan Passage 18 for the forecast for the Riviera Maya.
What is the cause of the seaweed?
There are different opinions to the cause. The most popular are:
Changing climate and wind patterns blowing the loose mats of seaweed to coastlines.
Nutrient rich waters producing more sargassum (seaweed).
When there are periods of low hurricane activity, the natural process of being "chopped up" by storms is lessened and more seaweed is floating around.
How to Escape the Seaweed
Now that the seaweed has been here for a while, some people have just gotten used to it and swim out past where most of it is. However there are some places you can go to avoid it.
Removal of the Seaweed
Usually the routine is when seaweed is washing ashore, staff from hotels or beach clubs will rake up the seaweed and dig a hole in the beach and bury it. The seaweed breaks down and becomes part fo the beach. When there is more seaweed that washes up and it has been several days, the seaweed is raked up and often carted away because you can only bury so much in beach.
The city of Playa Del Carmen does have beach racks. They are a tractor that has rotating tines that pick up seaweed and trash from the beach. The tines rotate and drop everything in a tray and the sand falls out back onto the beach. This is very efficent for cleaning large swaths of the beach. The city does not uses these everyday leaving it up to people to do the work of romoving the seaweed to make the beaches more beautiful for visitors.
|After a while the less used beaches just got piled up with seaweed as you can see in the photo below. This remote stretch of beach just north of the Canibal Royal Beach Club is lined with seaweed.
While most people dislike the seaweed because it is unsighlty and can smell when decomposing, there are actually some good things about seaweed.
Seaweed makes great mulch for your garden. It is rich in nutrients and is a natural deterant to bugs and pest.
It brings nutrient to dunes and helps plants grow near the beach.
The seaweed slows the errosion of the beach and in some places the beach is 3 to 17 meters wider!
Seaweed attracts flyies and insects which might not sound like a great thing, but shore birds do enjoy it. This makes for ample feeding for them.
When the seaweed is alowed to pile up it makes mounds. The floating seaweed is actually alive and green but dies when it reaches the shore. If water remains traped behind these mounds it can become pretty smelly.
Most of the seaweed seems to collect within 20 feet or 7 meters from the beach. As the seaweed dies and dries it goes from green to dark brown. When it is dry it breaks up and makes the water look bad. The photo below is a more extreme example of how bad the water can look.
Lets all hope the seaweed stops arriving on our costline and we return to normal. Then we can look back in wonder at these photos and hardly believe what the summer of seaweed was like.