The Little Teapot on 5th Avenue
Over 150 teas to try!!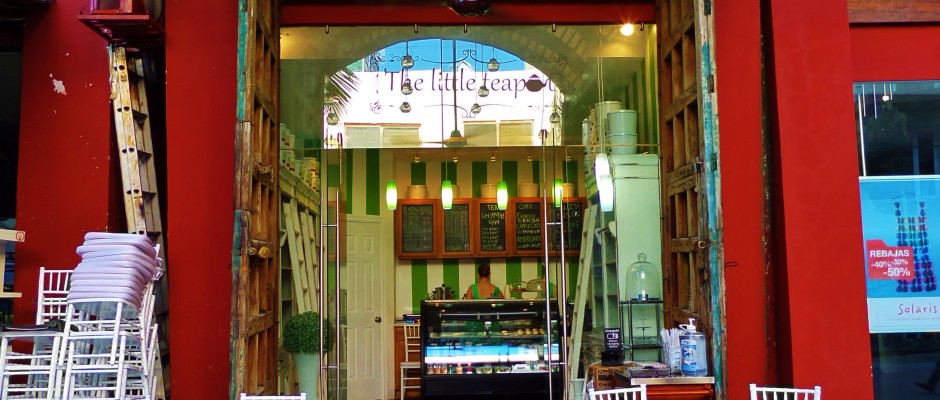 You may first think that "tea" and "Playa Del Carmen" do not go together at all but think again. Other coffee shops gets plenty of people wanting a hot brew or caffeine during the day. This local caffeinating spot offers hot and cold drinks including coffee. The really interesting thing is the 157 teas they offer, and you MUST smell them. The smells of the teas are amazing. We personally love the almond cookie tea that evokes memories of Mom making sugar cookies.
Tea Time in Playa
The hostess working there will give you a tour of the teas and guides you to what you are looking for and explain the differences. The experience is nice and you have a great place to sit and watch 5th Avenue pass by as you sip on your hot or cold drink.
In addition to tea they offer home made cupcakes, really special peanut butter cookies, wraps, sandwiches, salads, yogurt cups, and juices. Just look at the peanut butter cookie below. It is a delicious homemade cookie they offer.
With nice touches they have added to their business we are sure you will have a memorable experience stopping by this local, one of a kind place. This is the best place for tea in Playa Del Carmen.
Check out our video here. We found the cutest host to explain to us the teas. We are sure you will enjoy watching.
Hours
Monday -Sunday 6:30am-11:00pm
Website
http://thelittleteapot.com.mx/
Location
The Little Teapot is located on 5th Avenue between 26th St. and 28th St. Also check out their second location in the Mercado Paseo Del Carmen.

Have you been here before? What is your favorite tea from here? Let us know in the comment box below.