The Biker House Ruta 307 -Burgers, Bar and Bikes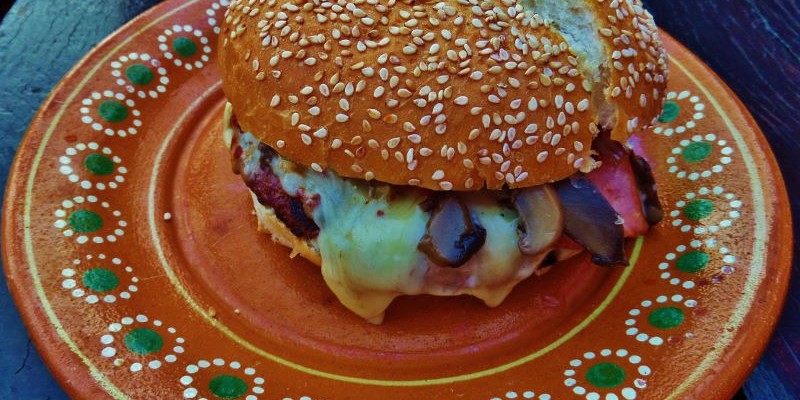 People are always looking for a good burger in Playa and when we heard from a local about this place we set out to check it out.
What are the burgers like?
We are glad you asked. They are big, juicy and good! They have about 14 different hamburgers to choose from. They grill them up on the outdoor grill and then bring them to you. They have a salad bar of fixings which you can add what you like to complete your burger. There are things like onions, roast onions, pickles, tomatoes, and lettuce.
Below is the "Super HayaBusa" burger. It comes with chipotle sauce, ham, cheese, bacon and mushrooms. This burger cost 85 pesos and comes with fries.
Below is the "Bobber burger" . It comes with ham, bacon, cheese, avocado, pickles, and peperoni. This photo was taken after we added some toppings of choice. This burger is 95 pesos.
Your order comes with fries as seen here on the side.
Look for the orange front with outdoor seating as you come up Constituyentes Avenue.
Indoors is the full bar.
Expect rock music to be playing and a casual atmosphere. On the weekends there is live music and always there is a pool table inside to play with.
Prices
As seen above prices for burgers are generally from 65 pesos-125 pesos and that comes with fries. Most cocktails are 60 pesos and they have bottle service, beers and other drinks. In comparison with downtown prices this is about 20 pesos cheaper for cocktails and 20-40 pesos cheaper per burger. so you do get a good value here.
Recommendation
If you live in Playa Del Carmen and like burgers then you should check this place out. It may not be the most gourmet of burgers but it is also not the greasiest lower end burger but rather good hamburgers with good value.  If you are a tourist and like the idea of a casual rocker/biker bar (not hard core biker bar) atmosphere with cheaper prices, then it might be worth taking a taxi here and have a big bite to eat with the locals.
If you want a burger in town and close to the beach then check out Shark Burgers on 28th Street near Mamitas Beach.
For more restaurant reviews and information see our full Playa Del Carmen Restaurant Guide here.
Hours
Open Monday-Sunday 1:00pm-1:00am
Location
The Biker House is not in the usually tourist area but if you want to come here you can hope in a taxi. It is located on Constituyentes Avenue between 100th Avenue and 105th Avenue. It is on the right hand side as you go up Constituyentes Avenue.
Have you been here before? What did you think? What is your favorite burger in Playa Del Carmen? Tell us about it in the comments below.