The Best Breakfast Restaurants in Playa Del Carmen Guide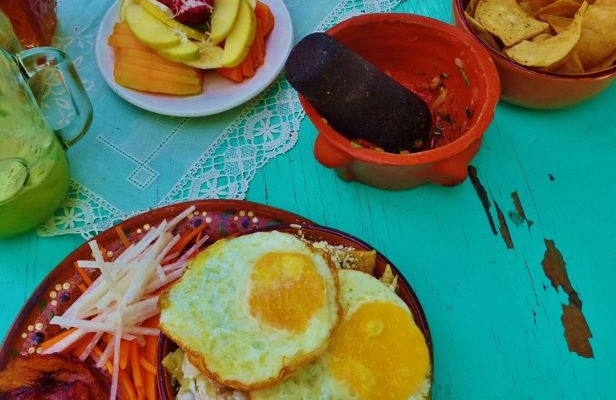 Playa Del Carmen is not really an early morning town but more and more, there are places open for breakfast.  We have searched all over Playa to bring you a list of the best places for breakfast. This are in no particular order and you can decide what meets your criteria for a good place to eat. For you it maybe the décor, beachfront eating, organic ingredients or rooftop view. If you are not a big breakfast eater you can also check out our Coffee shop and Tea Guide to Playa Del Carmen or our Bakery Guide for places for pastries and sweet bites. Below the list is a map of the all the restaurants so you can find them. Click on any restaurant link to find out more about a specific restaurant.
Best Breakfast Restaurant List for Playa Del Carmen
Fonda Regina Restaurant Update: March 2016 This restaurant is closed and is supposed to move to a new location.  This place is charming and has good prices, but what most people don't know is the care that goes into the food. They grind their own flour for pancakes, bring honey from their farm in Tulum, use organic eggs, buy artisanal cheeses, buy local and do much more to serve up quality food. It is really impressive all they do without charging more for the care that they put in the food.
Papa Charly is a local favorite for breakfast and for good reason. The setting is quiet in this open air restaurant. With nice music and relaxing atmosphere you can enjoy a delicious breakfast. Enjoy their special blend of coffee and take home a bag if you like it. They mostly have traditional breakfast favorites like omelets and awesome French toast. Just check out the picture below!
C-Grill is right on the beach and what a good way to wake up! This is the Hotel Thompson's Beach House property on 8th Street. For a nice relaxing start to your day you can try this classy restaurant. There are many healthy options here including and egg white omelet and smoothies. Prices for plates range about 153 -204 pesos. Smoothies are about 100 pesos and juices are 85 pesos.
Sanborns is right  on 5th Avenue, but high above on the top of Quinta Alegria Mall. On the weekend they have a small buffet and you can eat overlooking the tops of building and see the ocean. The open air and view is great and the food is ok. It is a buffet so you can get your fill. You can eat breakfast here other days to but just order off the menu. To get to the restaurant take the escalators to the top floor of the Quinta Alegria Mall and walk through Sanborns store. Indoor seating is available with air conditioning.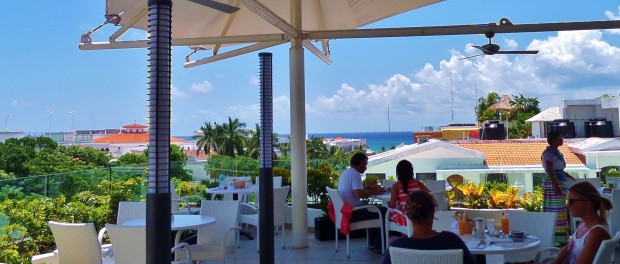 Indigo Beach Club has a daily buffet for breakfast. You can order your main plate and then use the buffet for small plates of fruit, muffins and cereals. The best thing about this place is sitting on the beach in the morning having your food and seeing the Caribbean. If you want your feet in the sand then this is your place. This restaurant is in the El Taj Condo complex on 14th Street and the beach.
El Jardin Restaurant is just a block and a half off 5th Avenue on 20th Street but a world away from the tourist and hidden in a garden. This makes for a great setting. They have good quality food, great orange juice and a good chef.
La Vagabunda Restaurant  is popular on 5th Avenue near 26th Street. It has dumbed down Mexican food and basic breakfast. Some hotels use this as a breakfast spot for guest so it looks more busy then it should be.
Frutiyogurth is a healthy option. It has breakfast burritos, eggs and pancakes. The real highlight here is the juices.
Mi Pueblo Restaurant on the corner of 5th Avenue and 8th Street has a combo for 99 pesos. You get juice, coffee, bread, fruit bowl and a main plate option. Plus you get to sit on 5th and watch the early morning runners and goings on in 5th Avenue.
Aldea Corazon  serves up a very nice breakfast on 5th Avenue near 14th Street. We think this is the best time to go to the restaurant to enjoy the setting. You can sit on 5th Avenue or in the garden in the back. They have fresh food nicely presented. This would be one of the more elegant places for breakfast in Playa.
Location map of all the great breakfast restaurants in Playa Del Carmen

Print This Post
Where do you like to eat breakfast in Playa Del Carmen? Let us know your favorites in the comments below. We would love to hear from you.