TaconTenedor-Best Seafood Tacos in Playa Del Carmen!
Just off 5th Avenue!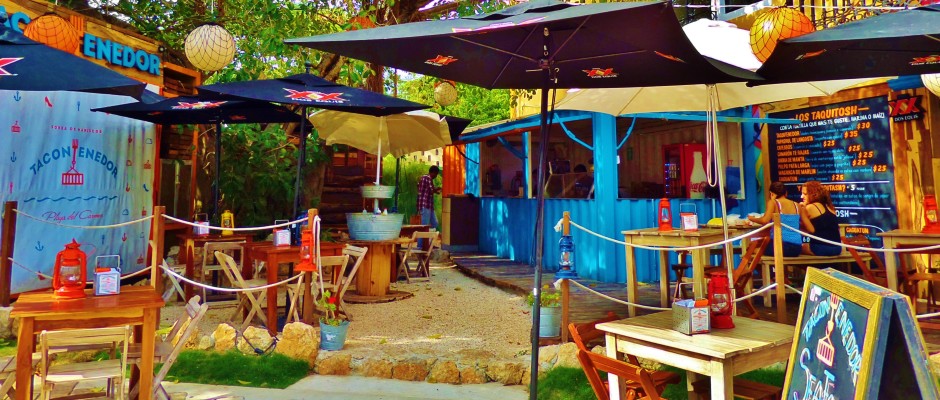 Tacos in Playa Del Carmen
TaconTenedor is one of places where everything comes together right. We are pleased to bring you this seafood restaurant that is designed to be a mix between a street food place and a formal restaurant. They have a small menu to focus on good quality. We are sure you will notice the quality in the food and have a good meal here.
Besides just tacos here they now have expanded their menu. One of the new things they have is the seafood hamburgers. There are three now on the menu. There is the tuna burger with mango salsa, shrimp burger with chipotle sauce and fish burger with herbs. Hamburgers come with sweet potatoes fries. This are not the orange sweet potatoes you might be familiar with though. The are Mexican sweet potatoes  which are lighter and not as sweet.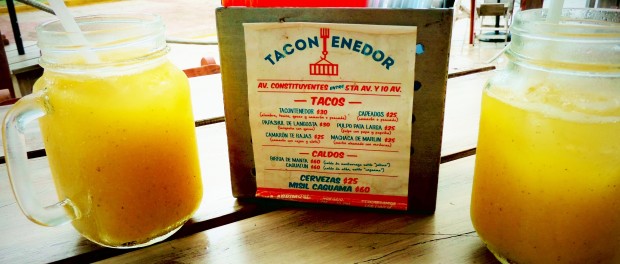 The Restaurant Name
TaconTenedor (one word) comes from the a fusion of three ideas. Part of the design of the restaurant is a shipping container so it incorporates "container" or Spanish "contenedor" and the Spanish word for fork together. In Ensenada, Mexico they eat tacos with the assistance of a fork, so Ta/con/tenedor is Spanish for "with fork".  It is also Taco/ntenedor  which has "Taco" in the name. Very clever and well thought out just like all the details of the restaurant.
Do yourself a favor and stop by this place! Make sure to check out the mouth watering photos below. Here is also a review.

Great food. It is seafood inspired by Ensenada Mexico and bringing you the Pacific taste to Playa Del Carmen. Tacos, ceviche, burritos, soups or whatever combination of goodness they bring to the menu. Make sure you try some of the homemade salsas. They have a spicy carrot salsa and a beet salsa just to name two.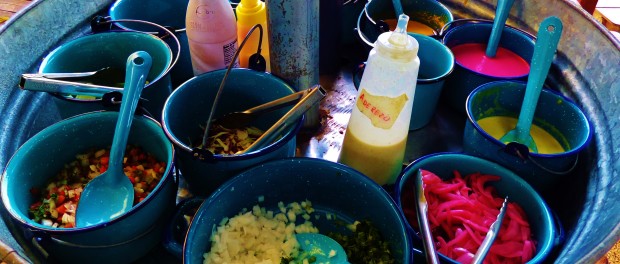 Good design. The kitchen is a shipping container and the seating is under umbrellas in a patio setting. The theme of seafood and ocean is carried out by the hanging lights and the nautical mirror above the hand washing sink.

Good location. It is just off 5th Avenue right next to the Quinta Alegria Plaza. Located on Constituyentes between 5th Aven and 10th Ave. There is on street parking but also very walkable from most places.

Good Prices. Especially since being so close to 5th Avenue the prices are good.  They have specials that offer even more value, so be sure to check them out as well.

Good Drinks. They do serve beer and alcoholic drinks but also have non-alcoholic drinks like the mangojito drink.

Good Service and good music. Are you getting the point? This place is a good! So put this on your list to eat at for a late lunch or dinner.
Tip: Check them out on Facebook for daily specials or see the menu out front for great deals.
Other tip: Try the Lobster tacos (when in season) They are typical taco from Rosarito, Mexico.
Hours
Open Monday-Sunday 12:00 noon-11:00 pm. Open everyday now!
If you liked reading about this taco restaurant, be sure to check out our article on more great taco restaurants in Playa Del Carmen.