Sol Jaguar Gift Shop on 5th Avenue-Authentic Mexican Crafts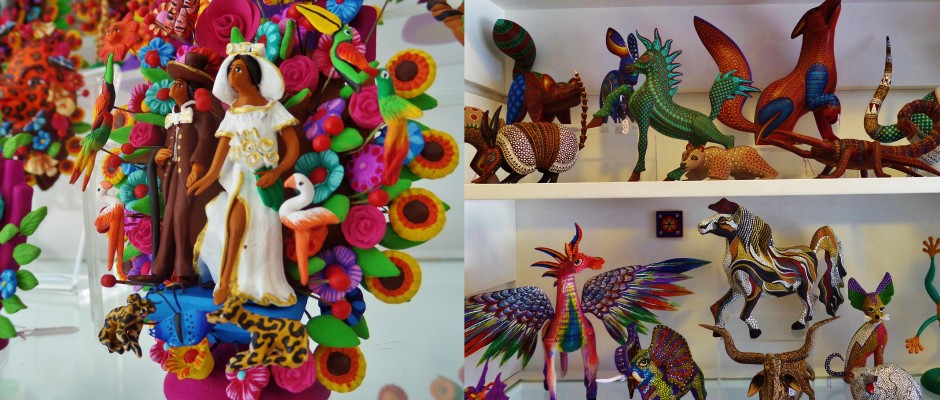 Sol Jaguar is a small gift shop on lower 5th Avenue that has been there for years offering their arts and crafts from around Mexico. We actually have been told about this store from our readers several times which must mean it is a popular gift shop. Even though this shop is small they offer a lot of small crafts that are quality and easy to wrap up to take home.
Victor and Maricarmen has been running this shop over the years and have gotten to know many tourist and some that return year after year. Each year they bring in new artist and products so customers have a new selection of Mexican crafts.
One interesting thing they have are the "Arbol de la vida" or "Tree of life" crafts. This is a very Mexican craft which dates back some 3000 years in Mexico. The "tree of life " is loosely based on the biblical history of the Garden of Eden. These ceramic art pieces can take two weeks to three months to make. The ones at Sol Jaguar are some of the most ornate little ones we have seen in Playa Del Carmen.
Other crafts like the hand painted animals are done by famous Mexican artist Jacobo and Maria Angeles. They are based in village of San Martin Tilcajete, located about 1/2 hour outside of Oaxaca City. These are so intricately painted which is part of the art and beauty of the pieces.
If you are looking for quality pieces for your home why not check out Sol Jaguar on 5th Avenue. Victor and Maricarmen speak basic English, Italian and French and lots of Spanish to assist visitors.
Hours
10:00am-10:00pm Monday -Sunday
Location
Located on 5th Avenue between 4th and 6th Street on the West side of the street. (opposite the beach)