Shark Burgers-Grab a burger by the beach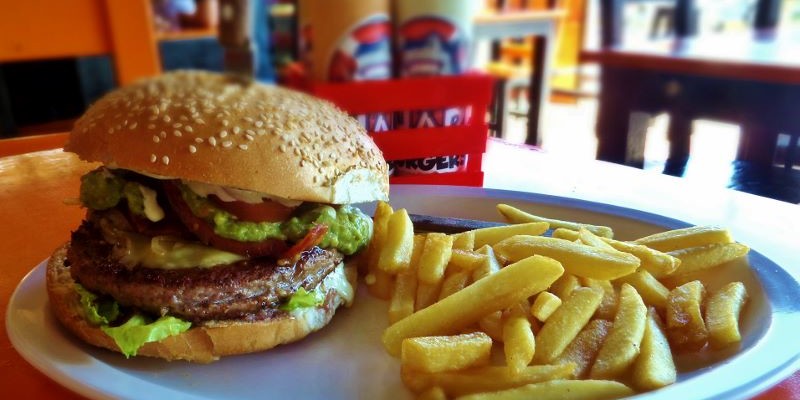 People are always looking for a good hamburger in Playa Del Carmen. Shark Burgers is not a gourmet place but it does serve up a big tasty burgers that are very popular with the 20-28 year old crowd. It is a perfect place to grab something before or after going to the Mamitas Beach. Although it might be hard to eat a big burger as 28th Street is the most beautiful street in Playa Del Carmen with bikini clad women and guys  walking by shirtless going to the beach.
They actually have salads but most everyone orders a burger. They do have mixed drinks and beers here. Fries come with the burgers. We like the four sauces that come to your table for condiments and the fact they keep them in the refrigerator until you need them.
Some burgers come in three different sizes. Prices range about 100-150 pesos. We recommend a small burger unless you are really hungry. Hamburgers are about 30 pesos cheaper then some burger places on 5th Avenue so it is worth coming here.
If you eat the big boy burger you can have your photo put up on the wall of fame.
If you want a cool place to grab a drink after this, look no further then next door at Las Helodias. We recommend their drinks here.
Best Hamburger in Playa Del Carmen?
If you talk to young locals they might tell you this. Like we mentioned above it is not a gourmet place but a burger joint with big juicy burgers and it is on your way to the beach. If you leave this place hungry then something is wrong with you. They give you a lot of options and they come in different sizes, so we can recommend this place to you.
More options?
If you want to know more about restaurants in Playa Del Carmen be sure to see our huge Restaurant Guide here.
If you want something more local and out of the tourist area you might like to check out The Biker House Ruta 307 burger restaurant.
Hours
9:00am-2:00am daily
Location map
Shark Burgers is on 28th Street between 1st Avenue and the beach.
Have you been here? What did you think? What is your favorite burger in Playa Del Carmen? Tells us about it in the comments below.