Sala Rosa-Great local bar with tapas that you should go to!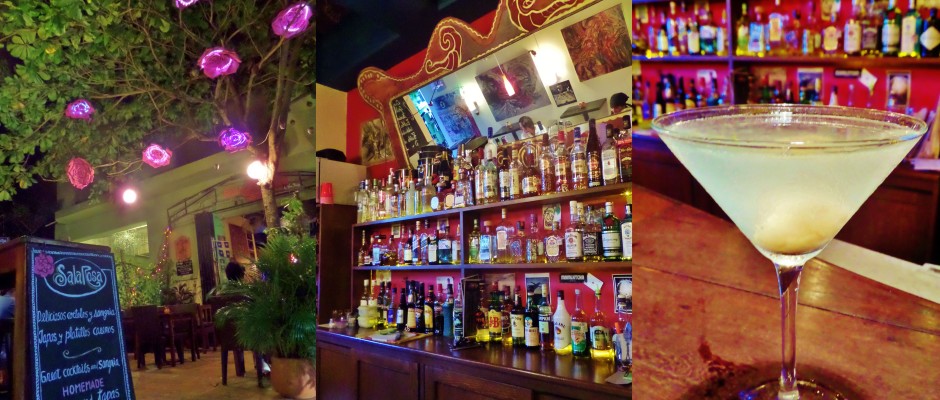 Note: November 2016, Sala Rosa has Closed. If it reopens we will let you know.
Sala Rosa is a great little local bar with tapas that makes for an enjoyable spot to hangout with friends or meet some new ones. It gets a nice local crowd and a mix of tourist looking for a cozy space with great atmosphere. It can be abuzz with people or a quiet night on the patio, it just depends on what mood people are in and who shows up, this is Playa after all.
The vibe of the place is special as well.  There is good music and even a dj that spins some nights. The front patio offers a nice street view with large trees. The famous pink rose flower lights hang in the trees over the patio. There is indoor and outdoor seating.
The bar offers a full range of cocktails and the good thing we found is the quality of the drinks. Too often in Playa Del Carmen drink quality is the first thing to go to cut cost and you get weak drinks. At Sala Rosa they have good quality drinks. If you want a little fusion of Mexican/Asian, have one of their signature cocktails, the Mezcal and lychee martini.
The tapas menu offers a nice range of simple bites to more hearty bites. Prices start at just 25 peso.They serve up stuffed dates, seasoned olives, pulled pork sandwiches, cheese platters and more.   The prices are right on the mark as well and you will walk away feeling that you got a good value at this place. Just look at the salmon cakes in the photo below, these are 70 pesos or about $5.40 USD, not bad for good quality bites.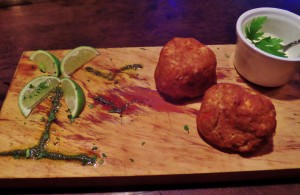 This Canadian owned bar offers friendly service and they have  bilingual staff.
Hours
Tuesday- Saturday 5:00pm-2:00am
Sunday 1:00pm-2:00am
Location
Sala Rosa is located on 38th street almost at the corner of 5th Avenue. It is located between 5th Avenue and the beach.
Have you been to this bar? What did you think? Let us know in the comments below.