Puerto Cocina Urbana- Bringing great seafood to Playa Del Carmen!!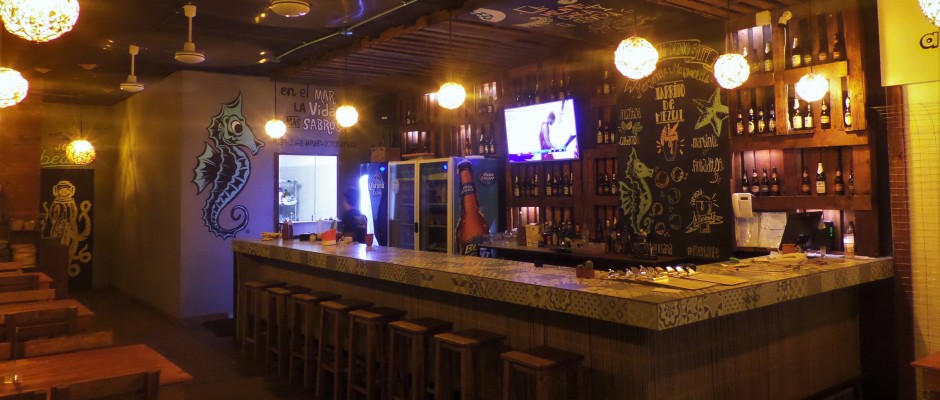 This is a new seafood restaurant in Playa Del Carmen call Puerto Cocina Urbana. Fresh from the culinary cutting edge in the north of Mexico, this restaurant brings you a fusion of taste in seafood that will give you a new take on Mexican mariscos. Here is our review.
Puerto Cocina Urbana Restaurant
Puerto is a new fusion of taste and preparing classic Mexican dishes in new ways. Everyone that works at Puerto is passionate about the food and concept. That is always a great sign of a good restaurant. This is the second Puerto Restaurant in Mexico, the first being in Tijuana.
The atmosphere of this restaurant is casual. There is seating on the outside patio in the plaza where there are trees and hanging lights. Inside there are tables with wooden seats and stools at the bar. The restaurant is clean and fun looking.
How is the food at Puerto Cocina Urbana?
Two words: fresh and tasty!
One look at the tostada below and you might say that is the biggest tostada you have ever seen. It is piled up with fresh seafood. You will need a little help from a fork. Good thing this is served with tortilla chips on the side to help eat it. This is a meal in itself and why it is prices the way it is on the menu.
Below are two sample tacos they serve. All of their tortillas are handmade which makes it even better. On the left is a shrimp taco with cheese and on the right is an octopus taco done in pastor style. The tacos are not huge but it is all about the taste. The tacos cost more then other tacos but you have to think about it like a gourmet meal on a plate that just happens to have a tortilla under it.
The Menu at Puerto Cocina Urbana Restaurant
Seafood seafood seafood is the order of the day (with a few non-seafood options for those that don't like it). There is a wide range of options on the menu from full plates to smaller bites. Everything is made fresh to order here.
Also at Puerto Cocina Urbana Restaurant you can find many craft beers. One beer you can find here that is made right here in Playa Del Carmen is beer from the Carmen Beer Company. You can read about the Carmen Beer Company brewery and see our video here.
Our Recommendation
The menu is creative and original. If you love seafood you will love the combinations, freshness and prices. If you also like fun drinks then this is a good place to check out. Do you like artisanal beer? Then come here as well because you can have a drink and food all in one place. What more could you want in a place? The only thing this is not is a romantic restaurant but you will fall in love with the food.
Even though this restaurant is a little hidden just off 5th Avenue, we think people will be finding this place and going back over and over.
Hours
Tuesday-Sunday 12:00 noon-12:00 Midnight. Soon to open on Mondays as well.
Phone Number
984-147-3073
Where is Puerto Cocina Urbana Restaurant?
Puerto is on 5th Avenue between 34th Street and 38th Street. It is in a Plaza on the east side of the street. Go in the plaza and it is in the back right hand corner.

Have you been to Puerto Cocina Urbana restaurant? What did you think? Let us know in the comments below.