Primer Plato Restaurant-Good value and handmade pasta!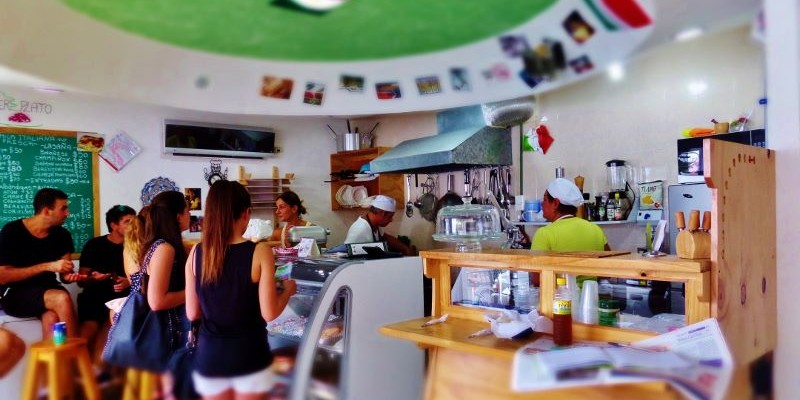 On the south end of Playa Del Carmen there has been a little Italian restaurant that is winning the hearts and stomachs of value conscience people. The name is Primer Plato. This restaurant is bringing good Italian food to Playa Del Carmen with a budget price.
Primer Plato Restaurant
The restaurant is not in a place you think there would be and Italian pasta place. It is not even in the "Little Italy" of Playa Del Carmen. This restaurant is below Juarez Avenue on 15th Avenue.
Rents are hard to work with in Playa Del Carmen and even harder to serve reasonably priced food, so this out of the way location affords them more flexibility. The restaurant/café is small and just has counter seating with stools. This place makes for a great lunch spot. Take out is available.
The food is a fresh made and we love the fact they roll out the semolina dough for the pasta, then cut it and right into the pot it goes, fresh for your dish. This is not a full on high cuisine Italian restaurant but rather café with very good value.
The people are super nice and friendly and you can tell they have a passion for food. Just look at the photo below!
Menu at Primer Plato
On the menu here you can find raviolis, gnocchi, spaghetti and lasagna.  Prices are very reasonable and being hand made Italian food makes it really rather a good deal. Spaghettis are 35-60 pesos, raviolis are 50-80 pesos, lasagna 50-80 pesos gnocchi 40 pesos. They have desserts like tiramisu. Drinks are very reasonably priced at 15 pesos. Make sure you come early as some of the items will be sold out later in the day.
Portion size is nice, just see photos below.
Fore more great restaurant ideas be sure to check out our Restaurant Guide to Playa Del Carmen here.
Hours at Primer Plato
This is the hours for now, since they are new this might change. Open Monday-Saturday. 9:00am-6:30 pm-ish. Closed Sundays.
Where is Primer Plato Restaurant?
Primer Plato is located on 15th Avenue between Juarez Avenue and Calle 1 sur. It is on the west side of the street in the middle of the block. It is a one story white building.
Have you been to Primer Plato Restaurant? What did you think? Let us know in the comment box below.