Carmen Beer Company -Brewing up beer in Playa Del Carmen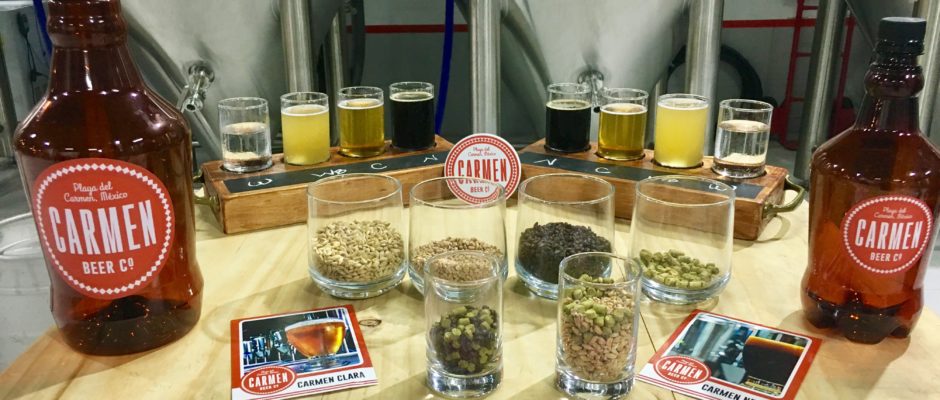 Carmen Beer Company -Brewing up beer in Playa Del Carmen
The Carmen Beer Company is has now opened in Playa Del Carmen. This is a brave new frontier for Playa. They have built a impressive brewery and now are producing artisanal beer in Playa Del Carmen.
This is something that every beer lover should check out. Not only can you see the shinny stainless steal brewery through the glass wall, the front is there tasting room and bar. This no doubt be a destination for beer in Playa Del Carmen.
Our video tour and tasting of the Carmen Beer Company
We were honored to get such a good tour and explanation of not only the process of making beer but also the behind the scenes work that goes into production. This video is long but for beer lovers, you will appreciate the details they told us about the process and what makes their beer so good.

Go for a beer at the Carmen Beer Company
Now that you have seen what a major undertaking this has been and all the work that has gone into making great beer in Playa Del Carmen, you might just want to stop in. This is a beer lovers dream come true!
What goes great with beer to eat?
Two great businesses have teamed up to bring you two great products. Now Brighton Fish & Chips does the food here. Now you can have beer battered fish and drink a beer with your proper British fish and chips! The restaurant portion is open Monday-Saturday 2:00pm-10:30pm.
Hours of operation
Monday-Thursdays 2:00pm-12:15am. Friday-Saturdays 12:00pm-12:15am. Sundays 12:00pm-10:00pm.
Where is the Carmen Beer Company?
The new brewery and bar are on the south end of Playa Del Carmen. This is on the 307 Highway in the Xaman Ha Plaza directly across the highway from Centro Maya. Note: It can be tricky to get
into this plaza because of the divided highway. It is best to go south until you come to the Liverpool Department Store. There is a turn around right in front of the store to return northbound. This will safely get you across to the other side of the highway. The intersection with the light by Centro Maya has changed and is now very difficult to turn into.
You can find this beer bar and brewery on our bar guide to Playa Del Carmen here. If you want to see what events are going on at the Carmen Beer Company, here is a link to their Facebook page.
Have you been to the Carmen Beer Company? Have you tasted their beer made in Playa Del Carmen?  Let us know what you thought in the comments below. We would love to hear from you.