Pig out at Las Karnitas!!
Looking for a nice authentic pulled pork carnitas taco or s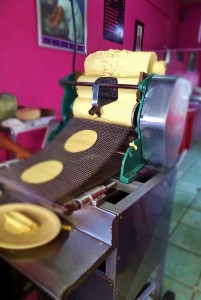 andwich? Look no further! Las Karnitas is an institution in Playa Del Camren where you cannot get fresher made and authentic food.
Carnitas is a slow cooked seasoned pork which is chopped up for tacos or sandwiches. For making tortillas they have a very interesting machine that takes the corn dough and rolls out fresh to order tortillas. You cannot get any fresher tortillas unless you sit next to the machine, which will shave a few milliseconds off the freshness time.
Prices are very affordable here. Tacos are 14 pesos and tortas 28 pesos. So for under 50 pesos ($3.50 USD) you can eat here. You can also buy just the meat here if you want to take some home.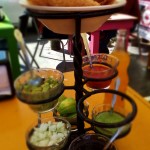 You can get take out or eat in service. We recommend you eat there because you will get the true Las Karnitas experience and when you eat there you get the tower of salsas, condiments and chicharron on your table.  Just count on all the salsas being a little spicy and don't be fooled by the guacamole. It is spicy as well but goes great on the chicharron (fried pork skin). The tower also comes with chopped onion and cilantro and fresh limes.
Location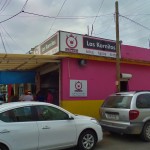 Las Karnitas is located on the highway access road on the west side just south of Constituyentes Avenue. So if you are going southbound on the highway access road it will be on your right just a block after Constituyentes Avenue. Just look for the pink building. Parking is on the side street just before it.
Hours
7:00am-12:00 midnight everyday
Have you been here? What did you think? Tell us about it in the comments below.