Paddle boarding Rentals in Playa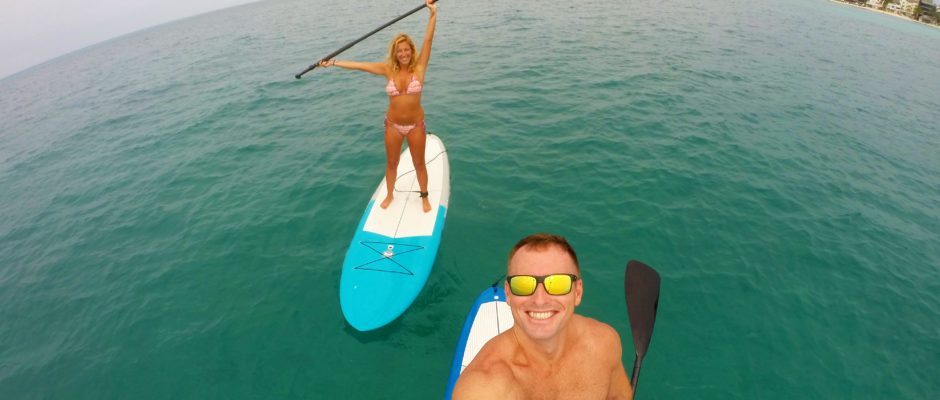 SUP-Stand Up Paddle Boarding in Playa Del Carmen
On the South end of town you can find Playa Stand Up Paddle shop. This is one of the places in Playa Del Carmen where you can:
Rent paddle boards.
Take lessons on how to paddle board.
Take a tour with paddle boards.
This shop is on the beach between 4th Street and 6th Street. It is more close to 4th Street next to the Yan Ten Restaurant (see photo below). The shop is just in front of the beach and is a good place to go out on the ocean especially when it is calm.
This shop is open during the day. Ask for Jeff the owner. He speaks English. Note: June 16-27 2016 this shop is closed for vacations.
Paddle Board Lessons
Lessons here at Playa Stand Up Paddle include one and a half hours of paddling and instruction. The first 20-30 minutes will be instruction both on land and in the water to get you used to the board and learn SUP techniques. You will learn how to stand and proper positioning on the board and how to use the paddle. Once you have mastered the basics you will try it and get tips on how to improve and enjoy your time out on the ocean. Then you will have about one hour after instruction to enjoy paddling.
Cost:  $45.00  USD per person
Paddle board rental and tour prices
One hour $20USD
Playa Del Carmen reef tour $50 USD per person.
Puerto Aventuras Tour $100 USD per person.
Have you paddle boarded before in Playa Del Carmen? What did you think? Let us know in the comments below.