Nibs Restaurant-Bringing Mexican cuisine to new heights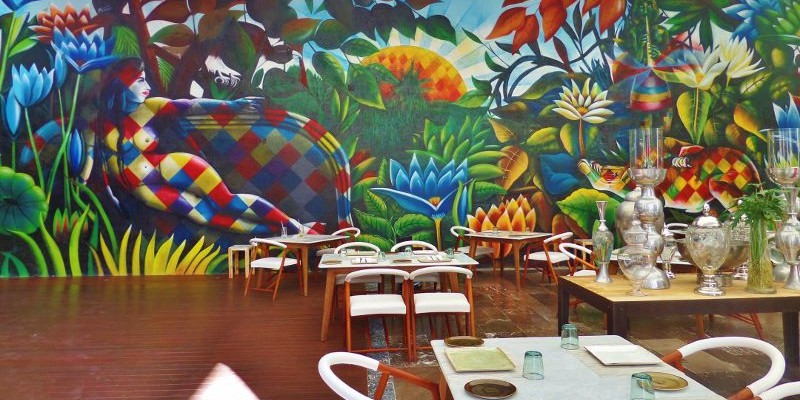 Nibs Restaurant brings haute cuisine of Mexican cooking to Playa Del Carmen. Chef Alejandro Cuatepotzo (award winning Mexican chef) makes references to local flavors and also styles the food in the new high cuisine styling of Mexican cuisine. This is food at the highest art form. Foodies will be surprised by the combinations and what they have accomplished. We were taken back from just the bread being served before the menu, so that is a very good sign of things to come.
They take banana leafs and make ash out of it and add it to the bread flour. This gives a smoky flavor with hint of banana to rolls. Such a unique and original creation. The bread is served wrapped in a banana leaf as well.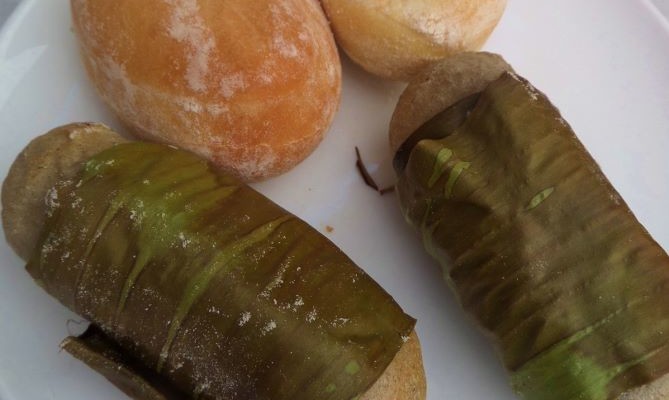 Menu at Nibs Restuarant
Some local Mexican dishes have been reinvented with a twist. Expect dark and complex sauces on your food that will leave you guessing what it is and how they made it. Below are photos of two delicious menu options.
Restaurant Setting at Nibs
The restaurant is in the open courtyard of the Hotel Cacao. It is covered and has nice large open feel to it.  Even though this restaurant is on 5th Avenue it is separated from the bustle and tucked into the quiet courtyard.  The most striking thing you will notice is the large mural on the wall. It was painted by Brazilian street artist Eduardo Kobra. This tropical mural will set the tone for your exotic food journey in the restaurant.
Prices
Appetizers range from about 110 pesos-170 pesos. Main courses are a very reasonable 130 pesos-430 pesos. Desserts are priced from 95 pesos-130 pesos. For the restaurant experience and food artistry this is a good value and you should not mind paying for this meal.
Recommendations
We definitely recommend this restaurant for people that like to be challenged in their palate. This is high end Mexican cuisine and for the taste experience it is a good value for the price. This is one of the better restaurant in Playa and for foodies looking for something new, this is a good place to experience it.
For more on Restaurants in Playa Del Carmen be sure to see our Restaurant Guide here.
Phone Number
984-803-0485
Hours
The restaurant is open from 7:00am-11:00pm daily. Breakfast is from 7:00am-12:00 noon. Lunch and dinner is served from 12:00 noon until 11:00pm and it is the same menu for lunch and dinner.
Location
The restaurant is located in the center courtyard of the Hotel Cacao. The entrance is on 5th Avenue between 30th Street and 32nd Street. Look for the restaurant podium with menu.

Have you eaten here? What did you think? Tell us about in the comments below.