New Food Market Opens in Playa Del Carmen
Nuestra Senora De Carmen Mercado De Playa
The Nuestra Senora De Carmen Mercado De Playa is now open for business. This is a concept of a food market/food court offering a mainly traditional Mexican sampling of food. In the past this has been a cursed location, with businesses opening and closing, mainly nightclubs. Hopefully this time with food and with so many different venders participating it will become a success. They certainly have a nice building and have added some nice touches. The floor has pasta tile from the Yucatan and large handsome wood and iron tables are available to patrons for dinning. The first half is open air and the back half is roofed with some air-conditioning. Bathrooms are available and the remaining spaces are all getting filled with new venders.
We see this as a good place for locals that work in the area and tourist on the south end of Playa Del Carmen that don't want to pay the 5th Avenue prices and will walk one block back to visit this market. It also might become a destination in itself as a place people can come and taste a wide range of food or bring friends and everyone can get what they want and sit at the same table.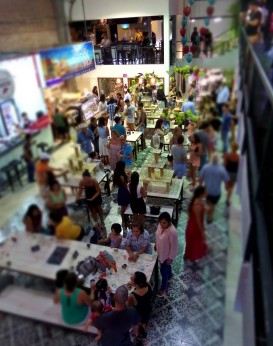 What places are in the Nuestra Senora De Carmen Mercado De Playa
In the front there is the Leche de Tigre Cevicheria. This place is a seafood stall with ceviche and more. The people are really friendly so don't be afraid to ask questions (some English spoken). They do have some things on their menu we have not see before so take the time to look it over and try some stuff. Tip: If you like spicy salsa, ask for the dropper with their homemade "special sauce".
There is the La Torteria or sandwich shop. This small place serves up an assortment of sandwiches at good prices (see menu below).
There is Los Chilaquiles which serves up sandwhiches with your choosing of meat and they also add fried tortilla chips to your sandwich or you can get chilaquiles with the topping of your choice as a plate. Note: The meat is very tender here. We like that!
If you have a craving for sweets you can try the Mexican candy store, N'Dulzate or the homemade Mexican flavors of ice cream at La Sabrosita. They actually have beer ice cream! Plus a lot of other interesting combinations.
There is also a flower shop in the market now and Hot, the same place as the Hot Baking Company that is a chain and has a location in the Centro Maya Mall.
La Europea has opened a European style food booth "Taste and Shop"with limited selection of wine to drink. Choricero is a meat lovers place. And an Italian sandwich shop with good meets and cheeses is now open.
Upstairs there is a fruit and vegetable market, Sushi Lalo Wey, and Las Helodias has a bar. The market is almost full of vendors now so be sure to keep an eye on this place as it grows, it just might be where you are eating your next meal.
Also if you are in the area, be sure to check out La Crepacabana just next to the market. This little place has been around for years and the ower David is often there serving up all types of crepes (see menu below). Nutella is of course the most popular.
During popular seasons like Semana Santa and BPM they are open 24 hours a day. In other times just look for them in the later afternoon into the late evening.
Location
The market is on 10th Avenue between 8th Street and 10th Street east side of the street.

Parking
Since there will need to be considerable people traffic to support such a market it is important to have parking as well. There is limited and hard to fine street parking for free on 10th Avenue and 10th Street between 10th Ave. and 20th Ave. It is good there is a pay parking lot across the street from  the market. But if you can walk to this market , we suggest you do so.
Hours
When fully open it will be from 9:00am-10:00pm but this will be reviewed after being open a while especially since that area gets a lot of late late night eaters.
Have you been here? What is your favorite place to eat at in the market? Tell us in the comments below. We would love to hear from you.