Mom's Bar & Restaurant-Where You Can Taste Home Cooking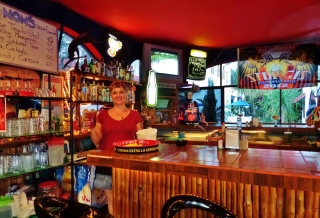 Mom's Bar and Grill
Note: As f December 29, 2017 Moms is closed. This icon will be missed in Playa.
Mom's Bar and Restaurant is known as the local place to meet and hangout with other expats and get home cooked meals that you cannot find elsewhere in Playa Del Carmen. If you want to meet other foreigners and see what is happening on the local scene then this is a good place to come. It is also connected to Mom's Hotel where many snowbirds an tourist like to stay. This place is especially popular with the 45-70 year old crowd.
Lunch and dinner served during the week only. When there are holidays, especially ones from the north of the border be sure to check in and see what is cooking (or make reservation).
Friendly service and English is widely spoken. Free pool table and WI-FI. Below are some photos, the first one showing the interior of Mom's second floor, second photo showing ribs with special sauce and side of homemade mash potatoes with gravy, third photo is view of bar/restaurant with location of entrance.
The same crowd that goes here also likes to go to Wah Wah Beach Club.
The menu at Mom's Bar and Grill
You will find hamburgers, pork chops, Hickory smoked baby back ribs among other things.
Hours
Mom's is open from Monday to Friday from 12:00 noon-4:00pm for lunch and 5:00 pm to 11:00 pm for dinner. Closed Saturday & Sundays.
Happy hour 4:00pm-6:00pm. 25 peso beers and 40 peso house drinks.
Where is Mom's Bar and Grill?
Mom's is located in the center of Playa on 30th Ave and the corner with 4th St. The entrance is on 30th Avenue.
Our video guide to Mom's Bar and Grill
For other expat bars and just bars in general in Playa Del Carmen, check out our Bar Guide here.