Mercado Paseo Del Carmen Food Market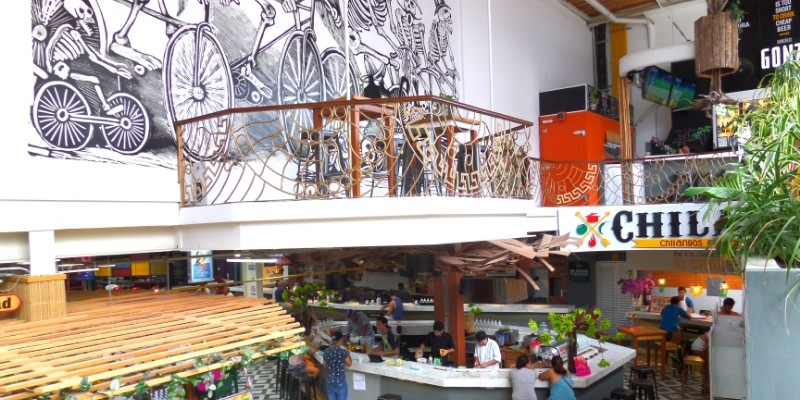 Update: April 2017 this market has closed. we will let you know if it reopens. This is the second food court to open in Playa Del Carmen. The first being the Nuestra Senora De Carmen Mercado De Playa. While the first one is just getting established, the Mercado Paseo Del Carmen has opened on the south end of town just behind the Paseo Del Carmen shopping Plaza. The eating options in Paseo Del Carmen were limited before this but even now it will be interesting to see how this food mercado does with no visbility to shoppers and since most people visiting the mall area are being dropped off and they walk through the pedestrian mall to catch a ferry to Cozumel. This market will suck some of the life out of the small restaurants on 10th Avenue but there is the popular 3B Hostel across the street that will be sure to provide some customer since this is counter service and usually about 100 pesos to eat here.
We are glad they changed from the original name of Lt. 43. Not only was this confusing but the number 43 reminds people in Mexico of the 43 students that disappeared and started protest around the country. The name Lt. 43 referred to the address of the building but Mercado Paseo Del Carmen is a much better name.
What places are in Mercado Paseo Del Carmen?
There are some of the favorites from the other market and some new ones to choose from. There is a wide range of food, everything from ceviche to sushi and beer to tea.
Here are some of the places there: Wok Playa, Sushi Lalo Wey, Brighton Fish & Chips, Leche De Tigre, Pasta Y Punto, Salciccium, La Burgueseria, and Los Chilaquiles.
Paseo Del Carmen Mercado Hours
The market is open from 9:00am-11:00pm daily but not all stalls open these hours. Many are just open for lunch and dinner.
Location of Mercado Paseo Del Carmen
The food court is on 10th Avenue between Calle 1 Sur and Calle 3 Sur. It is on the backside of the Paseo Del Carmen shopping Plaza. It has a street level entrance but is on a lower level.
If you drive here there are two parking lots on 10th Avenue on the opposite side of the street. One of them often is full and street parking is usually only available a block or more away. Try walking here if you can.
If you like food markets you might also want to check out the La Memorable food market on 1st Avenue and 26th Street.
Have you been to this market yet? What is your favorite place? We would love to hear from you in the comments below.
*For more restaurant reviews and information see our full Playa Del Carmen Restaurant Guide here.