Maiz de Mar Restaurant Review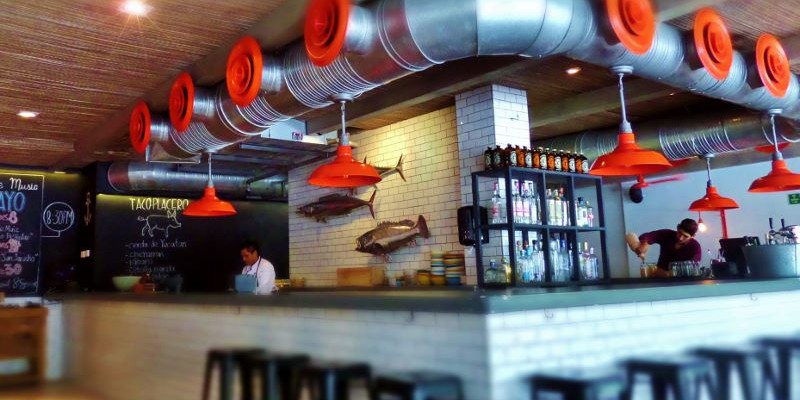 Update July 2015. This restaurant has closed. We will let you know if they open in a different location.
Maiz de Mar Restaurant is a creation of famous Mexican chef Enrique Olivera. When this restaurant first opened it was a full on haute cuisine/nuevo Mexican style and meant for a full dinner experience. This was a little hard to do in Playa Del Carmen because of the relaxed style, so they changed the format to fit the local customs. Now this restaurant does smaller bites and a more casual atmosphere but still with the same quality ingredients.
Maiz de Mar uses locally produces foods and even makes their own masa (the dough for making tortillas). You can even see the comal in the kitchen when you go downstairs. It is always a good sign of a restaurant when they have a window to the kitchen.
The menu at Maiz de Mar
The menu is costal Mexican food. So you will see ceviches, seafood tacos, tostadas and more on the menu. You can see some of the menu items in the photos below.
Maiz de Mar also prides itself on artisanal mezcals, tequilas, Mexican beer and Mexican wines. This all adds to making Maiz de Mar a place to have a drink and eat while sometimes catching live music.
This restaurant is a good place to go with friends and enjoy Mexican flavors and good drinks all in a stylish restaurant which is right on 5th Avenue.
For more on restaurants in Playa Del Carmen check out our Restaurant Guide here.
Website
Hours
Monday-Sunday 2:00pm-11:00pm
*Note: this restaurant opens late for lunch
Location
Maiz de Mar is on 5th Avenue between 30th Street and 32nd Street.

Have you been here before? Tell us what you thought in the comments below. We would love to hear from you!