Karma Bagels -Sandwiches with a View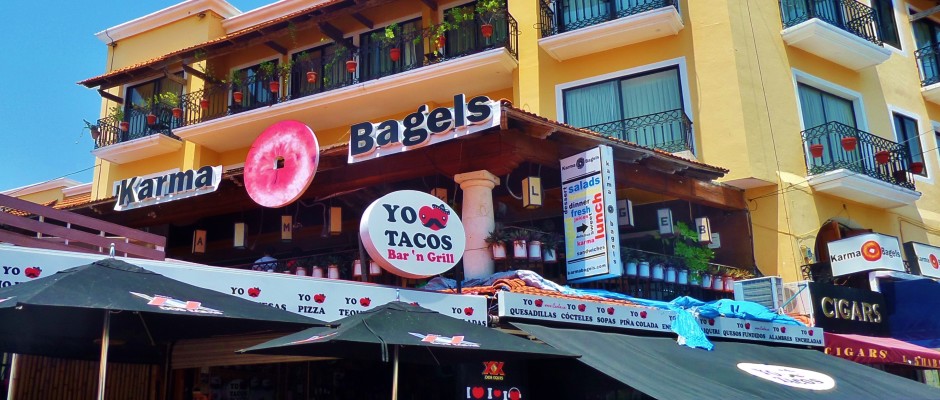 Everyone likes good karma and Karma Bagels. Karma Bagels has been serving up healthy sandwiches for a while in Playa now at their cross roads of Playa Del Carmen location. Situated on the corner of 5th Avenue and Constituyentes Avenue, this second floor eatery looks out over the passersby's on busy pedestrian 5th Avenue.
Fun sandwich fact: Karma makes their bagels in Puebla Mexico and flies them bi-weekly to Playa so you get fresh sandwiches.
You may not think of having a bagel when on vacation in Playa Del Carmen but then again you might miss eating that chewy bread goodness with cream cheese or any of the other combination of sandwich possibility. The nice thing about this place is the friendly service, fast sandwiches  preparation and the warm, soft bagels that come out of the kitchen to your table. We wish it was a little cheaper, but this is 5th Avenue. Sandwiches range about 80-90 pesos and with a drink we put this in midrange restaurant, but low in that category.
If you like this healthy eating spot, check out our Healthy Eating Guide to Playa Del Carmen here.
Location
Karma Bagels is location on 5th Avenue between Constituyentes Avenue and 20th Street. Follow the signs to the second floor location.

So when you have a hankering for a soft bagel sandwich, this is your place. Enjoy the fresh air breeze to from the shaded second floor.