Jungle Ja Adventure and Tours -Private cenote tour review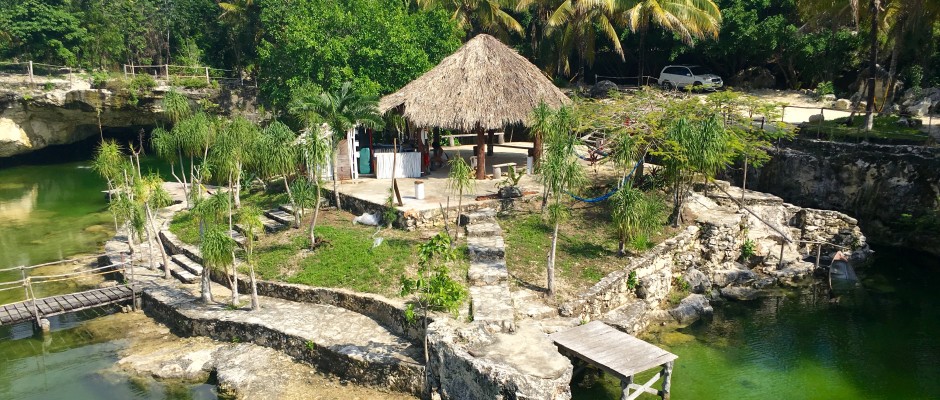 Jungle Ja is a small tour company based in Tulum that specializes in private tours to some of the most beautiful natural spots in the Tulum area.
We first met the owner, Richelle Morgan,  back in 2014 when we interviewed her about her popular Tulum yoga studio. This is another venture of Richelle, and this long time resident of Tulum can show you the Tulum area like no one else. Here is more information on the private cenote tour she offers.
Private Cenote Tour in Tulum
On this tour you will visit five different cenotes. All of the cenotes are on the same land so you are not driving around to different locations. What is very nice about this tour is the fact the cenotes you visit are on private land and you will not be going to cenotes with other tourist. You are getting a unique experience and will see beautiful cenotes that you won't see in other tourist photos.
This tour is about 3-4 hours and goes at the pace of your group. You will have time to swim, relax and discover the beauty of the jungle and cenotes. You will see different types of cenotes on this tour. Some of the cenotes are open with water, some are cave cenotes, dry cenotes and one you can swim into the cave and see the stalactite formations.
Tours can be conducted in English, Spanish, and Italian. Snorkels are available for swimming.
Below is where you start the tour. This is called Turtle (Tortuga)Cenote because the shape of the island looks like a turtle. You will also end here and be able to relax, swim, climb, jump and have drinks if you like.
Below in the photo is one of the cenotes you visit. It does not look like much in the photo but under the back wall there is space to enter the cave and you can go about 25 feet in and see the natural beauty of the stalactites. When you turn around to exit you can see the natural light making the water aglow with light turquoise color.
The water in this photo looks like it is very shallow but it is actually about 10-15 feet(3-4 meters) deep. That is just how amzing cenotes are and how clear the water can be.
While exploring you will learn about how the Yucatan Peninsula was formed and see amazing trees that grow in the limestone.
There is plenty of opportunity to have fun on this tour as well. In the Turtle Cenote there is a jump and rope to climb.
Transportation for this cenote tour
Since these tours are in the Tulum area most people are staying in Tulum or the nearby Riviera Maya. Transportation and pick up can be arranged from your hotel by van or private car. If you have your own car, a meeting point can me arranged. All tours are near Tulum which minimizes transportation time.
How much does this private cenote tour cost?
This tour is $85 USD and is best priced if you book direct with Jungle Ja (see below for contact information). Ask about group rates. Some larger wedding groups have even booked and since the property with cenotes is large, it is able to handle larger private groups.
What to bring on this tour
A towel for drying off.
Swimsuit and change of clothes. There are basic facilities for changing at the cenotes.
Biodegradable sunscreen and bug repellent. Having biodegradable is important so you maintain the cleanliness of the water and do not leave chemical and oil reside in the water.
Money for tip and optional beverages.
A bag for your stuff and camera.
Sandals or water shoes.
Our Recommendations
This tour company is perfect for those looking for a smaller or private tour. For those that don't want to go to a theme park like attraction of nature, you will enjoy this tour as well as any tour with Jungle Ja. The owner (Richelle) is well traveled and provides a quality service for discerning travelers in the Tulum area. If you are not sure what tour might fit you best, they are excellent in giving you details for each tour they offer and what will fit you the best.
How to contact and reserve with Jungle Ja Tours